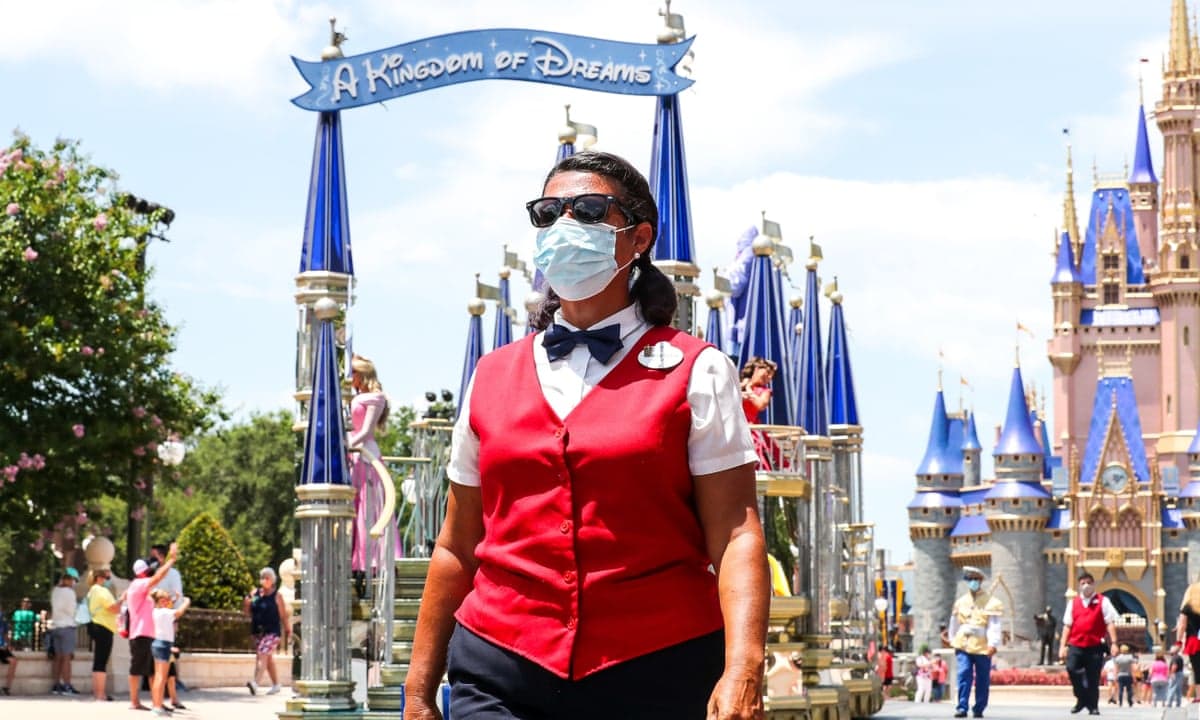 'Our bodies were not made by God to put a known poison into it.'
Ex-Disney workers and a former Orange County fire official are fighting back after they lost their jobs for either not getting vaccinated and wearing masks or not following orders to enforce vaccine requirements.
One public health legal expert says the trio of lawsuits raise some interesting legal questions and could test corporate public health policies for employees.
What's at stake in the Central Florida lawsuits is "the ability of an employer in either the public or the private sector to exercise sound judgment with respect to the health and welfare of its own employees" said Jay Wolfson, an associate vice president at USF Health and an adjunct law professor at Stetson University.
Disney has been sued at least twice by ex-Disney World employees who refused to get vaccinated and cited religious beliefs as why they could not wear cover their faces.
"A shadow has come over Disney," said an amended lawsuit filed last month by seven former Disney employees in Osceola Circuit Court. "For cast members like Plaintiffs who have strongly held religious beliefs, Disney has cast itself as the villain."
Those ex-employees had held a variety of positions including human resources, finance, guest services and inside the parks as a ride host.
"Our bodies were not made by God to put a known poison into it," Adam Pajer, a former Disney banquet server, said in court documents, adding his "managers have treated him as if he were leprous" because he wouldn't get vaccinated. He said he was discriminated against and lost his job in June 2022 after getting mixed messages on the rules for wearing a mask and several confrontations with Disney.
In another lawsuit — this one filed last month in U.S. District Court — Tamara Wolverton, an ex-food service worker at Hollywood Studios' Hollywood Brown Derby Restaurant, said "she believed the mandated vaccine was contrary to biblical teachings and her faith in Jesus Christ."
She didn't get vaccinated and then was ultimately dismissed from her job in March 2022 when she wouldn't wear a face mask.
During the pandemic, Disney World's theme parks shut down after March 15, 2020 and then reopened in July 2020. Early in the reopening, Disney World operated on strict rules for both guests and employees at a time when the vaccine was not publicly available and Disney was trying to protect its giant workforce and its visitors.
In the summer of 2021, Disney reached an agreement with its unions to require union workers to be fully vaccinated. Disney also said it was requiring the same rules in place for non-union and salaried Disney employees. Walt Disney World even held on-site vaccine drives for employees to make it easier on people to get their shots.
Disney halted the vaccine requirement in late 2021 following several new state laws that added new restrictions on vaccine mandates by employers.
Gov. Ron DeSantis' then-Press Secretary, Christina Pushaw, took aim against Walt Disney World Resort — which is the country's largest single-site employer — in a statement.
"As we would expect, Disney has amended its vaccination policy to comply with Florida law," she said in a November 2021 statement. "Nobody should lose his or her job over COVID-19 vaccine mandates, and we thank legislative leaders for their part in delivering on the promise to keep Florida Free."
At the time, Disney defended its approach and said more than 90% of its active Florida-based employees had been fully vaccinated. "We consider this to be very successful," Disney said in an employee memo.
Disney lifted what the Osceola lawsuit claimed were "harsh and discriminated augmented protocols" in August 2022, so unvaccinated employees no longer had to cover their faces at work, the lawsuit said. But by then, the seven employees had already been terminated.
The core of the issue is: "To what extent do private corporations and private employers have the prerogative of imposing mandatory behavioral requirements on their workers?" Wolfson said about the Disney lawsuits. "They really go to some of the cores of the principles of our civil system and even elements of our Constitution."
For this story, Disney did not respond to a request for comment.
Barbara Andreas, Stephen Cribb, Steven Gibbons, Cheron Hayes, Cathryn Koepke and Seth Schmidt are the other ex-Disney employees suing in Osceola court.
Also in U.S. District Court, former Orange County Fire Rescue battalion chief Stephen Davis sued last year after he was terminated for refusing to reprimand employees who did not follow Orange County's COVID-19 vaccination mandate. Davis was fired in October 2021 for refusing to follow a direct order, a county spokesperson had told the Orlando Sentinel.
Davis argued in the lawsuit he had been wrongly fired.
"He knew the list of employees under his command to receive written reprimand against the vaccine mandate violated the union agreement, and because reprimands were to be given to those seeking exemption, violated both state and federal laws. Chief Davis properly brought this error to his supervisor and withheld discipline against those under his command until the list could be verified, but his supervisors up his chain of command refused to verify the list," his lawsuit said.
"It is precisely this situation that Florida law prohibits, where an ethical employee is terminated for properly disclosing information and reporting to his chain of command violations of law, abuse, and gross neglect of duty by a public agency."
Orange County government, which declined to comment on the lawsuit for this story, attacked the merits of Davis' lawsuit and has sought to get the case dismissed.
"The issues with Plaintiff's First Amended Complaint have only grown. Each of Plaintiff's five counts present their own deficiencies and are insufficient as a matter of law," the county responded in court documents filed last month in a motion to dismiss.
Davis' attorney Rachel Rodriguez said in a statement to Florida Politics, "Orange County is not dealing with my client in good faith. The people of Orange County have a right to know how their county leadership mistreats first responders — frontline employees of integrity who take seriously their oaths to the people of the county and their responsibility to their colleagues under their command."
Certainly COVID-19 vaccines evolved into a hot-button political issue during the pandemic even though doctors and the federal government have insisted the vaccines are safe, and there is no evidence to suggest otherwise for the general public.
Stories of rising weekly death tolls and a running tally of new infections aren't appearing daily in local headlines anymore but that doesn't mean health officials aren't still worried about the virus.
Wolfson said he was less concerned about new cases and more bothered about "significant consequences" from what's known as long COVID — symptoms that last weeks, months or years after someone had been infected, according to the Centers for Disease Control and Prevention.
The medical community has discovered this virus can embed into a person's organs — in their tissues in their heart, liver, lungs and even brain, Wolfson said. Even people who were asymptomatic when they got COVID-19 can suffer long-term effects from the virus such as heart disease, brain fog, liver failure and chronic respiratory disease, he warned.
"That's what is going to be with us for years and years," Wolfson warned.