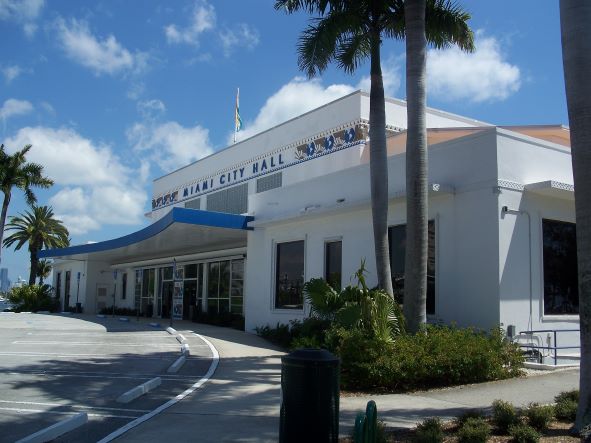 The winner will hold the seat until the city's Nov. 7 election.
Fifteen candidates have qualified for a Special Election next month to decide who will fill a short-term vacancy in District 2 on the Miami City Commission.
Candidates had just five days to turn in their paperwork, pay close to $700 in fees and be vetted for the Feb. 27 contest, the winner of which will hold office until the city's regular election this November.
The city's qualifying period ended 6 p.m. Friday. Eleven of the qualifying candidates previously applied for the seat by appointment, an option the four sitting City Commissioners unanimously agreed to eschew Jan. 8 in favor of an election.
As set for in the City Charter, the candidate who receives the most votes next month will be elected outright.
The candidates include:
— Sabina Covo, a journalist turned public relations pro who in January completed a yearlong stint as the director of Hispanic media relations and communications at the Florida Department of Agriculture and Consumer Services. Since 2014, she's run her own PR firm.
— Michael Goggins, a wealth manager and compliance officer who works as President of Miami Wealth Management.
— Javier González, a Realtor and principal at real estate firm Gotta Jav Miami who has sought the District 2 seat twice since 2015.
— Lior Halabi, a Israel-born digital marketer and the founder of Share Media Agency who immigrated to Miam in 2014. He has reported raising and spending about $1,100 toward the race so far, according to VoterFocus.com.
— Alicia Kossick, an interior designer and the owner of Polished Coconut, which sells hand-crafted, naturally sourced apparel, home goods and décor.
— Eddy Leal, a lawyer who since 2019 worked as an adviser in Mayor Francis Suarez's office. That same year, he faced since-dismissed accusations of improper lobbying at City Hall. He also owns and operates the law firm Leal Legal.
— Max Martínez, a media producer and marketer who placed a distant second in November 2021, when he ran to supplant Suarez as Mayor.  holds a bachelor's degree in government from Cornell University.
— Lorenzo Palomares-Starbuck, the eponymous lawyer at Palomares-Starbuck & Associates who ran for Congress in 2014 and the Florida Senate in 2017. In between those runs, he worked as a surrogate for Donald Trump's presidential campaign.
— Renita Samuels-Dixon, a member of the Coconut Grove Village Council who for more than a decade has worked as President of the Miami Bahamas Cultural Preservation Fund.
— June Savage, a luxury real estate agent with Sotheby's International Realty who ran in 2017 for Miami Beach Mayor. She has reported raising $11,000 in "prior contributions" toward her City Commission bid. Of that, she spent about $6,200.
— Kathy Suarez, a Coconut Grove-based auto dealer who decried the blighted neighborhood of West Grove as resembling "apartheid South Africa of 50 years ago" in a November letter to the Miami Herald.
— Christi Tasker, a Brickell-based jewelry and home décor designer whose community involvements include volunteer work with the Alzheimer's Association and working as creative director at Casa Wynwood.
— James Torres, a strategic account executive for the Miami Herald who since March 2021 has served as President of the Downtown Neighbors Alliance. During a September 2021 City Commission meeting, he compared homeless encampments downtown to those in a third-world country.
— Mario Vuksanovic, a for-hire Spanish and English event musician who worked from 2018 to 2022 as an outreach worker for the Miami Department of Human Services, which oversees homeless and veterans affairs.
— Martin Zilber, a lawyer and partner at Krinzman Huss Lubetsky Feldman & Hotte who resigned as a circuit court Judge in May 2021 amid a Florida Judicial Qualifications Commission inquiry into alleged misconduct. The Commission dropped the investigation after Zilber resigned, and the Florida Bar subsequently found no probable cause to sanction him.
The 15 candidates are running to succeed Ken Russell, who vacated his seat late last month in accordance with Florida's resign-to-run law following an unsuccessful bid for Congress. Each candidate must have lived in Miami's District 2 — which spans most of the city's coast and includes the neighborhoods of Brickell, Coconut Grove, downtown Miami, Edgewater and Morningside — for at least one year prior to qualifying. Candidates must also have paid a $582 state election assessment fee and a $100 qualifying fee to the city.
Whoever wins will only hold the seat until the city's regular election Nov. 7, when Russell's four-year term was due to end. Four candidates had previously filed for that race, including Goggins, Halabi, Savage and Michael Hepburn, a nonprofit executive who in 2021 unsuccessfully sought the District 5 seat on the City Commission.