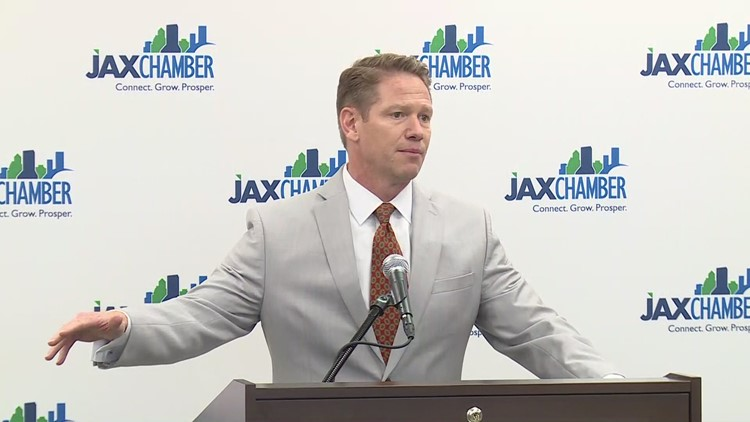 The court filing claims CEO Davis is double dipping.
A member of the Jacksonville Chamber of Commerce has filed suit in the 4th Judicial Circuit to compel the organization not to pay its CEO while he runs for Mayor.
Billie Tucker Volpe, a Republican of long standing who was instrumental in the Tea Party movement and a Chamber member of more recent vintage, is suing the Chamber and CEO Daniel Davis to block Davis from being paid while standing as an active candidate.
Controversy over Davis running for Mayor while not stepping away from his day job predated his official campaign, as his eventual entry into the race was expected by insiders years ago. But the lawsuit from a member of the Chamber, who according to Florida statute has standing to challenge the internal workings of the 501(c)6 nonprofit organization, attempts to transform insider gripes into a judicial injunction.
The suit makes note of Davis' compensation ($536,000) rendered in exchange for 55 hours of work per week, questioning how Davis would have handled those hours while actively running for Mayor since September 2022, asserting a "majority of his work hours" are spent on "matters other than JAX Chamber work."
It contends Davis "approached the incoming Chair" of the Chamber asking for a guarantee that Davis could retain his position as CEO in the event of a loss this spring. The claim is also made that Executive Committee members have "continuing business relationships" with the city and "close personal relationships" with Davis.
Furthermore, the suit asserts a symbiosis between the JAXBIZ political committee and Davis' Building a Better Economy political committee, with contributions to "committees of other Florida politicians, thereby building his personal political capital and reputation at the expense of Jax Chamber."
The goal ultimately is to stop Davis getting paid while running for office. Davis is one of four Republicans in the crowded race to replace Mayor Lenny Curry, who has endorsed Davis as his successor.
In a statement from his campaign, Davis suggests the suit is just a political stunt distracting from real issues.
"The Jacksonville Chamber is the most respected voice for our business community and it is unconscionable that anyone would play politics with the 3,000 members who keep our city working. This lawsuit is a sad, cheap political stunt filed by someone who joined the Chamber nine days ago, and instigated by a failing candidate grasping for relevance."
Davis goes on to contend that the suit benefits one opponent in particular, who has made attacks on him a centerpiece of her campaign.
"LeAnna Cumber has spent nearly $1 million and all she has to show for it is a campaign in chaos. We'll leave the cheap tactics to her while the rest of us have a thoughtful discussion about the future of this great city," Davis asserted.
The Jacksonville Chamber of Commerce did not offer official comment, meanwhile.