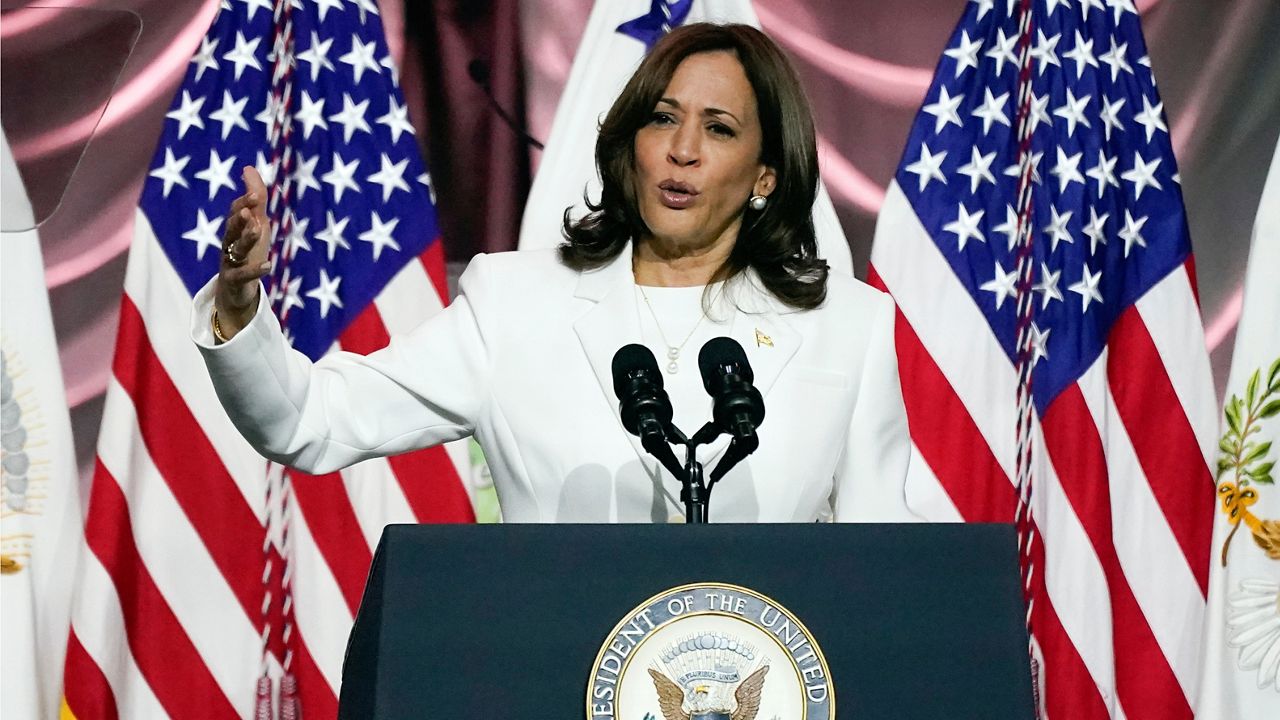 'The Vice President will make very clear: The fight to secure women's fundamental right to reproductive health is far from over.'
Vice President Kamala Harris is delivering a speech Sunday in Tallahassee to commemorate the 50th anniversary of Roe v. Wade, the now-overturned Supreme Court decision establishing constitutional protections for abortion.
Harris is expected to contrast efforts by President Joe Biden's administration to bolster access to abortion and some forms of contraception with a concerted GOP countereffort.
The White House confirmed the planned visit to Florida's capital in a Thursday evening press release. Harris will speak at The Moon, a popular concert venue and nightclub, its owner, Scott Harris, told WTXL.
Danielle Thomas of the Northwest Florida Federation of Labor also said in a Thursday afternoon email that Harris will appear at the venue to "push national legislation to protect abortion rights."
The event is to run from 10 a.m. to 1 p.m.
"The Vice President will make very clear: The fight to secure women's fundamental right to reproductive health is far from over," Harris' Press Secretary, Kristen Allen, said in a statement.
"She will lay out the consequences of extremism attacks on reproductive freedom in states across our country and underscore the need for Congress to codify Roe."
Both Biden and Harris believe "a woman's right to choose is non-negotiable," Allen added.
While Harris is in the Sunshine State, the President will mark the occasion with a proclamation, administration officials said.
That's the extent of the executive actions and policy proposals planned, according to White House Press Secretary Karine Jean-Pierre, who repeated the President's call for national legislation safeguarding abortion rights in a Wednesday press briefing.
Such a law is unlikely in the next two years. Democrats hold 51 seats in the Senate, enabling them to block Republican attempts to enact a national abortion ban. However, they do not have sufficient support to evade a filibuster to pass their own law restoring a abortion rights countrywide. Republicans also now control the House.
"At the state level, more than 60 anti-choice bills have been produced for the 2023 Legislative Session, including extreme proposals going as far as threatening women with felony charges for accessing care. In stark contrast, the President and Vice President remain committed to fighting these extreme attacks on women and expanding access to reproductive care however they possibly can," Jean-Pierre said.
"The President and Vice President and a strong majority of American people believe that women must be empowered to make decisions about their own lives and health care, and that those decisions should not — should never be — be politicized or second guessed by politicians."
On June 24, the Supreme Court overturned Roe, kicking back down to states' jurisdiction over abortion rights and provisions. The ruling came after months of consternation among proponents of reproductive rights following a leaked draft majority opinion in which Justice Samuel Alito wrote that Roe was "egregiously wrong" and "must be overturned."
Less than a week later, Florida's new ban on abortion after 15 weeks of pregnancy without exceptions for rape or incest went into effect. Abortion was previously legal through the 24th week of pregnancy,
Shortly after winning supermajorities in both chambers of the Legislature in November, Republican Senate President Kathleen Passidomo said she would support reducing the timeframe to 12 weeks if the legislation excludes rape and incest cases.
"Other than that, I don't have a dog in the fight," she told POLITICO.
Gov. Ron DeSantis — widely considered a front-runner for the 2024 Republican presidential nomination, should he seek the office — signaled last month that he is "ready to sign" even more stringent restrictions, including a so-called "heartbeat bill" prohibiting terminations of pregnancy if a fetal heartbeat is detectable, typically in the first six weeks.
The Texas Legislature enacted such a ban in 2021 but in August joined 12 other states enforcing a "trigger ban" making abortion a felony punishable by up to life in prison, with narrow exceptions.
Predictably, teen interest in long-lasting birth control soared afterward, as did interest in abortion pills. After the Food and Drug Administration issued regulations early this month permitting the sale of abortion pill mifepristone in retail pharmacies including Walgreens and CVS, Florida health officials warned the businesses that doing so is illegal. Florida is one of 18 states to ban pharmacies from dispensing abortion pills.
Banning safe, legal access to abortion is generally unpopular across the U.S., including in Florida, according to multiple polls conducted before and after Roe's overturning. In February, a survey by the Public Opinion Research Lab at the University of North Florida found 57% of respondents disapproved of a 15-week abortion ban.
A May poll by Florida Atlantic University revealed even stronger opposition, with 67% of Florida respondents saying they want abortion legal in most or all cases and just 12% supporting a complete ban.
In October, a survey of Florida's most populous county, Miami-Dade, revealed a plurality of voters there are against any restriction on abortion.
Florida Planned Parenthood planned to hold a rally Sunday "at the doorstep" of Gov. DeSantis in Tallahassee to oppose further abortion bans.
U.S. Sen. Marco Rubio, who calls Miami home, said members of the "pro-life movement" have "legitimate cause for celebration" at their own events Sunday but stressed work toward "dismantling America's pro-abortion legal regime" is far from over.
"(You) didn't march for 48 years just so the state of California or the Department of Veterans Affairs could become America's abortion factory, or so that the United States Postal Service could become a mail-order Planned Parenthood," he wrote in a column on Townhall.com.
"You marched to save lives, and tragically millions of American babies are still in mortal danger. Your work — and mine — won't be done until this country is truly safe for women and the unborn."
Unsafe abortion, typically administered in developing nations and countries where abortion is illegal, is a leading — but preventable — cause of maternal deaths and morbidities, according to the World Health Organization, which says lack of access to "safe, timely, affordable and respectful" is a "critical public health and human rights issue."