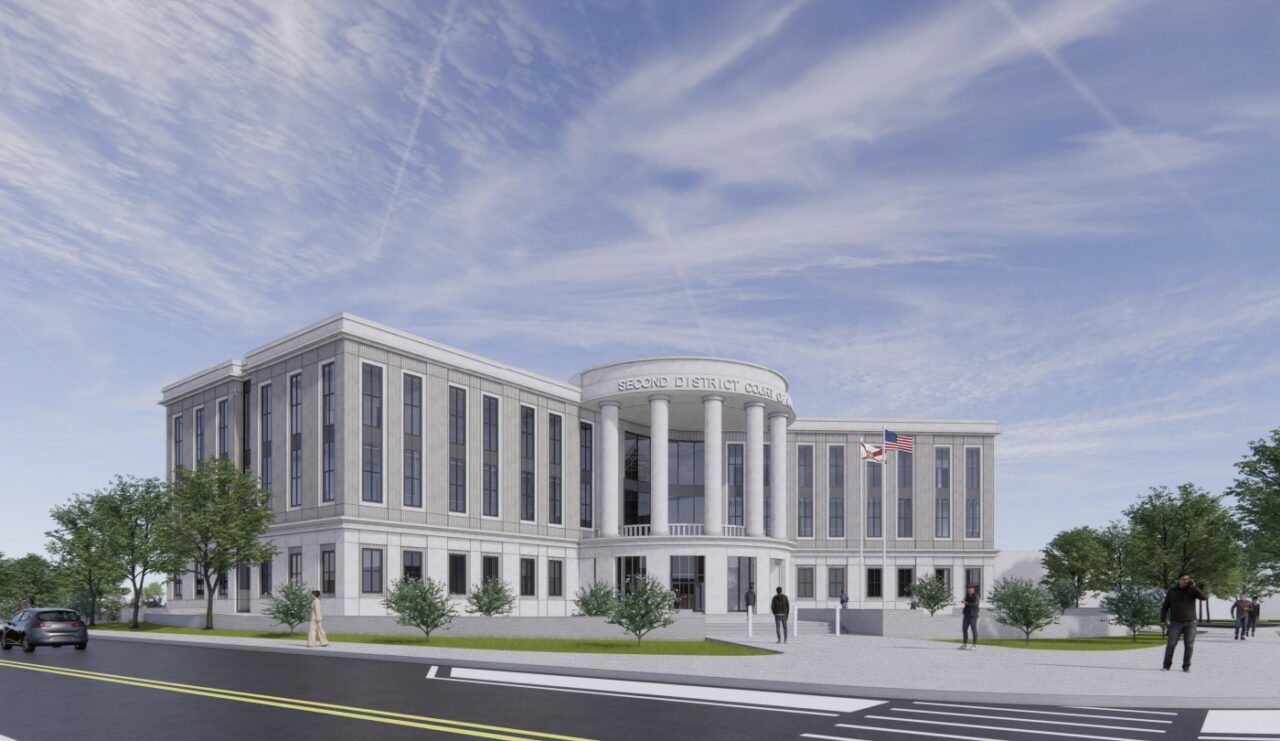 Judges, court staff and lawyers in the district have been without a proper courthouse for more than half a decade.
More than a month after builders broke ground on the Bernie McCabe 2nd District Court of Appeal in downtown St. Petersburg, judges say the project remains underfunded and is undergoing redesigns.
On Wednesday, the judges asked members of the House Justice Appropriations Subcommittee for $9 million to cover the cost of what they described as the project's downsized but still adequate scope.
The funding request would be in addition to $50 million former House Speaker Chris Sprowls secured in April 2021 for the building, which is to rise on the site of the former Sebring Building. Gov. Ron DeSantis in June vetoed a subsequent $15 million earmark the Legislature OK'd earlier for contingencies.
The current design for the three-story, 53,000-square-foot building includes 15 judicial chambers, one courtroom and workspace for about 95 full-time employees. The total project cost of $59 million includes the project's design, construction, land purchase, permits, site development, furniture, fixtures and the paving of a new surface parking lot, which will be built instead of a previously contemplated underground garage.
Leading up to and through Skanska USA Building Inc.'s groundbreaking on the project Dec. 14, architectural and engineering firm DLR Group has been revising its schematic designs to better fit budgetary constraints and accommodate for inflated material costs.
Speaking on behalf of 2nd DCA Chief Judge Robert Morris and Tom Berger, director of real estate development and management for the Department of Management Services, Judge Jonathan Gerber of the Fourth District Court of Appeal told the committee that new design drawings should be ready this summer.
Construction documents, materials bidding and permitting would be done in the fall, Gerber said, with construction to recommence in earnest about a year from now.
The courthouse — which covers the 6th, 12th and 13th Judicial Circuits — has been years in the making. A 2016 study by Savills Studley Occupier Services and the National Center for State Courts called for a 73,000-square-foot building with 18 judicial chambers, two courtrooms and workspace for 117 full-time workers to be built somewhere in the Tampa Bay area.
The project's estimated price tag then was $34 million, not including the cost of land, permits, site development, parking, furniture, fixtures or other components.
That year, the Lakeland court building previously housing the 2nd DCA had to be evacuated due to "a bunch of asbestos," Gerber said. A 2021 press note from Sprowls' Office blamed mold infestation for making workers sick.
The building is set for demolition in April.
Cases for the 2nd DCA have since taken place in a classroom in downtown Tampa.
"We really had to cram a lot of people in short order into these very tight spaces, and that's what we've been doing for several years now," Gerber said, adding that while the price for steel and other construction materials may not be advantageous now, the current setup is untenable.
"We need this courthouse to be built. Unfortunately, the timing of it is just not working out well in terms of the market, but from our perspective … it is what it is."
The pending courthouse is named for the late Bernie McCabe, who served as Pinellas-Pasco State Attorney in Florida's 6th Judicial Circuit for nearly three decades.