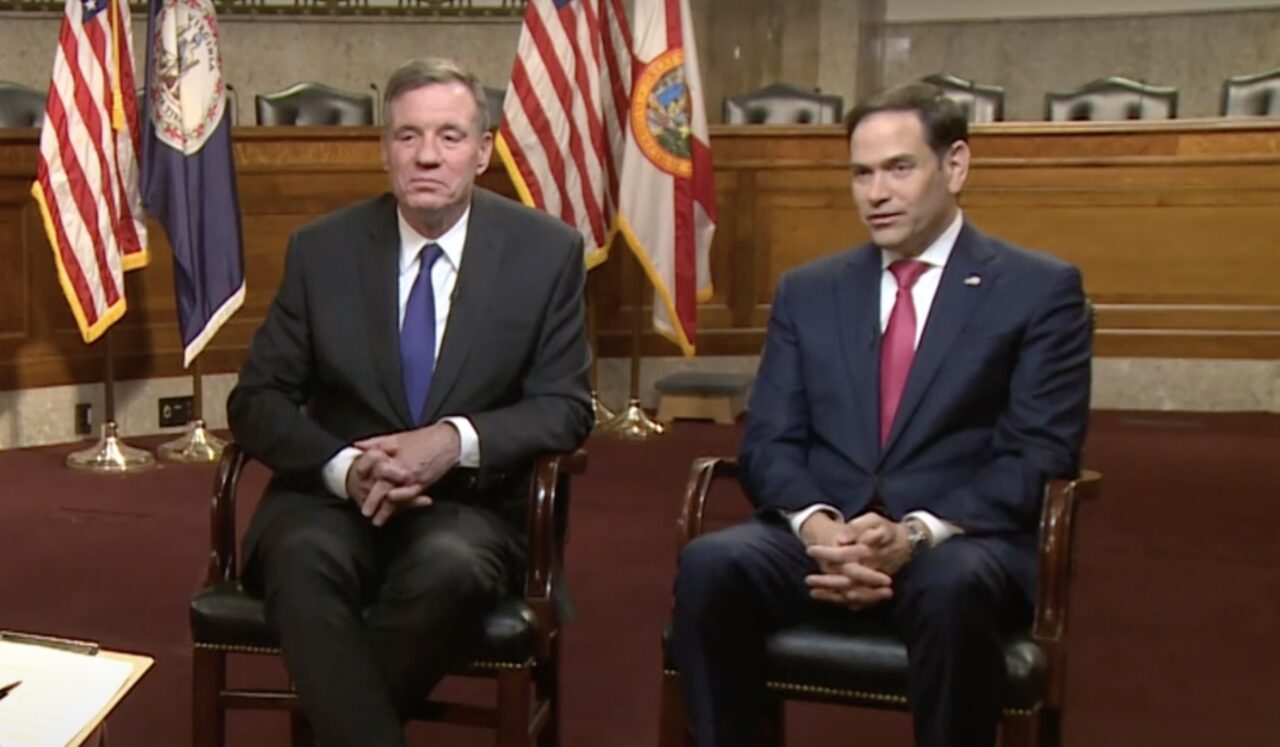 Special Counsel investigations of Joe Biden and Donalds Trump can't impede Congress, both said.
Sen. Marco Rubio still doesn't know what classified documents are at the center of two ongoing special counsel investigations. As the top Republican on the Senate Intelligence Committee, he said that's a problem.
During an interview with CBS' Face The Nation, the Florida Republican said there's bipartisan agreement committee members should know what classified documents were seized on an FBI raid of former President Donald Trump's Florida estate and turned over by President Joe Biden's attorneys.
"I don't know how congressional oversight on the documents — actually knowing what they are — in any way impedes an investigation," Rubio said.
He and Sen. Mark Warner, the Virginia Democrat chairing the Senate Intelligence Committee, sat for a joint interview, together stressing the need to know the nature of documents in question.
"The notion that we're going to be left in limbo and we can't do our job, that just cannot stand," Warner said.
Trump took documents with him to Mar-a-Lago when he left the White House, and has maintained that as President he had the authorization to declassify documents.
Biden returned classified papers dating back to his time as Vice President, and reportedly as far back as 2008 or earlier when he served as a U.S. Senator. He said some of the documents were found in his personal garage.
Rubio in the past has criticized Biden's handling of documents while dismissing Trump's situation as a 'storage argument.'
But in his joint appearance with Warner, both stuck to a shared concern that members of the Senate Intelligence Committee must have access. Both stressed that only 15 members of the Senate have the clearance to even access these documents. That makes it more important they see the documents if only to confirm the nature of the items to colleagues.
"These are probably materials we already have access to," Rubio said. "We just don't know which ones they are."
Warner said before Attorney General Merrick Garland appointed a Special Counsel on the Biden case, Director of National Intelligence Avril Haines expressed willingness to brief the committee on the documents. But with investigations underway, the intelligence committee pulled back from that for fear of politicizing the matter.
"President Trump and President Biden would probably want to have this known if, as they say, there's no there there," Warner said.
Rubio said it's especially upsetting that senators cannot access the documents even as media reports offer specific descriptions about the documents.
"Somehow the only people who are not allowed to know what was in there are congressional oversight committees," Rubio said. "But apparently the media leaks out of the [Department of Justice] are unimpeded in terms of characterizing the nature of some of the materials."
He said the Senate Intelligence Committee plays a different role than investigators, and that he's not interested in trying to develop a timeline on handling of documents. But he would like to see if any of the documents indeed compromise national security or the personal safety of intelligence assets around the globe.
Both Rubio and Warner acknowledged the material itself may be dated and unimportant to America's intelligence interests. But the documents may or may not reveal information on intelligence-gathering techniques.
Rubio said he hopes the bipartisan demands for access prompt intelligence leaders to change their mind. But if not, he said Congress still holds the power of the purse. A refusal to work with Congress could lead to disputes on how much funding gets awarded to intelligence agencies in the future.
"I'm not in the threat business right now, but certainly there are things we need to do as a committee every year to authorize the moving around of funds," he said. "The Director of National Intelligence and other heads of intelligence agencies are aware of that. At some point, I'd prefer for them just to call us this morning or tomorrow or whenever and say look, this
is the arrangement that we think we can reach so that the overseers can get access to this.
"I'd prefer not to go down that road but it's one of the pieces of Leverage we have as Congress."