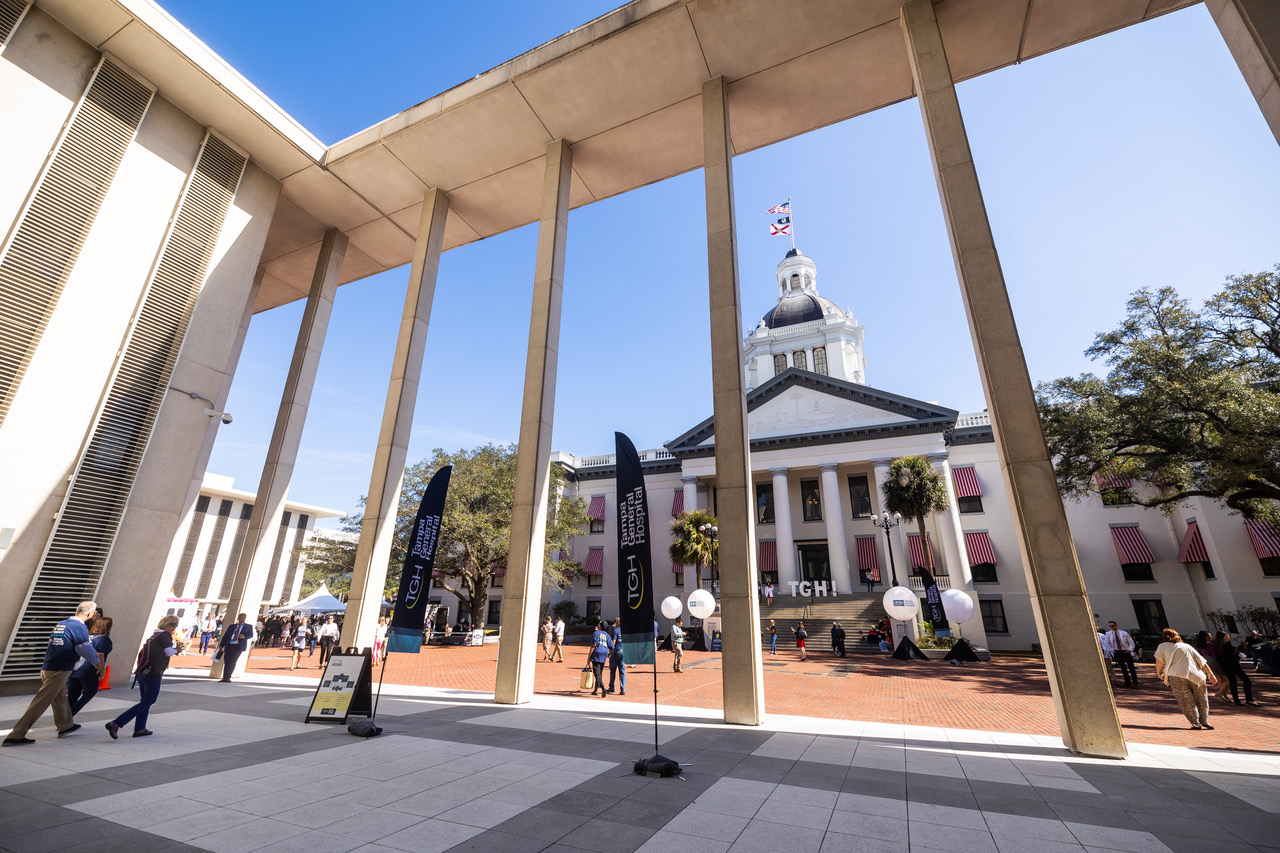 At 'We Are TGH' Day, patient advocates show the impact of Tampa General on Florida and the nation.
Nearly 150 patient advocates who received lifesaving care at Tampa General loaded buses this week and trekked to the Florida Capitol for the annual "We Are TGH" Day.
Their ask? None. They just wanted the chance to share their story.
Numbers tell one story.
Numbers like one — Tampa General Hospital was named the #1 hospital in Tampa Bay by U.S. News and World Report 2022-2023 and one of the nation's best hospitals in seven specialties.
Or six — TGH is #6 in the nation for transplants by volume. Or 682 — the record number of transplants completed at Tampa General during 2022.
Volume is important, according to John Couris, the TGH president and CEO. High volume leads to greater proficiency, resulting in better patient outcomes.
"At Tampa General, we are working to be the safest and most innovative academic health system in America. Volume of care is an important part of that because the more we do, the more proficient we become, ultimately leading to better outcomes for our patients," Couris said. "At the end of the day, more lives are saved."
Behind every number is a face, and the members of the TGH Patient and Family Coalition represent these impressive rankings and numbers. They are Floridians who received organ transplants or survived trauma because of the care at TGH or mitigated tremors due to an innovative new treatment available at Tampa General.
Sharing their story with members of the Florida Legislature, these patient advocates can show the impact of Tampa General on our state and nation.
"My husband received a heart transplant at TGH. Years later, I needed my own transplant and a TGH nurse donated her kidney to me," said Debbie Ismer, a member of the TGH Patient and Family Coalition who is a retired nurse and volunteers at TGH. "Tampa General is our lifeline. It's in our blood. But our stories are not unique. Miracles happen at Tampa General every day."
Sens. Jim Boyd, Danny Burgess, Jay Collins, Colleen Burton, Ed Hooper and Darryl Rouson spoke to and met with the TGH Patient and Family Coalition. As a group, the patients heard from lawmakers about the meaning of access and quality when it comes to health care.
In small meetings, patients shared stories of organ transplants and trauma recoveries. They conveyed why they chose TGH and how TGH saved their lives.
Reps. Randy Maggard, Karen Gonzalez Pittman, Susan Valdes, Kevin Steele and Traci Koster were among the electeds who welcomed the coalition to town. Many lawmakers had their own stories to tell about the ways TGH provided lifesaving care to them or a loved one.
This event marks the third "We Are TGH" Day at the Capitol. What started as a few dozen advocates has tripled in size over the last three-plus years.
Displays in the Plaza Level of the Capitol featured the history and expansion of the TGH Transplant Institute, which completed its first transplant in 1974. In 1985, TGH became the first hospital in Florida to successfully perform a lifesaving heart transplant. Today, the center has completed more than 12,500 transplants.
The interactive displays in the Capitol Plaza also showcased Tampa General's Hospital at Home program, which combines expert care and innovative technology with a focus on the needs of the patient. TGH At Home gives eligible patients an opportunity to stay home while receiving best-in-class clinical hospital care from health care providers including physicians, physician assistants, nurse practitioners and certified nurse assistants.
And there were food trucks.
The public came out in droves for a taste of A Frother's Daughter, Momma P's Ice Cream, Ida-Belle's Southern Kitchen, ZapZap Thai Kitchen and more. On the courtyard, visitors explored the TGH Aeromed Transport helicopter. It's one of six in the TGH fleet that serves 23 counties in Florida.