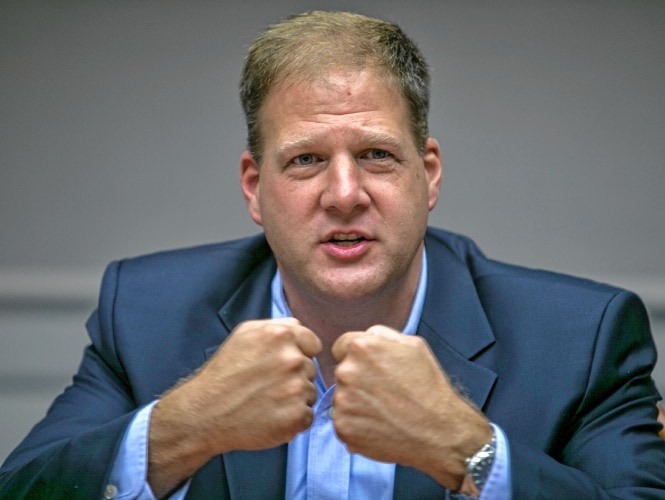 'Sorry, Ron, you're number two. Sorry, Florida.'
New Hampshire Gov. Chris Sununu continues to publicly explore a run for the presidency, making it clear that Ron DeSantis is in his way.
The latest example of DeSantis being part of the Granite State Governor's presidential deliberations was delivered in a Thursday POLITICO Live interview, where Sununu suggested that DeSantis and former President Donald Trump "will run," with "maybe one or two people in there."
"There's so much to be played out here, nothing's set in stone," Sununu contended
"Who knows what will happen?"
While Sununu wasn't predicting the future, he was establishing a contrast with DeSantis, specifically on the issue of "personal freedoms," where he proclaimed superiority over the Florida model embodied by DeSantis.
"Sorry, Ron, you're number two. Sorry, Florida," the 48-year-old Republican quipped.
While DeSantis and former President Trump top most national and state polling of the thus far embryonic field, Sununu has home field advantage for the first in the nation Republican Primary.  And he's taking the long view.
"So much politics to be played out here. It's going to go up and down, up and down," Sununu contended, noting that previous cycles saw "four or five people take the lead" in polling before voters began to weigh in.
Whatever scenario may play out, Sununu's public comments for weeks have framed the Florida Governor as a threat to any presidential run.
"I think Ron would do well," Sununu said in January on the Fox News Channel's "America's Newsroom," in response to a question from co-host Dana Perino.

He then offered some qualifying language.
"I would say this. Any Governor has to be willing to engage with voters in their homes, in their businesses, in their communities and shake hands. We want to look you in the eye. We want to buy off on you as a person before we even get to policy. If you can't pass that first test, I don't care how much money you have, you're not going to be successful. But Governors are pretty darn good at that."
In an interview with Fox News that ran earlier last month, Sununu agreed with DeSantis there is a "need to push back on woke policy," an ongoing concern of DeSantis, but that such pushback shouldn't happen at the expense of private businesses.
He said that "going after private business is a whole different story. … I come from the 'Live Free or Die' state, and private businesses can and should act like private businesses without the fear of being punished by people that might disagree with them."
"While I agree with a lot of those issues that Ron brings to the table," Sununu said does not think it wise "to necessarily punish private businesses because they don't agree with a policy or whatever it might be. Those types of culture wars pushing their way into the private sector, that's definitely not, I think, where we want to be as Americans."
Sununu slammed DeSantis before Christmas for another policy decision, meanwhile, chiding DeSantis for his desire to create a state equivalent to the Centers for Disease Control and Prevention.
"He's creating his own group to basically be a critique, as I understand it, of the federal group," Sununu told Hugh Hewitt.
"I don't need a committee or an organization to tell me and the American people the obvious. But I don't know, maybe there's some other function that they're achieving down in Florida. But I'm just telling you, in terms of critiquing that group, I think I've got it. I think the American people got it. It's been a disaster."
Previously, Sununu slammed Florida for raising taxes as his state cut them.
"And again, we just doubled down on that with the cutting of the taxes," Sununu said in May on The Howie Carr Show. as previously reported by POLITICO Florida Playbook. "And Florida is great, Florida's been very flexible. He did sign another billion dollars of tax increases. I love Ron, but the fact of the matter is their taxes are going up and ours are going down. So I think we're going in the right direction."
A recent New Hampshire poll has Sununu getting just 4% support in a crowded field, suggesting he may have some work to do even with home state voters to make his presidential case. While "favorite son" candidates do sometimes perform well, Floridians remember the ultimately failed 2016 campaign of Marco Rubio as illustrating that theory doesn't always prevail.