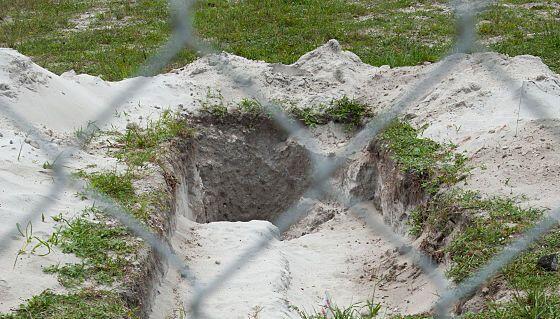 A piece of Westview Cemetery in Pompano Beach is slated to be sold.
Supporters fighting to keep an historically Black cemetery in Pompano Beach intact recently lost a round in court. Their hopes now lie in a court appeal as well as legislation that could help restore the cemetery.
Westview Cemetery was founded in 1952 when segregation laws kept races separate, even in death. A donated 15-acre parcel given to Black area churches formed the basis for a cemetery association. And, at the time, it was the only dedicated place where Black people in Pompano Beach could be buried.
Fast forward to 2021, though, and the cemetery association's board of trustees decided it was in the best interest of the cemetery to sell off what the board said is an unused 4.5-acre portion.
KZ Copans, a development company, wants to buy the parcel for an industrial warehouse, distribution center and storage facility, according to city documents.
The trustees say the $1.29 million they would get from the sale is the only way to restore the final resting place of about 400 city residents, including "Good Times" actress and Pompano native Esther Rolle. The cemetery has fallen into disrepair with headstones crumbling.
This disarray and threatened erasure is a familiar story for scores of Black cemeteries around the state as the tides of time propel property sales and shifting priorities. Bodies are believed buried under Interstate 95 in Boynton Beach. A cemetery was built over twice before graves were discovered in Miami. Tampa Bay's first Black cemetery, Zion Cemetery, had 800 bodies buried there before headstones were removed and stores, warehouses and homes built.
A legislatively created task force resulted in recommendations that included starting the Office of Historic Cemeteries within the Division of Historical Resources with three full-time employees. Legislation incorporated the task force recommendations, but the bill, promulgated by Rep. Fentrice Driskell in the House and Sen. Janet Cruz in the Senate, died last year without a single Senate committee hearing.
Driskell, now the House Democratic Leader, is not ready to give up though. She introduced the same bill (HB 49) for the 2023 Session. Sen. Bobby Powell of West Palm Beach has filed companion legislation (SB 430).
This mission is a process, she told Florida Politics last year.
"I'm really proud of the momentum that we built up on this issue and around the bill," she said when the bill died. "We've even gotten national attention for the work we're doing on Black cemeteries and are part of these national stories of how this happened not just in Florida, but around the country."
Rep. Patricia H. Williams of Pompano, whose grandparents on both sides of her family lie there, said she's aghast the same scenario that has claimed countless Black cemeteries is happening in 2023. And she's not sure the legislation will help Westview's cause, if it's passed.
"We never thought we would be in a fight to save the land where we bury our loved ones," she said.
Driskell's bill focuses on abandoned cemeteries. But it does call for the maintenance of historic cemeteries such as Westview. But first, Westview supporters, led by former City Commissioner Edward W. Phillips Jr., must stop the sale.
They are raising the alarm that the vacant land is the only option for future generations who want to be buried at Westview and the land that's slated to be sold might be the unmarked final resting place of paupers.
That question has proven a hard one to answer in the past. Two ground surveys of land in Deerfield Beach did not turn up bodies at an abandoned cemetery until after the city approved a 69-unit townhouse project in 2016.   
Phillips says that Walter Hunter, acting as president of the Westview Cemetery Community Association board of trustees, was not authorized to make the sale. And that he, along with other Pompano community members, should be allowed to stop it, as members of the association by birth. Hunter could not be reached for comment.
"I'm disappointed in developers who would approach and try to buy a facility of and disregard the historical use," he said.
A lawyer for the developer could not be reached for comment.
The case was dismissed in Broward County Circuit Court last May. Judge Barbara McCarthy found that the plaintiffs did not have standing to stop the sale. The case is currently in the Fourth District Court of Appeal.
Phillips says the board of trustees did not follow their bylaws when the sale was authorized. He's hoping the court will recognize that the plaintiffs do have standing to determine the cemetery's fate.
"It appears to be an uphill battle, but I think, as an African American, I'm used to that," he said.