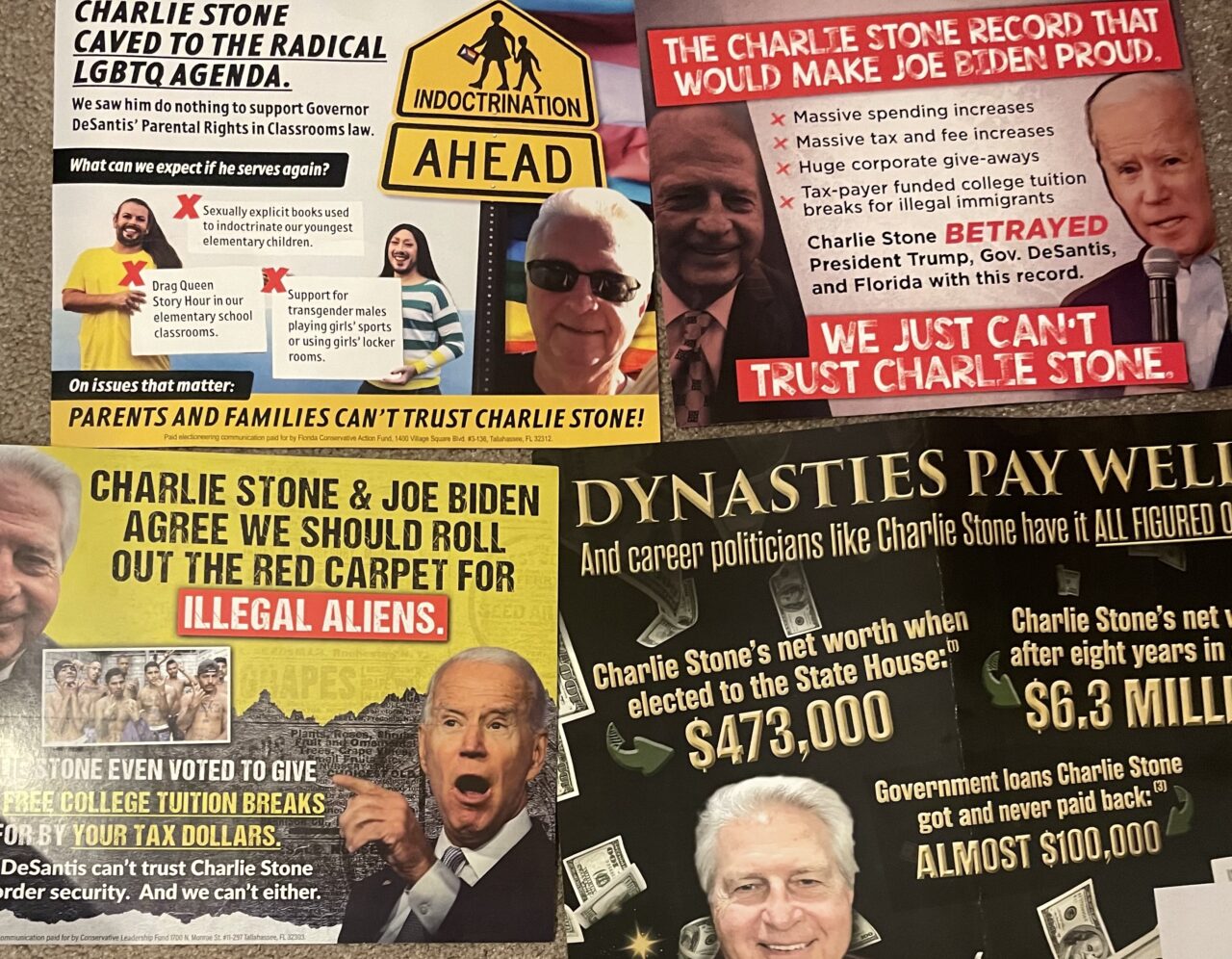 One mailer says Stone 'caved to the radical LGBTQ Agenda.'
Numerous mail pieces hitting former Rep. Charlie Stone have landed in Ocala area mailboxes. That includes a mailer that targets transgender Floridians and says they have sway over the ex-lawmaker.
With a March 7 GOP Primary approaching in a Special Election for the House District 24 seat, knives appear to be sharpening for Stone.
As for Stone, he largely dismissed the ads. "We will continue to run a positive campaign and win," he told Florida Politics.
One mailer included images of several transgender women, apparently in an attempt to paint Stone as too supportive of the minority group. Showing his photograph under a mock school crossing sign that reads "Indoctrination Ahead," the mailer says Stone "Caved to the Radical LGBTQ Agenda."
But the mailer largely hits Stone for not taking up certain issues. For example, it slams him for not backing a bill signed by Gov. Ron DeSantis and written by Stone's successor, former Rep. Joe Harding.
"We saw him do nothing to support Governor DeSantis' Parental Rights Law in Classrooms Law," the mailer states.
The bill was Harding's most controversial piece of legislation, supported by parents' rights groups like Moms For Liberty but derided as the "Don't Say Gay" bill by progressives. The mailer suggests that if Stone returns to the seat, voters can expect "sexually explicit books used to indoctrinate our youngest elementary students" and "support for transgender males playing girls' sports or using girls' locker rooms."
The latter appears to refer to transgender women. DeSantis signed a bill in 2021 prohibiting transgender girls and women from playing in female scholastic sporting events in Florida.
Both that and the parental rights bills were passed after Stone termed out of the Legislature in 2020.
The mailer also asserts a Stone victory will mean "Drag Queen Story Hour in our elementary school classrooms." It is paid for by the Florida Conservative Action Fund, chaired by David Biddle and based in Ocala.
Other mailers going after Stone come from the Conservative Leadership Fund, headed by Michael Hanna.
Of note, both of those political committees last reported contributions months ago from Florida First Forever, Inc. That's a political committee tied with successful state House campaigns for Reps. Carolina Amesty, Griff Griffitts and Kiyan Michael, all of whom worked last year with political consultant Brett Doster.
Doster's The Front Line Agency is working in the HD 24 Special Election with Ryan Chamberlin, one of four Republicans facing Stone in the GOP Primary.
Another mailer takes Stone to task for the massive increase in net worth during his first eight-year tenure in the House. That one cites financial disclosures that showed Stone's net worth at $473,000 when he first sought a state House seat in 2012, but more than $6.3 million now. It cites financial disclosures, which show much of Stone's net worth a result of his stake in Stone Petroleum Products.
"Dynasties pay well," a mailer reads, "and career politicians like Charlie Stone have it all figured out."
The ad also suggests Stone received nearly $100,000 in government loans he never paid back. That could be particularly explosive in a Special Election being held because Harding was indicted on fraud charges connected to the Paycheck Protection Program.
Other ads try to tie Stone's politics to those of President Joe Biden. One in particular attacks Stone for a vote to give "illegal aliens" "free college tuition paid for by your tax dollars."
The Legislature in 2014, backed by then-Gov. Rick Scott, voted to allow undocumented students to pay in-state tuition at Florida's public colleges and universities.
"Charlie Stone & Joe Biden agree we should roll out the red carpet for illegal aliens," the new mailer states.
Another mailer also shows Stone's face along with Biden's and mentions that vote, as well as "massive spending increases," "huge corporate give-aways" and the tuition breaks from the Scott era.
"Charlie Stone BETRAYED President (Donald) Trump, Gov. DeSantis, and Florida with this record," the mailer states. "We just can't trust Charlie Stone."