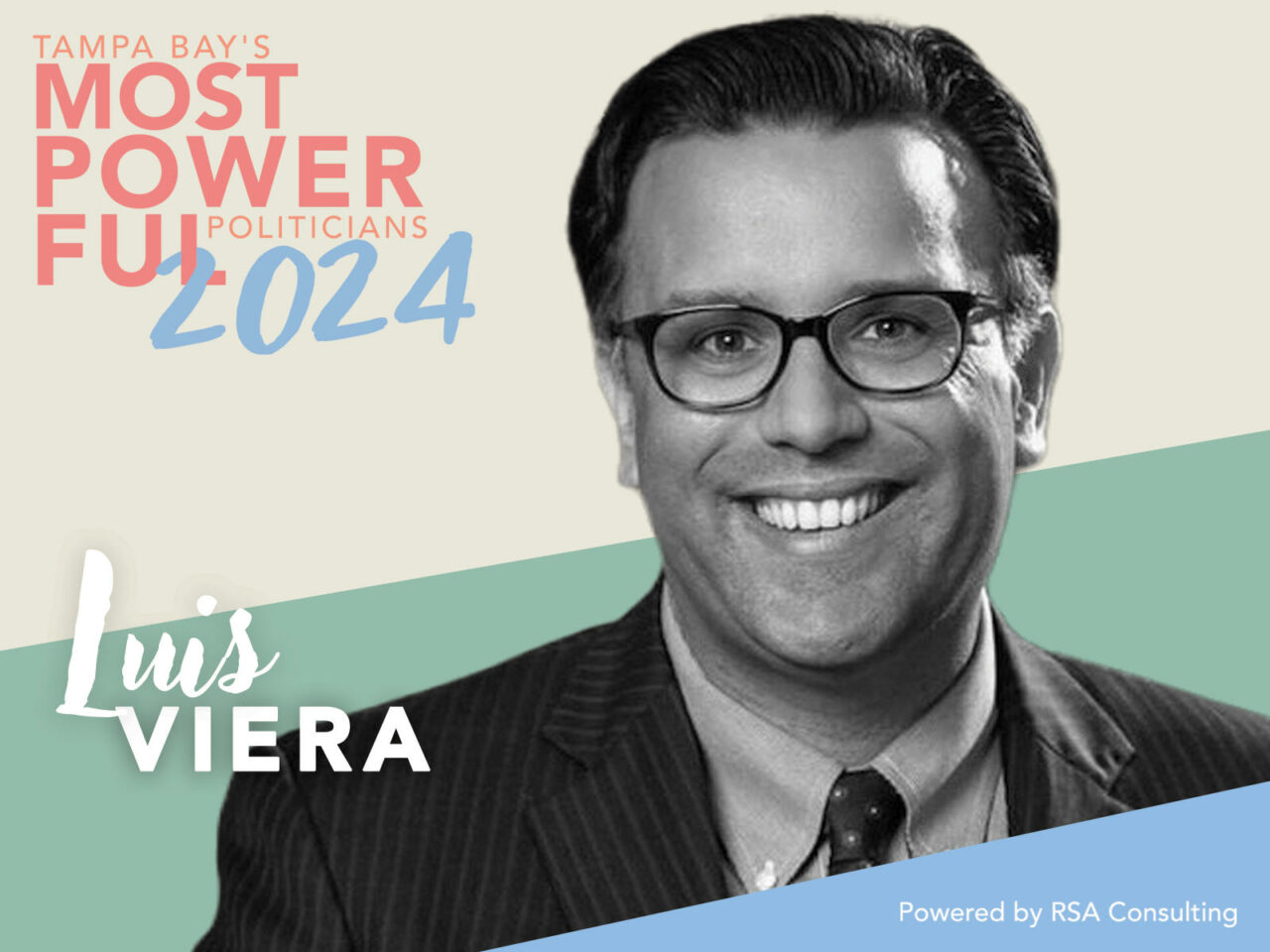 'He has the heart of a true public servant and is a trusted and sensible voice on the Tampa City Council.'
To the untrained observer, Tampa City Council member Luis Viera might not immediately jump to mind when contemplating influential politicians.
The New Tampa resident legislates and leads quietly, but effectively. His soft demeanor and charming presence lends itself well to coalition-building, and you'd be hard-pressed to find anyone who has any real beef with Viera.
But that quiet disposition is exactly what takes Viera to the top.
"Councilman Viera is one of the most visible elected officials you will find. Every ribbon cutting, every town hall, every community event, he is there. He is an exemplary public servant that is active in his community and committed to listening and understanding his constituents. He translates this into effective change, and in particular has been an outstanding advocate for disadvantaged children and families," said RSA Consulting President and CEO Ron Pierce.
His résumé is no joke. As a City Council member, Viera has served on the Hillsborough County Public Transportation Commission and the Hillsborough County Metropolitan Planning Organization, on which he chaired the group's Transportation Disadvantaged Committee. He currently serves on the Hillsborough Area Regional Transit Authority's board and chaired the City Council in 2019-20. He currently chairs the Council's Public Safety Committee.
Viera, a lawyer by trade, earned his undergraduate degree from the University of South Florida before attending Stetson for law school. A moderately left-leaning politician, he had a reputation for civic engagement even before his run for a Council seat. He served as Chair for both the Hillsborough County Bar Association Diversity Committee and the City of Tampa Civil Service Board.
But it is perhaps Viera's work advocating for marginalized and underserved communities that most stands out.
Viera was integral in securing funding for the city's first-ever "disability and sensory-friendly playground" that caters to children with autism spectrum disorder and other cognitive challenges. It's setting a new standard for inclusivity and equity among children.
In early 2022, Viera successfully reintroduced the Tenant's Bill of Rights, mandating landlords provide notice of rights and accept Section 8 vouchers and other forms of government assistance as a prospective tenant's income, among other features. The measure came as the Tampa Bay area was entering an ongoing housing crisis pricing residents out of both rental opportunities and home ownership.
"Council member Viera delivers for the residents of Tampa year after year by finding ways to work with partners throughout the community. From state Representatives to local unions and neighborhood groups, Luis brings people together and the impact reaches far beyond the borders of his district," said Christina Barker, Chief of Staff in the Vinik Family Office and a one-time staffer for former Tampa Mayor Bob Buckhorn.
"He has the heart of a true public servant and is a trusted and sensible voice on the Tampa City Council."
Viera was first elected to the Tampa City Council in a 2016 Special Election to replace outgoing member Lisa Monteleone, who left her seat vacant to run for state House. Just weeks after the election of Donald Trump in 2016, Viera beat Republican Jim Davison, by just 65 votes, allowing Democrats a small bit of relief.
"Having worked on some issues with Councilman Vieira while I was on the (Pasco County) Commission, I can say he was always a consummate professional. We didn't always agree on the issue at hand but his willingness to have respectable dialogue was always appreciated," said Mike Moore, a former Pasco Commissioner who now works with The Southern Group.
"He lives and breathes the city of Tampa and has probably set the record for having the most town hall meetings of any elected official in its history. His constituent service record is hard to match."
Methodology
We define the Tampa Bay region as Pinellas, Hillsborough and Pasco, but can also include Hernando, Polk or Sarasota — if the politicians from those counties impact either Pinellas or Hillsborough.
We define a politician as being in office or running for office.
Being first on a panelist's list earns the politician 25 points, second earns them 24 points and so on, to where being listed 25th earns a politician one point. Points are added and, voilà, we have a list.
Special thanks go to our experienced and knowledgeable panelists, who were essential to developing the 2023 list: Christina Barker of the Vinik Family Office, Ashley Bauman of Mercury, Ed Briggs of RSA Consulting, political consultant Maya Brown, Ricky Butler of the Pinellas Co. Sheriff's Office, Reggie Cardozo of The Public Square, Ronald Christaldi of Schumaker, Barry Edwards, Joe Farrell of Pinellas Realtors, pollster Matt Florell of Vicidial Group, Shawn Foster of Sunrise Consulting Group, Adam Giery of Strategos Group, political consultant Max Goodman, Mike Griffin of Savills, Todd Josko of Ballard Partners, Natalie King of RSA Consulting, political consultant Benjamin Kirby, Merritt Martin of Moffitt Cancer Center, Mike Moore of The Southern Group, Ron Pierce of RSA Consulting, J.C. Pritchett, pastor of St. Pete's Faith Church, Darren Richards of Tucker/Hall, Preston Rudie of Catalyst Communications Group, Amanda Stewart of Johnston and Stewart, Bemetra Simmons of the Tampa Bay Partnership, Alan Suskey of Shumaker Advisors and communications consultant Janelle Irwin Taylor. With Michelle and Peter Schorsch.