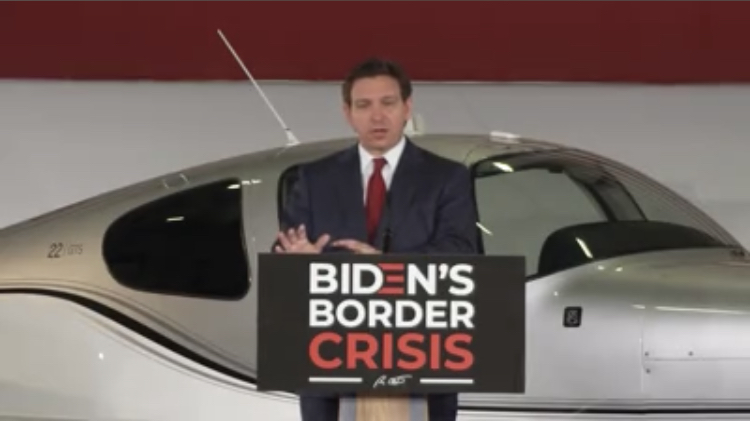 'If they're doing that from the Left, then the media says that's democracy in action.'
Appearing in Jacksonville, Gov. Ron DeSantis offered a joke about the Capitol insurrection while discussing a proposal to ban protests at the Florida Capitol.
"It's interesting that if they're doing that from the Left, then the media says that's 'democracy in action.' They don't say it's an insurrection if you take over a capitol because of that, but I think that's what it's getting to."
The Governor had commented on Jan. 6 previously, including last spring when he said concern about the riots that delayed congressional certification of the 2020 Presidential Election was a "dead horse" and a "loser" with voters. Thursday's remarks show he has not moved from that stance.
In January of last year, he offered similar dismissals of the focus of media and Democrats on the anniversary of the Capitol riots.
"This is their Christmas," he said of the media and Democrats at a January 2022 press conference in West Palm Beach, when asked about the anniversary of the riot. He expanded on that take in a subsequent fundraising email, contending that "Jan. 6th is like Christmas for the out-of-touch D.C., New York political and media class."
DeSantis' latest downplaying of the insurrection came after he was asked to comment on the tightening of rules around demonstrations that have been typical up until now, with the latest reporting from POLITICO Florida contending that such gatherings must "align" with the mission of the state. He claimed to know little about the Department of Management Services (DMS) decree.
"We've been very supportive of people being able to speak their mind, it's their right, they should do it. But we've also said, you know, you don't have a right to hijack and do like a heckler's veto and to stop the functioning of government. And so I think that's probably what it is, but our folks can follow up with you about more," DeSantis added.
"I would imagine that it's just, you know, you go there and you speak your mind, great. But you'll have some groups that will try to take over capitols like we've seen in other state capitals," he added.
The Matt Dixon piece in POLITICO Florida quoted a letter to prospective demonstrators: "One material change to the Rule is that events must align with state agency missions and applications must come from an agency sponsor. Once a sponsorship has been obtained, the state agency shall submit the required application to DMS on behalf of the requestor."