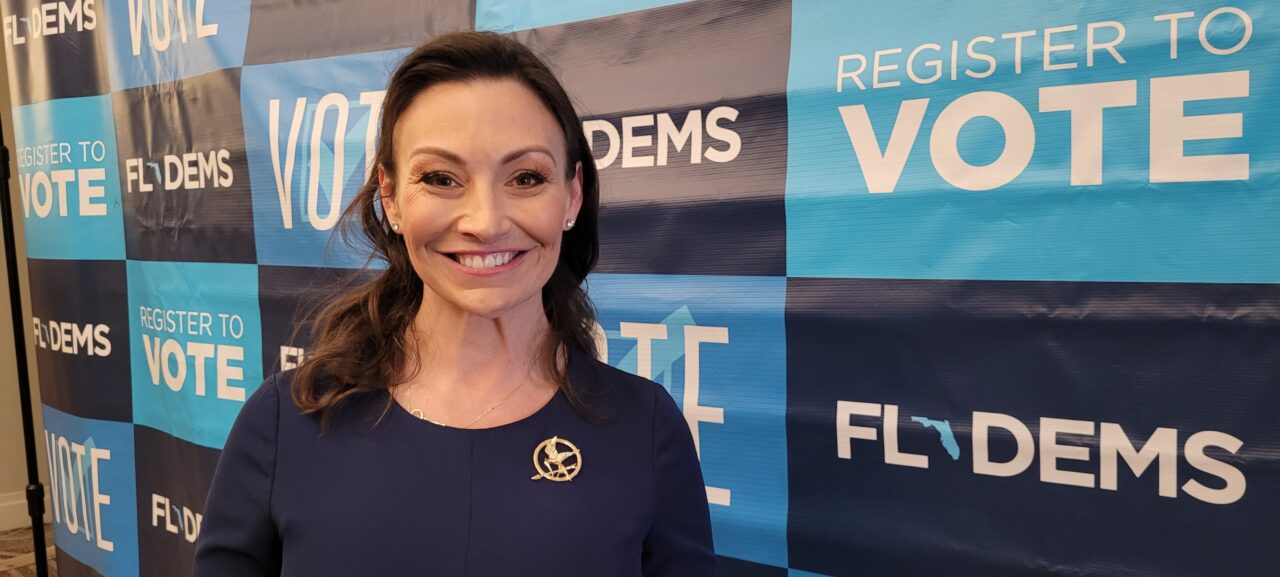 Fighting 30 years of trends in the wrong direction, the new Florida Democratic leader says it's time for 'something new.'
As former Agriculture Commissioner Nikki Fried addressed Florida Democrats in Maitland, she wore a Mockingjay pin from "The Hunger Games." In the books and related films, the icon was worn by the protagonist, a symbol of a revolution against a failed Capitol oppressing citizens subjugated for a matter of decades.
Like Katniss Everdeen, Fried now must bring together a group of voters in disparate parts of the state. Nearly 30 years after Democrats last won the Governor's mansion, and months after Fried lost a bid for that job herself, she must bring together people most connected today by a shared experience of perpetual losses.
"That's what we're doing here," Fried told press after her election as Chair of the Florida Democratic Party "We're uniting. We're bringing people together. We're lifting each other up. And we are going to create a movement in our state to make sure that we are truly protecting democracy, protecting freedom, and that we are representing all the people of our state."
Following a tense race against former state Sen. Annette Taddeo, Fried on Saturday won a majority on the first ballot.
But the tough part lies ahead, leading a state party that suffered historic routs in the Midterms even as a national red wave failed to materialize.
Fried gave a speech after her victory telling party leaders that whomever they voted for, they all had won. It was time to move forward, prepare for the Presidential election in 2024, and the chance to send U.S. Sen. Rick Scott "back to Naples for good" in the coming Senate campaign.
But how will she bring the party back after historic losses when Republican Gov. Ron DeSantis won re-election by 19 percentage points and GOP U.S. Sen. Marco Rubio secured a third term by almost as wide a margin?
"We unite," Fried said. "These elections sometimes could be contentious. A lot of emotions fly. But when Democrats come together, and we lift each other up, we work together to make sure that Democrats are getting elected up and down the ballot for organizing differently. So that was the first order of business, to unite the party, and you'll see today we are united as one."
That comes amid complaints the former lobbyist hadn't adequately supported other Democrats in important contests. Over four years as Agriculture Commission, Fried worked closely with lawmakers from both parties, and she notoriously has close friendships dating back to college with some GOP figures in the state.
But as she leads the state party, Fried told press she feels no loyalty to those in the modern Republican Party.
"The Republicans have become radicalized," she said. "They are not the old Republican Party of small government, of less taxes, less spending. Home rule does not exist here in the state of Florida. We are seeing that every single day with the Republican Party that is headed up by Ron DeSantis, but followed by the Legislature and the rest of the Cabinet.
"They are taking away our rights — or taking away all of your rights and freedoms. So I will have no qualms holding every single Republican in the state of Florida accountable and making sure that we are bringing Democrats back to Tallahassee and making sure we're keeping democracy here in our state."
She suggested that under DeSantis, a likely contender for President in 2024, Florida has become "ground zero" for the party's radicalization. She said many donors across America recognize that, and understand the need to stop the spread of the extreme ideology beyond the state of Florida. She hopes to work with groups like the Florida Alliance for Better Government to bring needed resources to level a playing field against Republicans.
But she said her first fundraising priority will be building support among grassroots donors.
"We need to regain the trust of the people on the ground," she said. "We're going to do low-dollar donations and make sure that people are invested in what we're doing here on the ground, making sure that we're rebuilding relationships with both our Democratic donors here in the state of Florida but also across the country.
"At the end of the day, when we are showing success, when we are showing that we've got a plan for success, the donors will be here and the people will be with us."