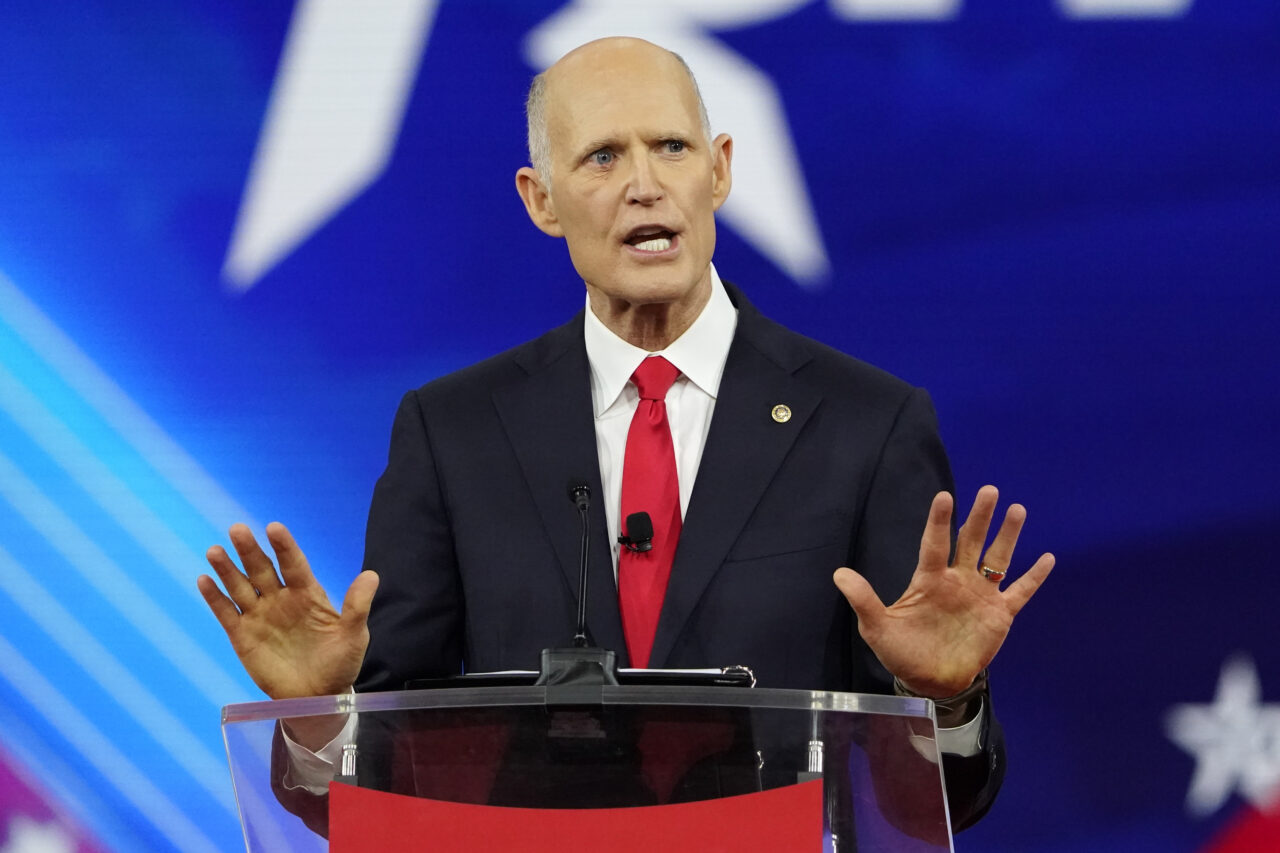 'The least popular person in Washington' got applause throughout his 23-minute stem winder.
Rick Scott's 23-minute speech to the Conservative Political Action Conference doubled down on the 'unpardonable sin' of 2022's failed GOP leadership challenge.
The Florida Senator said he's set to become the "least popular person in Washington," and — in fiery remarks punctuated by applause on multiple occasions — the outsider Republican said he's making progress toward that goal by pushing back against big-spending corruption on both sides of the aisle.
Scott told the activists in the crowd conservatives "cannot put up with the BS anymore," setting himself up as an antidote to rot, not just among Democrats but among the GOP, continuing a theme of opposition to Senate Minority Leader Mitch McConnell and other "establishment Republicans."
"Now you've heard up here in D.C., Democrats, Republicans say you never lose an election by spending more money. That's exactly what's happening in each of these instances. Old establishment leaders from our own Republican Party caved in and gave the Democrats enough votes to nail down victory after victory and pass dangerous left-wing policy," Scott asserted.
"And that's why last fall, I committed the unpardonable sin in Washington. I challenged Mitch McConnell to be the leader of the Senate. Now when I took on Sen. McConnell, I didn't think it was going to be easy. I assumed I'd have a hard time winning. But guess what? We have to start somewhere."
Scott described himself as unwilling to make amends with McConnell after his failed challenge for Senate leadership despite some trying to build a bridge.
"After I ran against McConnell, many people in Washington quietly advised me, 'You know what, you should apologize for taking on Sen. McConnell. Look, you've got to let things settle down. We've got to get back to business as usual in Washington.' OK, In the infamous words of Conor McGregor, I would like to apologize to absolutely nobody."
Scott described establishment Republicans as "destroying our country" along with Democrats.
"Some people who say they're on our side aren't going to like what I'm about to tell you. It's not just Democrats in Washington who are destroying our country. You've heard the famous quote, 'We have met the enemy and he is us.' Unfortunately, some of the leaders of our old Republican establishment, they've been in Washington way too long. They've forgotten why they came here," Scott said.
"They've gotten used to caving in to the Democrats. They do it over and over and over. So instead of the Democrats compromising their liberal principles, they roll over and we compromise our conservative principles," Scott added. "You've seen it happen: Republicans come to Washington to change it. But some just stay way too long."
Mocking so-called "responsible Republicans," Scott said The New York Times pats them on the back, and then "gradually, and sometimes quickly, Washington changes them to fit into Washington to be part of the club."