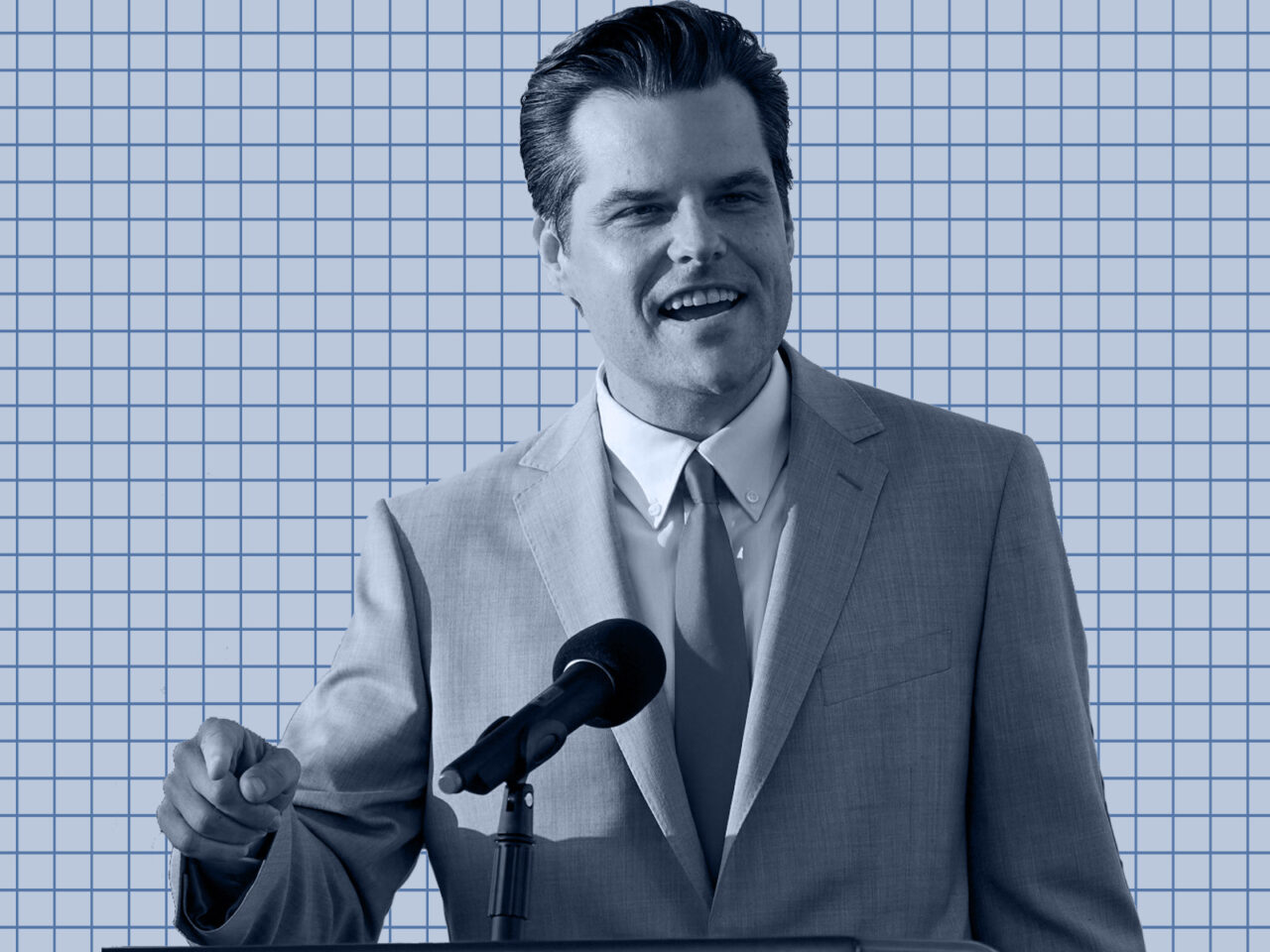 Gaetz told attendees to vote for the former President in the straw poll.
Matt Gaetz may have backed Ron DeSantis for Governor in 2018, but when it comes to 2024, his loyalties are clear.
"Vote for Donald J. Trump in the CPAC straw poll and let's go get 'em," the Congressman said, doubling down on a preemptive endorsement of the former President last year during remarks at the Conservative Political Action Conference.
The words were especially trenchant given that DeSantis isn't speaking at CPAC this year. But Gaetz's Trump endorsement is nothing new.
In a Daily Caller article that ran shortly after the Midterm Elections, Gaetz contended "America needs Donald Trump in the White House."
"The job President Trump started was not finished. Only Trump can be trusted to enact the 'America First' agenda he ran on in 2016. We won't accept any imitation. Despite what many Washington, D.C., conservative elites want you to believe, we are not in the 'post-Trump era' or close to it," Gaetz wrote in November.
The Congressman then called out DeSantis' leading donor in that Daily Caller op-ed.
"Just look at who is lined up against Trump already in the 2024 primary. It's folks like Paul Ryan or billionaire mega-donor Ken Griffin, who is planning to back a Trump challenge. POLITICO reports Griffin 'wants to … blunt the vein of populism that has complicated the party's relationship with the corporate world.'"
Gaetz referenced in his Friday CPAC speech "not going back to the old low-energy Paul Ryan and Trey Gowdy days" in Washington, with Gaetz saying he and U.S. Reps. Marjorie Taylor Greene and Jim Jordan were the relevant bloc of House Republicans now.
Those familiar with Donald Trump's bashing of "low-energy" Jeb Bush, another establishment Republican figure who has expressed enthusiasm for DeSantis, will recognize the purposeful use of that modifier Friday.
The apparent distancing between Gaetz and DeSantis was evident as far back as 2021, as the Congressman was reportedly being investigated by the Department of Justice, an investigation that ultimately led to no charges despite months of media leaks targeting Gaetz.
DeSantis said he didn't "have anything to say" when asked about the probe, refusing the chance to defend someone who was key in his ascent to the GOP nomination and Governor's Office.
DeSantis has been castigated by Trump as "disloyal" and some could argue he was the same way to Gaetz, who went above and beyond for the then-candidate in 2018.
In 2018, Gaetz accompanied DeSantis on a three-stop tour of cities, joining DeSantis during Q&A sessions at those events. He also accompanied DeSantis to at least one debate during the Primary campaign.
And once the Primary was in the rearview, Gaetz only got rougher with DeSantis' then-General Election opponent.
"I don't know whether to call him Andrew Gillum or 'Andrew Kill-'em,'" Gaetz said during an October campaign event with DeSantis in Southwest Florida of DeSantis' then opponent. The joke was about Tallahassee's murder rate.
Gillum was under scrutiny at the time from the FBI, which was investigating larger issues in Tallahassee. Gaetz suggested a better name for the Democratic nominee would be "Andrew Guilty."
Gaetz and DeSantis were fixtures at events not just in Gaetz's home Panhandle, but throughout the state. He ended up with a plum prize, of course, a prominent role on the Governor's transition team.
Gaetz's influence was felt in an early policy decision of DeSantis, reversing the Rick Scott era prohibition on offering flower for smoking in the state's medical marijuana program.
But that is apparently ancient history, as Gaetz has lined up against the Governor.