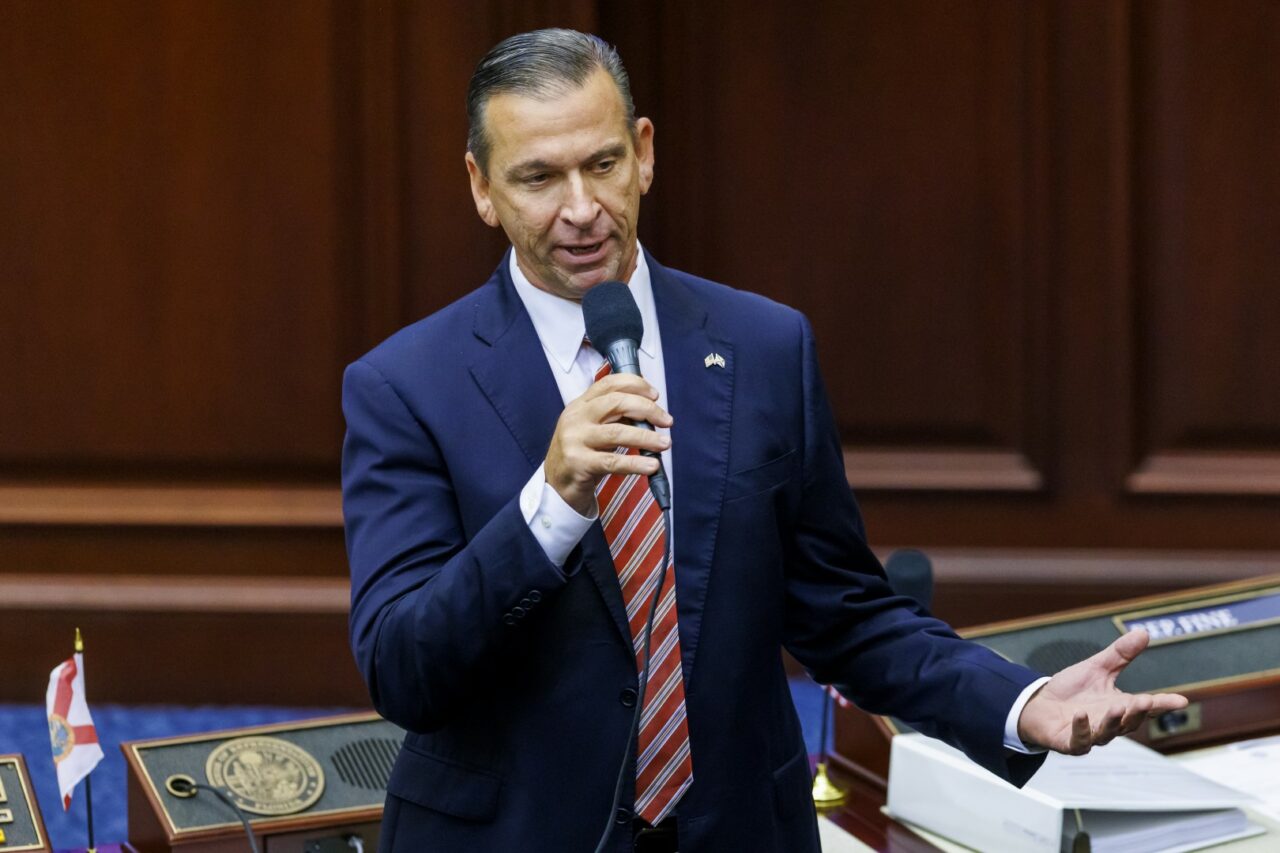 'Math does not discriminate.'
Legislation to further curb so-called "woke" banking practices — a priority for Gov. Ron DeSantis' administration — is advancing through the House.
The House Commerce Committee approved a measure (HB 3) along a mostly partisan line prohibiting "corporate activism" by state and local government and financial institutions.
The bill is a spiritual sequel to a ban lawmakers passed last year on socially conscious consideration of environmental, social and governance (ESG) factors like climate change and racial inequality from being considered in state-level investments in pension, education and SBA funds.
HB 3 would build on those restrictions by requiring bank and local governmental investments to be made "solely on pecuniary factors."
"Unfortunately, we're seeing some bureaucrats and progressive ideologues coordinating with some of the largest investment firms in the world to either discourage or totally deny access to capital," said Republican Rep. Bob Rommel, the sponsor of HB 3 and Chair of the Commerce Committee.
"Here in Florida, we're not going to do business with those folks."
If passed, the measure would prohibit state agencies and local governments, including public schools, colleges and universities, from requesting or considering information about a company's social, political or ideological beliefs when determining if that company can provide a service.
Such "corporate activism" considerations would also be prohibited from consideration when issuing bonds.
The bill would also ban banks, trusts and other financial organizations from canceling services or discriminating against a person or company based on their political or religious beliefs, business sector or any other factor that isn't "quantitative, impartial, and risk-based." That includes using "social credit scores" in their lending practices.
Further, banks operating with ESG considerations would be banned from holding government funds as a qualified public depository.
Should any government or financial institution violate those strictures, Attorney General Ashley Moody's Office will have "authority to cure that problem," Rommel said.
Members of the committee voted 16-5, with only Democratic Rep. Kimberly Daniels crossing the political aisle to vote "yes."
GOP lawmakers on the panel almost uniformly praised the proposal, which also received signals of support from the James Madison Institute, Opportunity Solutions Project and National Federation of Independent Business.
Rep. Tyler Sirois called ESG a "menace" and "slippery slope" that leads governmental and financial entities to eschew time-tested financial strategies in favor of advancing sociopolitical aims.
"Math does not discriminate, and environmental, social and governance factors are not objective," he said. "ESG by its very nature is subjective."
The bill drew concern from several Democrats on the panel, who said that it would do what it purportedly aims to undo.
"Math does not discriminate, but this bill does," Rep. Dotie Joseph said. "One could argue that (this) is a little like the pot calling the kettle black and that by proposing this legislation, we're the ones with a sledgehammer badgering the industries and the companies that are responding to market forces in a free market."
Representatives from the Florida Bankers Association, Sierra Club Florida, Florida AFL-CIO and a local chapter of the Amalgamated Transit Union were similarly critical.
Rich Templin of the AFL-CIO said the existing system in Florida guiding financial operations is already working optimally and doesn't need the added red tape.
"The status quo is great. Florida's fund is one of the best in the nation. (The Florida Retirement System) is one of the highest ranked in the nation," he said. "We agree with everybody — we don't want to see any ideology in this process — but this bill, unfortunately, seems to be driven by an ideology."
The 10 largest ESG funds by assets all posted double-digit losses last year, with eight of them falling more than the S&P 500's 14.8% decline, Bloomberg reported in December. That included BlackRock Inc., from which Florida CFO Jimmy Patronis pulled $2 billion in state assets shortly before the Bloomberg report came out.
Patronis advocated for Rommel's measure Wednesday.
"I'm very sensitive about return on investment," he said. "As we see political agendas develop at a national stage, we have started to do our own due diligence."
But excising ESG considerations from Florida's playbook entirely isn't the way to go either, said Dwight Mattingly, who helps oversee a local pension plan in West Palm Beach. He noted a financial analysis from last month projecting the state of Indiana would lose $6.7 billion over the next decade by passing comparable legislation.
"ESG is one of the hottest topics in the investment world, and the reason … is because it deals with what is being required in the global world regarding how manufacturing is done, how automobiles are created, how lumber is harvested, how farming is done," he said. "If I'm understanding this bill correctly, it's going to limit that discussion so we cannot have those conversations."
HB 3 will next go to the House State Affairs Committee, after which it would head to the House floor for a full chamber vote. Its analogue in the Senate (SB 302) by Republican Sen. Erin Grall awaits a hearing before the first of two committees Senate President Kathleen Passidomo assigned it to this month.