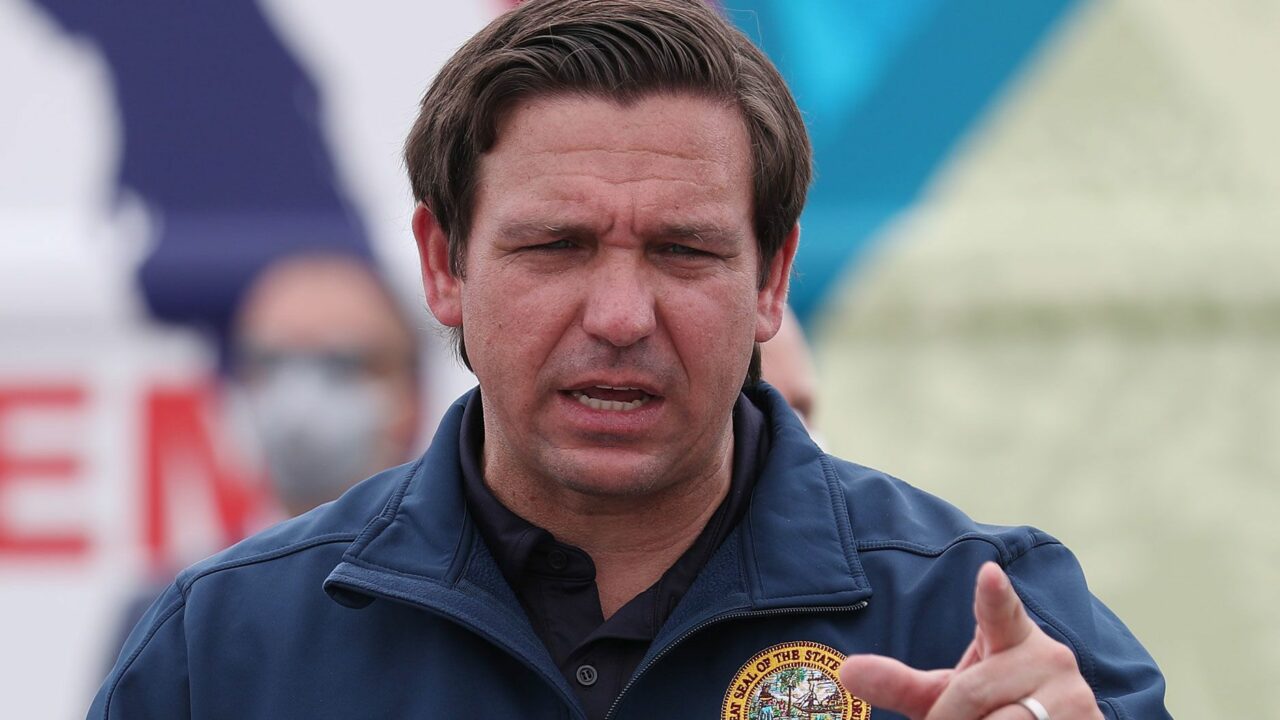 That's a rate of 54 people — or roughly one Martha's Vineyard flight — a day.
Florida has deported enough illegal migrants in the last six months to fill more than half the seats in the Miami-Dade Arena, according to Gov. Ron DeSantis.
While attempted crossings into the Sunshine State continue under a national "Border Crisis," he said, they're becoming less frequent thanks to his administration's efforts.
DeSantis' office announced Friday that since Aug. 21, the Florida National Guard, along with state law enforcement and emergency management agencies, repatriated nearly 11,000 migrants who attempted to unlawfully enter the state.
That's a rate of 54 people — or roughly one Martha's Vineyard flight — a day.
Florida authorities intercepted another 167 migrants last weekend attempting to cross the border and apprehended 51 more after they made landfall. The Florida Highway Patrol and Florida Department of Law Enforcement also announced confiscating four pounds of fentanyl and 39 pounds of methamphetamine.
Of nearly 350 migrant vessels reported since August, 259 have been removed by the Florida Division of Emergency Management and the Florida Fish and Wildlife Conservation Commission.
To continue the work, DeSantis signed an executive order Monday extending a state of emergency he declared Jan. 6 in response to a surge in migration along Florida's coastline.
"As (President Joe) Biden's Border Crisis continues unabated, my administration is working hard to protect our communities and businesses from the many threats posed by illegal immigration," DeSantis said in a statement.
'Because of our action, we have seen a drop in the number of vessels and people able to make landing in the Florida Keys, and our continued presence serves as a deterrent for illegal immigration. By extending the State of Emergency, we will continue to surge resources to assist interdiction and repatriation efforts."
A longtime hawk on illegal immigration and proponent of banning so-called "sanctuary cities," DeSantis doubled down on his stance last year after the Florida Legislature earmarked $12 million for a new migrant-relocation program under his purview.
Under the program — which, under the authorizing language, required relocations to originate in Florida — DeSantis' administration instead flew nearly 50 Venezuelan immigrants from San Antonio to the liberal, affluent island of Martha's Vineyard.
Asked in September why migrants were being targeted outside Florida, DeSantis said there wasn't enough mass migration in Florida to fill a car, much less an aircraft.
"The problem is we're not seeing mass movements of them into Florida," he said, "so you end up with a car with maybe two (people)."
The program, which many decried as a "political stunt," has since attracted several legal challenges. State lawmakers revised the program during a Special Session last month to retroactively allow the flights from Texas and further fund the program.
In the last several months, however, thousands of migrants have appeared in Monroe County. So many Cubans landed at one national park in the Lower Florida Keys just before the new year that authorities shut the area down to care for them.
Scores of others from the suffering island and nearby Haiti, which has endured a seemingly ceaseless series of crises, continue to arrive in the Keys and Miami.
Last month, state agencies set up a makeshift base camp in Islamorada to house police and soldiers DeSantis deployed to handle the maritime migration.