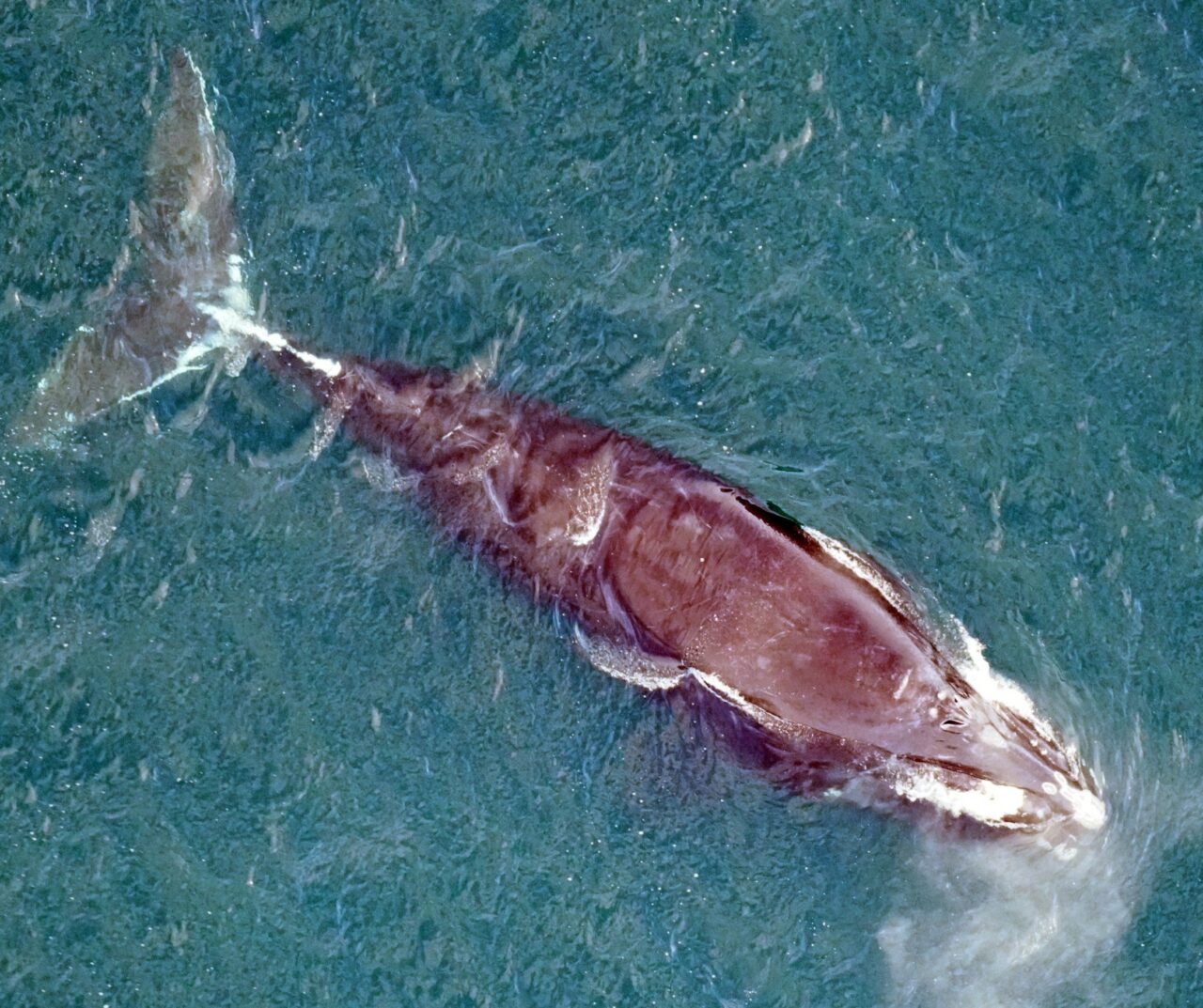 There have only been around a dozen calves born this season.
Cause for celebration appeared near Massachusetts recently as observers saw a previously entangled North Atlantic right whale swimming free of the heavy rope that once wound around it.
"Nimbus appears to have shed the remainder of the line trailing from his mouth, and is now fully gear free," according to NOAA Fisheries.
"At this time, the full extent to which this entanglement impacted Nimbus' health remains unclear. We and our partners will continue to monitor and document him. While this is good news for Nimbus, entanglement response and disentanglement is not always possible for other whales."
Scientists hoped that Nimbus would shed the remainder of his ropes when they attempted an entanglement response off the Georgia coast earlier this year.
"Authorized responders and trained experts from multiple agencies worked from boats with specialized tools to remove approximately 375 feet of rope that was passing through the whale's mouth and dragging hundreds of feet behind its flukes," according to NOAA Fisheries. "After this entanglement response, only a short segment of rope remained in the whale's mouth."
At 15 years old, he sports a number of scars across his body.
In all, scientists believe there are fewer than 340 total North Atlantic right whales remaining, while there are around 70 or fewer calving female North Atlantic right whales believed to be alive. While they mostly live off the coasts of New England and the Canadian Maritimes, they give birth off the coasts of Northeast Florida and Southeast Georgia. At times, male whales also make the transit south, though it's not fully understood why.
It's been a grim past few months for the species, which is on a path toward extinction. At the bottom line, there need to be around 50 calves born each year to stabilize the species, but there have only been around a dozen this season, with one found dead in North Carolina.
At the end of 2022, Congress put on ice, for six years, federal rule-making efforts to do something about heavy fishing gear and vessel strikes — the two top threats to right whales.
In January, NOAA declined to move ahead with emergency protection measures sought by advocacy groups.
Meanwhile, whales washed up dead in the Mid-Atlantic, like a 20-year-old right whale found near Virginia Beach, sporting what appeared to be fatal injuries from a vessel strike. Scientists believe people have caused every North Atlantic right whale death for at least 50 years.
"There is blood on NOAA's hands for failing to protect critically endangered North Atlantic right whales," Oceana campaign director Gib Brogan said following release of the necropsy report.
"We are outraged that yet another North Atlantic right whale has become the victim of a boat strike weeks after Oceana demanded emergency protections from speeding vessels — and was denied. What makes this more infuriating is that it was entirely predictable and preventable. The blunt force trauma this whale experienced must have been excruciatingly painful and what's worse: it was avoidable."