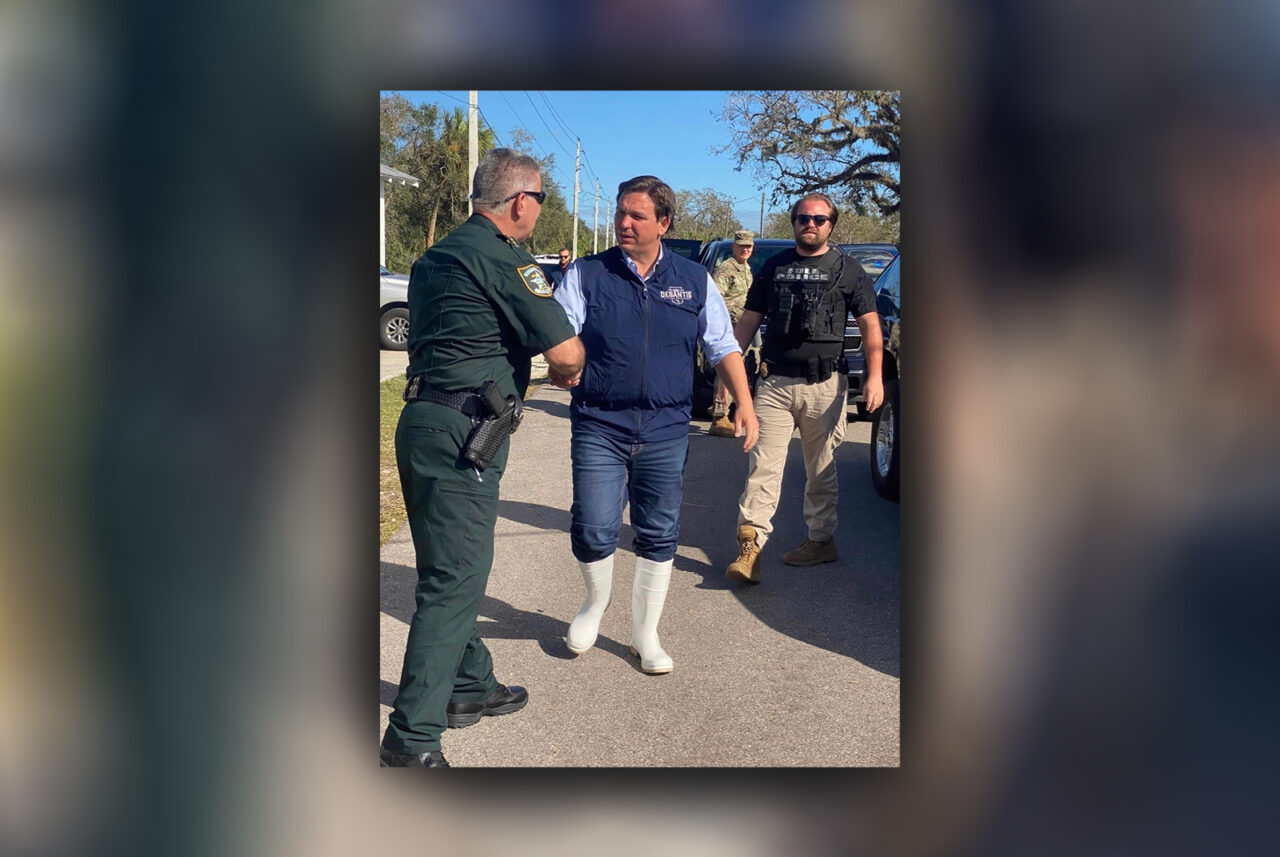 Nikki Fried and Donald Trump have dragged DeSantis for market failures.
Gov. Ron DeSantis closed the week taking heat from a political enemy over property insurance issues that continue in the state.
Florida Democratic Party Chair Nikki Fried issued a statement Friday blasting the Governor for ongoing shortcomings in the state's beleaguered homeowners' insurance market.
"Because Ron DeSantis and Florida Republicans chose to use two legislative sessions to line the pockets of insurance companies, instead of helping homeowners, Floridians are getting ripped off by property insurance companies who are slashing their payouts and even refusing to cover Hurricane Ian damages altogether," Fried contended.
"People in southwest Florida are still desperately waiting for their homes to be rebuilt and repaired, and some are even having to cover those costs completely out of pocket. Instead of coming up with a plan to deliver property insurance relief to Floridians, Ron DeSantis would rather spend his time making up culture wars and traveling across the country to chase the MAGA base."
Fried's comments were issued in the wake of a DeSantis press conference Friday in Fort Myers, in which the Governor offered less than conclusive answers to reporters' questions about the still struggling market, deflecting blame to market conditions that existed before he was Governor.
"So the reports of people getting shortchanged or getting unlawfully dropped because someone was looking to make more money. The Insurance Regulation office is investigating that. The Chief Financial Officer's investigating that. And I think anyone should be held accountable who is not meeting their obligations that they owe to their folks."
"In terms of this upcoming Legislative Session," DeSantis contended. "I'm open to do whatever we need to do to continue to work on the problem."
"I mean, as you know, we had a lot of companies that have been going out of business for a long time. No one wanted to come here and do business in Florida. I think we've changed that in going in the right direction," DeSantis said. "There's been a positive response, but part of it is you police this stuff, which you've got to do."
"But when your market was so bad, you know, you didn't have as many reputable companies that wanted to be in here. And so I think we're, I think we've done, done a lot to change it but, but yes, they should, they need to be held accountable and I know that they're gonna be aggressively doing it," DeSantis contended.
Indeed, the reforms have included billions of dollars of taxpayer money to shore up rickety reinsurance funds. SB 2A, passed in December, provided $1 billion from the state's general revenue fund to bolster the reinsurance market, in an attempt to stop last year's attrition of available providers. This followed up on a $2 billion allocation from a different Special Session in May for essentially the same purpose.
This spending drove criticism earlier this week from a potential opponent for DeSantis for the 2024 Republican Presidential nomination.
On Truth Social, former President Donald Trump flogged the Florida Governor over what he labels "the worst insurance scam in the entire country."
"In addition to wanting to cut Social Security (and raise the minimum age to at least 70) & MediCare, RINO Ron DeSanctimonious is delivering the biggest insurance company BAILOUT to Globalist Insurance Companies, IN HISTORY," Trump asserted.
"He's also crushed Florida homeowners whose houses were destroyed in the Hurricane — They're getting pennies on the dollar. His Insurance Commissioner does NOTHING, while Florida's lives are ruined. This is the worst Insurance Scam in the entire Country!"
The Office of Insurance Regulation has been in flux, meanwhile.
David Altmaier stepped down in December after holding the position for six years, and he has since landed at  The Southern Group. He will helm an insurance advisory practice for clients in Florida and beyond for the lobbying giant.
Previous Interim Insurance Commissioner Michael Yaworsky was selected as a permanent replacement this week. DeSantis and members of the Cabinet — acting as the Financial Services Commission — unanimously elected Yaworsky to head the Office of Insurance Regulation (OIR).
Neither Fried nor Trump remarked on the potential perils faced by the state's insurer of last resort, Citizens Property Insurance Corporation. DeSantis downplayed the viability of the company in Fort Myers, again raising solvency issues and warning about assessments that could hit all Floridians should another hurricane hit and impact too many of the company's rate payers.
"I mean, I think as most people know, Citizens has not been not been solvent. If you did have a major, major hurricane hit with a lot of Citizens property holders, it would not have enough to pay out."
"And the problem with that is one, just people who have a policy, of course, would be told that they wouldn't be able to get what they need," DeSantis added, before offering the warning about assessments.
"But in the law and this is not anything I did. Citizens has mandatory assessment authority for all policies in Florida. So you could be here, have no relation with Citizens. They could potentially assess your auto insurance policy. They could assess your homeowners different from Citizens, they could assess your renter's insurance policy if you had, you know, a major, major capsize."
DeSantis went on to note "efforts" to get the company on a "little bit more secure financial footing," and to blame "discombobulations … over 20 years with this market."
"As much attention as we've done and we've done three major bills in the last less than two years and we may do more this session and, and that's important and we'll do it, the change doesn't change happen overnight," DeSantis contended. "I mean, these are things that have happened over, over many years and even decades."
DeSantis noted last year that Citizens was "unfortunately undercapitalized" and that the company could go "belly up" if it actually had to weather a major storm. Clearly those issues have yet to be resolved to the Governor's comfort.
With DeSantis expected to launch a Presidential campaign after Sine Die, there is a significant chance that campaigning in 2023 or 2024 could be impacted by storm response if state law changes to allow him to stay in office while running for the GOP nomination or in the General Election. In 2018, the year he was elected, the stretch run of the campaign season was dominated by storm response for the hard hit Panhandle.
Then Gov. Rick Scott, who was running for the Senate at the time, spent a lot of time those final weeks tending to those issues. But for DeSantis, who would be facing a national campaign with national demands, it would be significantly harder for him to continue to message to GOP Primary or General Election voters if engaged in one of the more time consuming tasks Governors in Florida face. Moreover, a fumbling storm response during campaign season would cast a shadow over the "Florida Blueprint" message he's trying to export to a national stage.