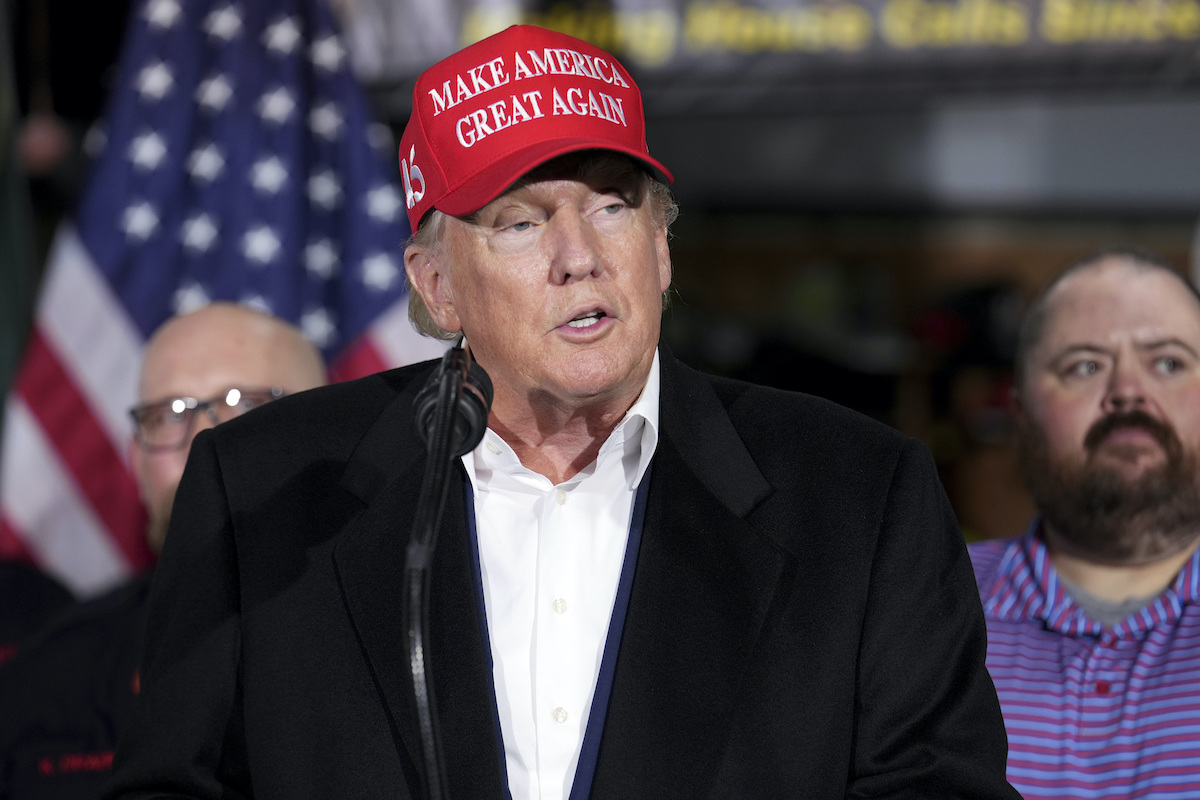 Trump keeps dragging DeSantis after 'porn star hush money' comments.
The hits keep coming for Ron DeSantis on Truth Social.
Former President Donald Trump flogged the Florida Governor, contending that a thus far marginal candidate in the Republican presidential field could overtake the man supporters call "America's Governor."
"Ron DeSanctimonious is dropping in the Polls so fast that he soon may be falling behind young Vivek Ramaswamy," Trump posted.
Trump's warming to Ramaswamy comes after he tweeted that a "Trump indictment would be a national disaster."
"It is un-American for the ruling party to use police power to arrest its political rivals," Ramaswamy said.
"Principles go beyond partisanship. Let the American people decide who governs. This will mark a dark moment in American history and will undermine public trust in our electoral system itself. I call on the Manhattan District Attorney to reconsider this action and to put aside partisan politics in service of preserving our Constitutional republic."
In contrast, DeSantis used the occasion of an official press conference in Panama City to slam George Soros "funded prosecutors" while distancing himself from the allegations that Trump paid out "porn star hush money" to women ahead of the 2016 campaign.
"You're talking about this situation, and like, I don't know what goes into paying hush money to a porn star to secure silence over some type of alleged affair. I just can't speak to that," DeSantis said, before pivoting back to Bragg's backing by Soros.
"But what I can speak to is that if you have a prosecutor who is ignoring crimes happening every single day in his jurisdiction, and he chooses to go back many, many years ago, to try to use something about porn star hush money payments. You know, that's an example of pursuing a political agenda and weaponizing the office. And I think that's fundamentally wrong."
Earlier Monday, both Trump and his son slammed the Governor in the wake of the press conference performance.
On Truth Social, the former President pilloried the Florida Governor, casting aspersions on his heterosexuality in the process.
"Ron DeSanctimonious will probably find out about FALSE ACCUSATIONS & FAKE STORIES sometime in the future, as he gets older, wiser, and better known, when he's unfairly and illegally attacked by a woman, even classmates that are "underage" (or possibly a man!). I'm sure he will want to fight these misfits just like I do!"
Trump's comments topped a post where he rebooted a scurrilous story about the Governor drinking with prep school students when he was a teacher decades ago. When compelled to comment last month, DeSantis acknowledged that while the media wanted "the controversy," he was nonetheless more focused on the fight with Joe Biden than with the former President.
Donald Trump Jr. had his say as well in the wake of DeSantis downplaying the former President's expected indictment.
"So DeSantis thinks that Dems weaponizing the law to indict President Trump is a 'manufactured circus' & isn't a 'real issue,'" Trump Jr. tweeted. "Pure weakness. Now we know why he was silent all weekend. He's totally owned by Karl Rove, Paul Ryan & his billionaire donors. 100% Controlled Opposition."