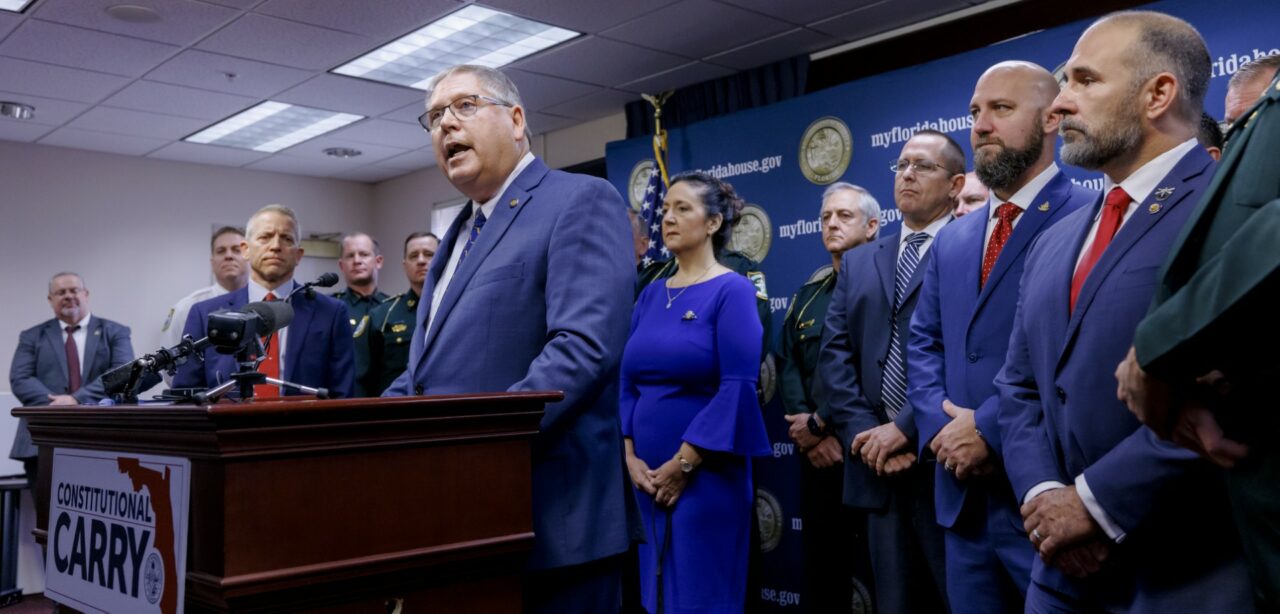 A Senate companion bill is ready to be heard on the full floor.
The Florida House has passed a permitless carry bill that could dispose of Florida's requirements for licenses to carry concealed firearms.
"This bill today recognizes that while the government always has a duty to protect its citizens, its citizens have a right to protect themselves," said Rep. Chuck Brannan, a Macclenny Republican, who sponsored the legislation (HB 543).
The chamber voted 76-32 in favor of the bill on a largely party-line vote. Rep. Vicki Lopez, a Miami Republican, broke with her party and voted against the bill. Eleven lawmakers did not vote.
The legislation has proven to be one of the most controversial this Legislative Session. The bill has drawn sharp attacks both from Democrats upset at the removal of one more safeguard limiting access to deadly weapons, and from Second Amendment hardliners who hoped supermajorities in the Legislature would approve open carry legislation.
Rep. Michele Rayner-Goolsby, a St. Petersburg Democrat, lamented the move to drop concealed permit registrations. She listed communities that suffered mass shootings over the past 30 years, emphasizing that both the Parkland and Pulse shootings occurred in Florida and prompted evaluations of gun laws.
But she took particular issue with the bill's consideration as conservatives make hay over a number of cultural issues from drag shows to the books on library shelves.
"Miss me on all this other legislation that if I don't agree with it, I'm not protecting children," she said. "If you vote for this bill as it is now, I have to question your belief in protecting children."
But the gun rights legislation has proven equally controversial on the Right.
Rep. Mike Beltran, a South Riverview Republican filed an open carry amendment earlier this week but withdrew it before the legislation was debated on the House floor.
"Prohibiting open carry is more arbitrary and provides fewer benefits than the licensing requirement that we are rightly repealing today," Beltran said.
But he ultimately supported the legislation.
"We shouldn't be having the government issuing a permit or not issuing a permit and deciding whether you can carry a firearm," he said. He also suggested talking about mass shootings largely distracted from the conversation about the right to carry, and permitting never made a difference in individuals intentionally committing violent crimes.
Many Republican lawmakers who said they would prefer a more ambitious bill still counted permitless carry as an important win for gun owners.
"I'll be the first to admit I don't think it goes far enough," said Rep. Chase Tramont, a Port Orange Republican. But he said to vote against permitless carry because it doesn't include open carry rights was like a basketball player refusing to take a two-point shot because he wanted to sink a three-pointer.
Some Democrats in the chamber did see some bright spots. Rep. Ashley Gantt, a Miami Democrat, works as a criminal defense lawyer. She said too often, she has seen clients who faced charges despite having permits.
"I don't think permitless carry should be allowed but I will take advantage of the intent of this bill and what it will allow my community," she said.
Several members discussed recent violent incidents. Rep. Anna Eskamani, an Orlando Democrat, represents a district that includes Pulse. But her sister, lobbyist Ida Eskamani, was also recently robbed at gunpoint.
"I want to make sure that the right people who are supposed to have access to guns are the ones who do while ensuring those that are not supposed to don't," she said.
Rep. LaVon Bracy Davis, an Ocoee Democrat, represents the Pine Hills community where high-profile shootings claimed the lives of 38-year-old Natacha Augustin, broadcast news reporter Dylan Lyons and 8-year-old T'yonna Major in a single day. Keith Melvin Moses was arrested on Feb. 22 for the killings.
"Why are we making it easier for senseless gun violence?" she asked.
A Senate companion bill (SB 150) sponsored by Sen. Jay Collins, a Tampa Republican, has already cleared all committee stops in the upper chamber.