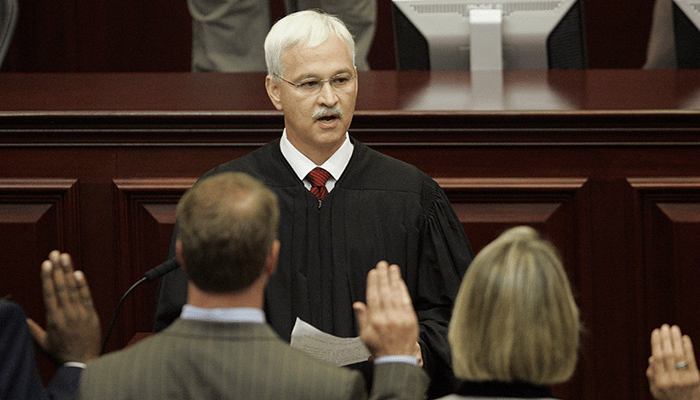 Polston resigned from the state Supreme Court last week.
Retiring Florida Supreme Court Justice Ricky Polston is heading to Citizens Property Insurance Corp., where he will serve as General Counsel and Chief Legal Officer.
The state-backed insurer's board of governors approved Polston's hire with a unanimous vote. Florida Politics previously reported the state-backed insurer was eyeing him for the General Counsel post.
"When the stars align, best stay out of the way," board Chair Carlos Beruff said in a news release. "Justice Polston's accounting, insurance litigation and judiciary experience make him uniquely qualified to lead Citizens legal team as general counsel. We are lucky to have him."
The conservative jurist, who served on the state's high court for 14 years, submitted a resignation letter to Gov. Ron DeSantis last week. He provided no reason for his resignation in the letter and was eligible to remain on the court for several more years.
Polston was appointed to the Supreme Court in 2008 and served as Chief Justice from 2012 to 2014. He graduated from Florida State University (FSU) as an undergrad and later from FSU College of Law. He worked in private practice before being appointed to the 1st DCA in 2001 by then-Gov. Jeb Bush.
At Citizens, he succeeds Tim Cerio, who vacated the position to take over as President and CEO following the departure of Citizens' longtime leader Barry Gilway.
"I'm grateful to the board for their confidence and support," Polston said. "After a fulfilling career in the Florida judiciary, I'm excited to join CEO Tim Cerio and the strong leadership team at Citizens for this new chapter of my professional life. Citizens is critical to bringing stability to Florida's insurance market and I can't wait to get started."