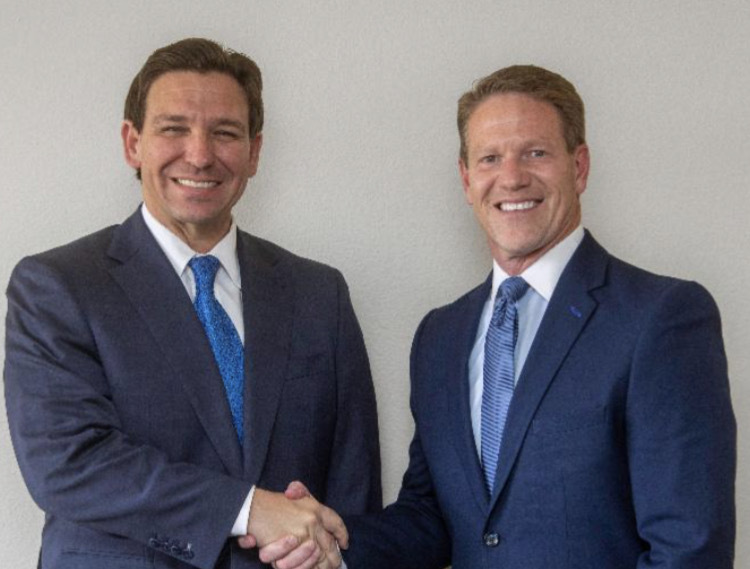 The Governor is no longer neutral in the Jacksonville mayoral race.
Florida's Governor stayed neutral for the first part of the Jacksonville mayoral race, but he's engaging now.
In a graphic sent out Friday, Ron DeSantis endorsed Republican Daniel Davis, the CEO of the Jacksonville Chamber of Commerce, in the race to replace incumbent Lenny Curry.
DeSantis claims Davis is "the proven law and order conservative Jacksonville needs to tackle the city's greatest challenges and seize its biggest opportunities."
"I am proud to endorse Daniel Davis for Mayor because I trust him to fight for Jacksonville's hardworking families, and I know he will stand with law enforcement," DeSantis contended.
The Governor did not endorse before the First Election, which saw three other Republicans on the ballot: City Council members LeAnna Gutierrez Cumber and Al Ferraro, along with wildcard candidate Frank Keasler. After programming millions of dollars to defeat Cumber and Ferraro, Davis finished in second place to Donna Deegan.
Deegan finished in a strong first place with 39% of the vote, though not with the majority support needed to win outright. Deegan carried early vote, vote by mail, and Election Day turnout, despite Republicans dominating Tuesday turnout.
Davis had 25% of the vote, far behind Deegan but good enough to set up the second election.
The vote splintered for both candidates from there. Ferraro had 16%, good for third place. Democrat Audrey Gibson had 9%. Cumber finished in fifth place with 8%. Keasler came in with 2%.
The Westside Republican, running under the "Jacksonville Grown" tagline, has been the strongest fundraiser in the race, with roughly $6 million brought in between his campaign account and his Building a Better Economy political committee.
Deegan has been outgunned financially, having raised more than $1.2 million so far between her campaign account and her Donna for Duval political committee. Barring an endorsement from Barack Obama or Joe Biden, she will have difficulty finding an endorsement as meaningful for her side as Davis getting the DeSantis nod is for his.
DeSantis memorably endorsed Sheriff T.K. Waters in last year's Special Election, clearing the field of Republicans. He also endorsed Jason Fischer in the Duval County Property Appraiser race before March, but did not extend Davis the same courtesy before the First Election.
However, given the March 21 turnout was R+4, this endorsement should help Davis consolidate GOP backing that was splintered earlier this month.
The Republican Party of Duval County hopes so.
"The choice before all Duval voters is now clear," read an email to the party faithful. "Will they support an avowed Leftist like 'Defund' Donna Deegan, who is determined to undermine law & order in favor of a woke agenda, or will they support our Governor and VOTE for Daniel Davis?