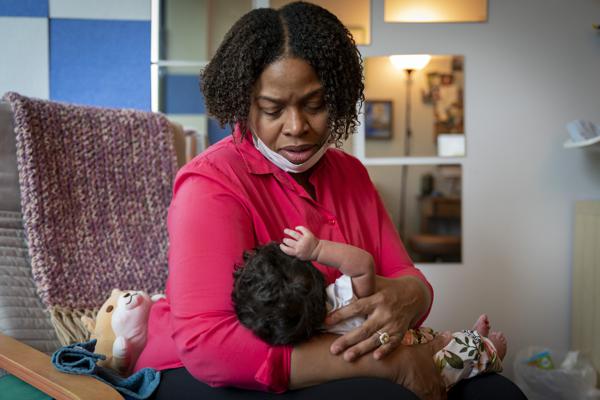 Courthouses will have until Jan. 1 to comply.
After years of failed attempts, Florida lawmakers have approved legislation to require lactation spaces in courthouses.
The House unanimously passed SB 144 by Boynton Beach Democratic Sen. Lori Berman, a lawyer who carried the measure to approval in a 39-0 vote by the Senate on March 15.
The bill will mandate courthouses throughout Florida to provide lactation spaces for breastfeeding mothers by Jan. 1, 2024. The spaces must be clean, shielded from public view, free from intrusion while occupied and have at least one electrical outlet.
Courthouses may be exempted from offering such spaces if doing so requires new construction or cannot be done at a "reasonable cost."
Miami Democratic Rep. Ashley Gantt, a fellow lawyer who sponsored a twin to Berman's bill (HB 87), cited complaints she heard every year from new mothers about the "horrible experience" they had at court.
That deficiency has been an issue the Florida Association for Women Lawyers — which offers lactation space grants — has taken up for years.
SB 114 lines up with recently passed legislation like the PUMP for Nursing Mothers Act, which among other things provides for lactation rooms in the workplace and at large and medium-sized airports.
Gantt said extending those provisions to Florida's many courthouses through the bill, which will next head to Gov. Ron DeSantis for his signature, has many benefits.
"Lactation spaces will provide women (with accommodations) to return to the workforce, and it's a benefit for all of us across Florida," she said. "Because we will have skilled people in our workforce who don't have to choose between work and being a mother."
Through the committee process this year, numerous advocacy groups backed the proposal, including the National Association for Women, Florida Association of Crime Defense Lawyers, Democratic Women's Club and National Latina Institute for Reproductive Justice.

Prior to the House vote Friday, several of Gantt's Democratic colleagues, many of them lawyers themselves, praised Gantt for backing the measure and encouraged her to milk the moment.
Hollywood Rep. Hillary Cassel recounted having to return to work as a lawyer when her son was just 11 weeks old. It was "scary knowing that I had a job to do (and) clients to represent, but I also had a baby at home that needed to be fed (and) taken care of."
"This provides not only space for women in the legal community who oftentimes have to find that … work-life balance, (but it also helps) people who have tasks that they need to take care of at the courthouse," she said. (They) will also know they have a safe space so they can either pump or feed their babies."
Lawyers and Reps. LaVon Bracy Davis and Michele Rayner-Goolsby joined Reps. Anna Eskamani, Rita Harris and Angie Nixon offered similar plaudits.
"As a mama that nursed for 11 months, I can tell you things like this are needed, (because) if there's not a space like that, we often have to go into the bathroom — the restroom — and that's gross," said Nixon, a higher education director, to a round of laughter.
Rayner-Goolsby, a former assistant public defender who now practices privately, complimented Gantt on getting the bill passed just months after she won election to the House.
"The fact that you were able, with your partner over in the Senate, Sen. Berman, to shepherd it across in both chambers just speaks to what an awesome member you are," she said.
"This bill has been a long time coming."