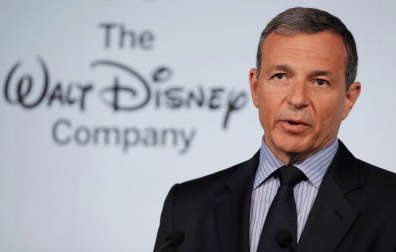 Monday was a rare moment of Disney CEO Bob Iger opening up publicly about the feud between the company and Gov. Ron DeSantis.
Gov. Ron DeSantis retaliating against Disney for opposing the state's "parental right in education" bill "just seems really wrong to me," Disney CEO Bob Iger is arguing. 
It was a rare moment of Iger opening up about the state's takeover of the Reedy Creek board. Iger was asked about the situation Monday during the company's annual shareholders meeting.
Iger, referencing the First Amendment, said DeSantis is essentially seeking "to punish a company for its exercise of a constitutional right, and that just seems really wrong to me, against any company or individual but particularly against the company that means so much to the state that you live in."
Iger brought up Disney World's value to Florida from the company employing 75,000 people as the largest state taxpayer, the 50 million visitors expected to come to Disney this year and Disney's $17 billion investment over the next decade at Disney World.
"Any action that thwarts those efforts simply to retaliate for a position the company took sounds not just anti-business, but it sounds anti-Florida," Iger said. "I'll just leave it at that."
Iger's comments at the meeting came hours after DeSantis said he is pushing for an investigation into the Reedy Creek board's agreements with Disney that were approved before the state took it over. Those long-term development agreements intentionally stripped the power away from the now-state-run board, DeSantis said.
Iger also indirectly referenced former CEO Bob Chapek's response last year. Chapek angered LGBTQ advocates and many Disney employees for not speaking out fast enough against the Parental Rights in Education law, which has been dubbed the "Don't Say Gay" law by critics.
When Chapek eventually said he was opposed to the legislation during Disney's 2022 shareholder's meeting, he drew the ire of Florida Republicans, who eventually passed a law to replace Disney World's government board with DeSantis appointees. Disney fired Chapek in November.
"About a year ago the company took a position on pending Florida legislation," Iger said Monday. "While the company may have not handled the position very well, a company has a right to freedom of speech, just like individuals do."
In 1967, when Disney was looking for a site to build Disney World, the state of Florida offered the company plenty of incentives for them to build here. That meant Disney got its own government, the Reedy Creek Improvement District, to give Disney control over building the infrastructure for its future theme parks without having to get approval from the local municipalities first.
"We love the state of Florida," Iger said. "We've always respected and appreciated what the state has done for us. It's kind of been a two-way street."