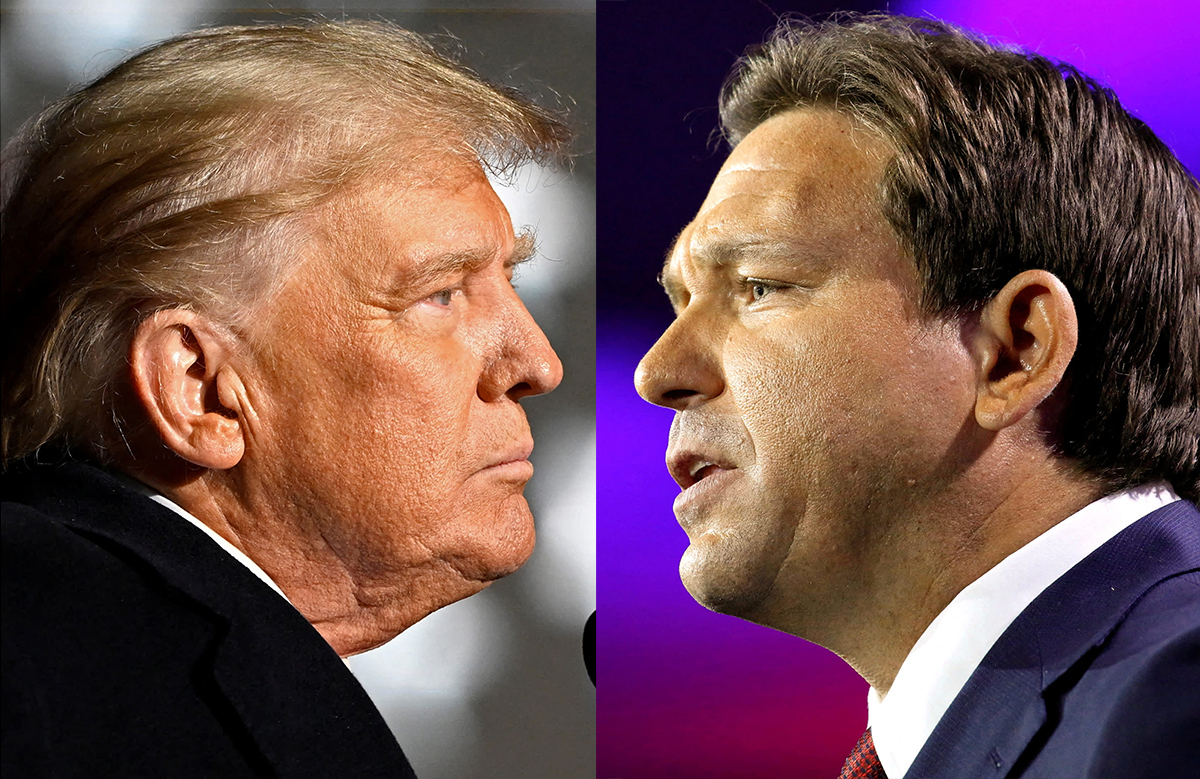 Victory Insights found the Florida Governor holding a lead in November. But that's gone now.
Gov. Ron DeSantis handily won re-election last cycle. But a new poll shows he may lose his home state in a GOP Primary for President against Donald Trump.
Victory Insights, a polling firm with a presence in Naples, found Trump beating DeSantis both within a wide field and in a head-to-head matchup.
Among likely GOP Primary voters, Trump comes out on top in a crowded field with almost 43% of the vote, while DeSantis lands at just under 35%.
Author and businessman Vivek Ramaswamy pulls in at a distant third with about 4%, while Former United Nations Ambassador Nikki Haley has support of just over 3%. Former Arkansas Gov. Asa Hutchinson shows with a little over 1%, while longshot businessman Perry Johnson barely polls above 0%.
That puts Trump's lead outside the poll's 3.1-percentage-point margin of error.
But in a head-to-head contest between Trump and DeSantis, the Florida Governor actually polls worse. In such a situation, Trump wins about 47% to DeSantis' 32%.
This marks a significant change since the same polling firm tested the field with Florida voters in November. At that point, DeSantis led Trump 47% to 37%.
"Five months later, things have changed substantially," reads a polling memo.
"Several other candidates have announced their candidacies, and Trump has been indicted and arrested in a highly politicized move by the Manhattan DA. DeSantis still hasn't officially announced his candidacy, but his messaging, book tour, and PAC activity certainly point to a presidential run in the coming months. However, it's beginning to look more like an uphill battle than previously believed."
In addition to seeing a 26-percentage-point swing in support between Trump and DeSantis, there's also an increased number of undecided voters in the pool now. Nearly 32% remain on the fence when polled on a head-to-head between the two Florida candidates, while just 16% sorted into the undecided column in November.
The indictment seems to show Republican voters rallying around the former President, with almost 88% believing the charges out of Manhattan to be politically motivated.
If there's good news in the survey, it's that DeSantis appears to be the only other contender even in a position to take on Trump.
Victory Insights also tested a field of only candidates who actually declared their candidacy, leaving out DeSantis. In that circumstance, no one but Trump polls in double digits.
Instead, Trump grows his support to nearly 66%. Haley bumps into second place but with under 8%. Hutchinson and Ramaswamy earn support of less than 2% of those polled while Johnson remains a non-factor.
"If any of these candidates hope to have an actual shot at winning Florida's primary, things will need to drastically change," the polling memo reads. "As the race currently stands, it's Trump's race to lose, while DeSantis is the undisputed second place choice."