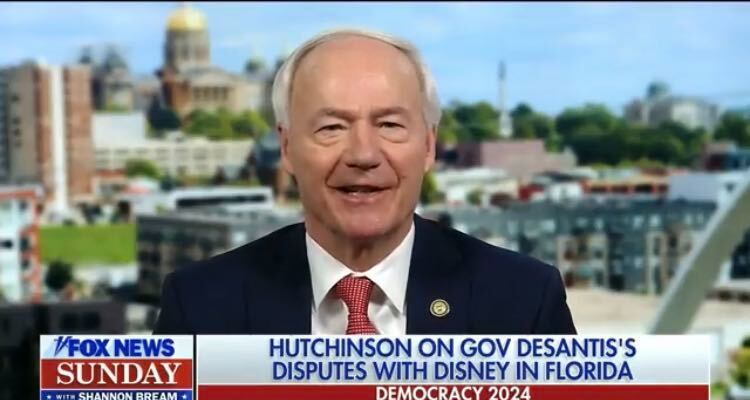 'That's not what Republicanism is about.'
Yet another potential 2024 opponent says that when it comes to the Walt Disney Company, Florida's Governor is not truly conservative.
Former Arkansas Gov. Asa Hutchinson was the latest likely candidate for President to pillory Ron DeSantis for punitive actions against Disney, as reaction to the company's opposition to 2022's Parental Rights in Education legislation continues.
"Well, I don't believe whether you're on the left or the right of the political spectrum that we, the government should not be telling business what they can and cannot do in terms of speech. And however you describe it, it appears to me that the governor did not like what Disney was doing in terms of what they were saying and exercising speech. So they're being punished," Hutchinson said on Fox News Sunday.
"That's not what Republicanism is about. It's not what a conservative is about," Hutchinson added.
"I don't agree how Disney has handled things, but you don't use the heavy hand of government to punish a business. The left does that," Hutchinson added. "I don't want the right or conservatives to do that either."
Other potential candidates have made similar points.
Former Vice President Mike Pence likened "government activism" from DeSantis to that of California's Gavin Newsom, comparing Florida's handling of Disney to how California dealt with abortion pills.
"To me, it's the same kind of government activism — one on the right, one on the left, and both are wrong," Pence told Yahoo! News.
New Hampshire Gov. Chris Sununu made similar points, contending that "if we're trying to beat the Democrats at being big-government authoritarians, remember what's going to happen."
"Eventually they'll have power in a state or in a position, and they'll penalize conservative organizations and conservative non-profits and conservative ideas. That's the worst precedent in the world."
Former President Donald Trump makes similar points.
"DeSanctus is being absolutely destroyed by Disney. His original P.R. plan fizzled, so now he's going back with a new one in order to save face," Trump opined.
Former New Jersey Gov. Chris Christie shares this view.
"I'm a conservative, and I believe as a conservative, the job of the government is… to stay out of the business of business," Christie told Semafor. "I don't think Ron DeSantis is a conservative based on his actions towards Disney."
DeSantis advocates have defended the ongoing offensive, however.
During an interview on the Fox Business Network, Never Back Down PAC founder Ken Cuccinelli said the efforts would resonate with Republican Primary voters in 2024.
"Only one candidate, only one Governor has ever protected America against the scourge that Disney has become in the last couple of decades," Cuccinelli told host Neil Cavuto.
From there, the PAC head went on to question the entertainment company's Americanism.
"The fond memories people have, that you refer to, of Disney are from a long time ago, and Disney has become more of a force to undermine good, healthy, positive, patriotic American culture than it is a supporter of it," Cuccinelli said.
CFO Jimmy Patronis said recently that Disney "working around the clock to try to figure out how to make amends with Ron DeSantis, just like Bud Light should be working around the clock to go kiss Kid Rock's ass."
Polling suggests that may be somewhat true. The most recent Harvard-Harris survey cites 56% of all respondents saying it makes them more likely to back DeSantis, and 44% taking the opposite position. Among Republicans, support climbs to 73% for the anti-Disney stance.
There could be a lot more to come on the Disney front, DeSantis suggested last week.
When discussing new legislation to wrestle control back from Disney, the Florida Governor suggested the state had every right to do what it wanted on land in the former Reedy Creek Improvement District, which is now known as the Central Florida Tourism Oversight District.
"People are like, well, 'What should we do with this land? Maybe create a state park? Maybe try to do more amusement parks,'" DeSantis said, before adding the prison quip. "Somebody even said, 'Maybe you need another state prison?' Who knows? I just think that the possibilities are endless, and so that is now going to be analyzed to see what would make the most sense."