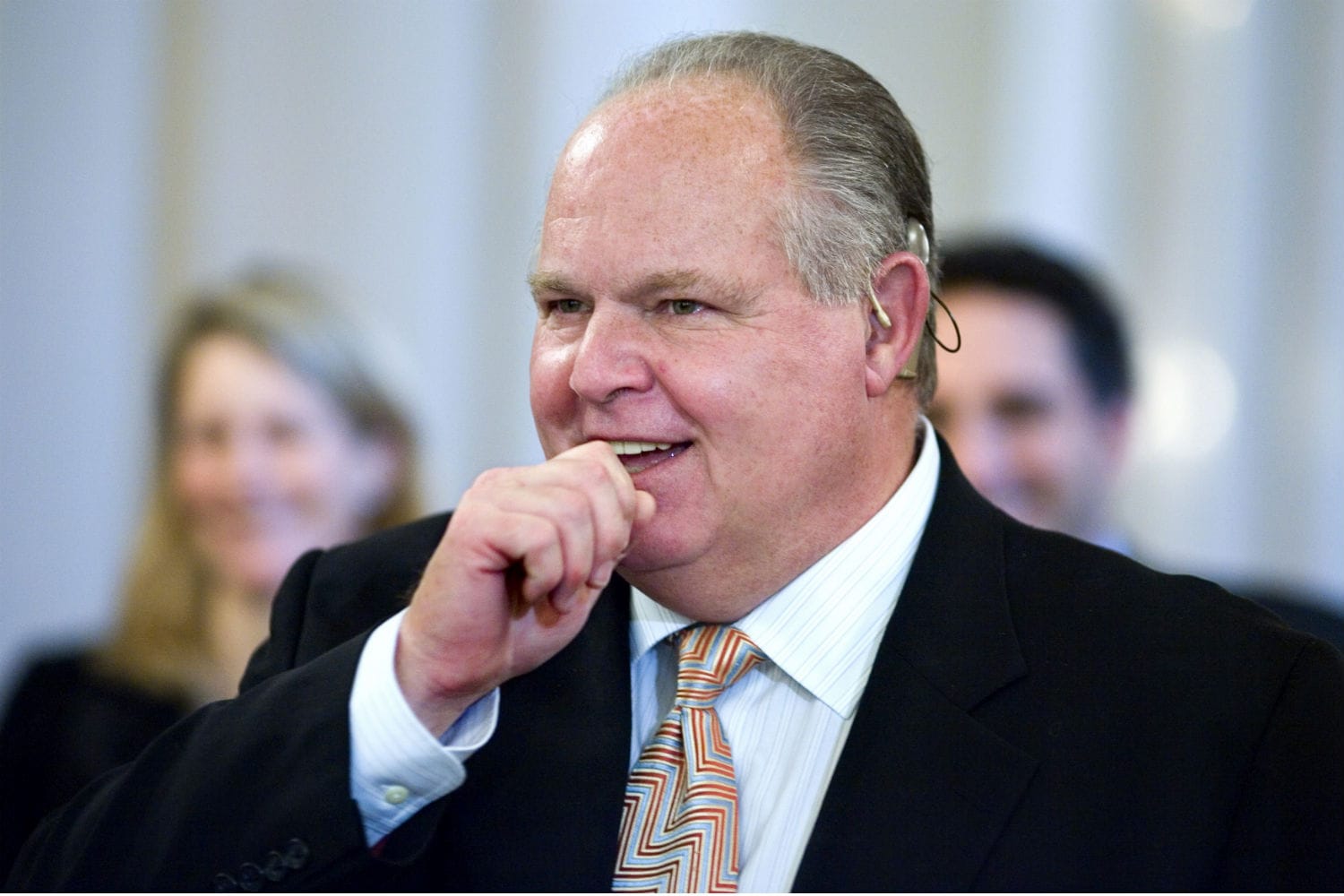 'I can't believe that we are honoring a racist.'
The Florida House of Representatives has passed a road designation bill that will name a street after conservative talk show host Rush Limbaugh.
HB 21 includes language first proposed by Sen. Blaise Ingoglia to name a stretch of Cortez Boulevard between U.S. 41 and S.R. 50/50A in Hernando County as "Rush Limbaugh Way." Democrats in the House objected to the measure adding the Senate language, but to no avail.
Rep. Lindsay Cross was the first to ask whether the Limbaugh language was in the House bill, leading to objections.
"Why are we keeping that in the bill?" asked Rep. Anna V. Eskamani.
Rep. Tyler Sirois said the road designation bill offered an "opportunity" for House and Senate members to "bring forward a designation for someone we believe is deserving of that through their contributions to the community," with legislators able to decide if "that is appropriate."
Sirois noted Limbaugh "passed away in Palm Beach of lung cancer" and donated "millions of dollars in charity."
He noted the amendment "reflects the initial designations that occurred over in the Senate."
Rep. Yvonne Hinson noted the original bill was to just honor former astronaut Sally Ride.
"I think I want to know now, how did it get changed and how many people are in this thing?" Hinson said.
The answer to the second part of the question is 19 bridges and roadways were named after people in the bill, most of them memorials to law enforcement officers. If the bill is signed, a second astronaut, Christa McAuliffe, will have a bridge over the Canaveral Barge Canal in Brevard County named in her honor. She was heralded as the "first teacher in space" and died in the Challenger space shuttle disaster.
Rep. Bruce Antone said he would vote for the bill, with objections.
"I started listening to Rush Limbaugh in 1991, during Desert Storm. The machine gun, the feminazis the racist remarks … I've just got a real problem designating a road after a racist," Antone said.
Rep. Rita Harris, who originally co-sponsored the bill when it was just honoring Sally Ride, likewise objected.
"Someone who said, 'We didn't have slavery in this country because it was a bad thing, quite the opposite. Slavery built the South. I'm not saying we should bring it back. I'm just saying it had its merits. For one thing, the streets were safer after dark,'" she recounted.
"We're going to honor this man?" Harris added. "Nah."
Rep. Angie Nixon added, "racism and wanting slavery to still be in existence is not a political issue, and if you think it is one, you need DEI training."
"The disrespect has to stop," Nixon added. "I can't believe that we are honoring a racist. That's ridiculous in and of itself. And you wonder why we don't want to break bread with you all, because you want to support and endorse racism. That's ridiculous. And calling it a political issue? That's a moral issue, through and through."
Nixon later tweeted a dig at one of her Republican colleagues.
"Alex Andrade alluded to racism being a political issue and that it's OK to honor a racist like Rush Limbaugh by naming a portion of a Florida Highway after him because we shouldn't let politics play a role in transportation designations."
In a text sent at 2:27 a.m. on Thursday, Andrade responded: "I never mentioned Limbaugh. WTF is wrong with (Nixon)?"
Despite Democratic objections, the bill passed on a 87-25 vote. It is likely that Gov. Ron DeSantis, who ordered flags flown at half-staff when Limbaugh died, will agree to this designation. In the wake of Limbaugh's death, DeSantis lionized him.
"He had me on when I was running for Governor," DeSantis said on a cable news hit. "I was getting the tar kicked out of me every day and he had me on the week before the election in 2018. He didn't have a lot of guests. I was honored to be on his show a couple of times."
DeSantis noted in another appearance that Limbaugh likely would have been iconic even if he had not embraced conservative rhetoric and market penetration techniques.
"He would have been great in radio even without the conservative thing. He's just that talented. Obviously he was a conservative icon up there with (Antonin) Scalia, (Ronald) Reagan and (William F.) Buckley," DeSantis said, invoking the conservative trinity of the former Supreme Court Justice, the Republican President of the 1980s, and the father of the postwar conservative movement.
Rush. R.I.P. pic.twitter.com/ztP6JylfmO

— Ron DeSantis (@GovRonDeSantis) February 24, 2021