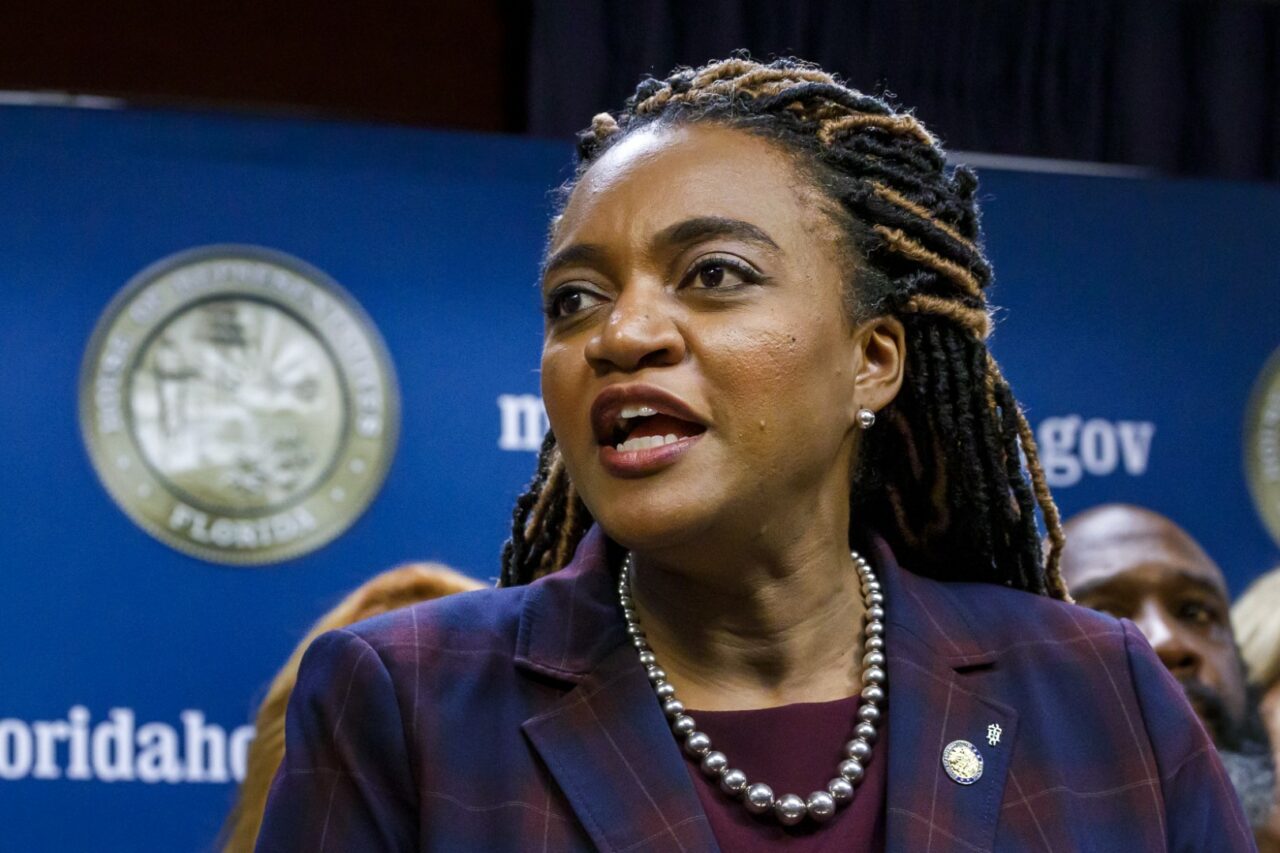 The minority caucus derides the last 60 days as a 'failure for Floridians.'
House Democrats labeled the 2023 Legislative Session a failure for Floridians. And despite a few bipartisan efforts crossing the finish line this year, Blue Team leaders primarily voiced frustration when the hankie mercifully reached the rotunda floor.
But House Democratic Leader Fentrice Driskell said she found some solace in that Republicans passed many bills that could be unpopular with voters.
"A lot was written and said about how this Session was in service of Gov. Ron DeSantis and his future political ambitions," said "As the hankies dropped today in the traditional Sine Die ceremony, all he has to show for it is a list of unpopular accomplishments."
She pointed at culture wars that seemed to suck in colleges and universities, library collections, banks and even cartoon mice. Meanwhile, the once-purple state now has some of the most extreme abortion restrictions in the country and LGBT people fleeing the state in droves. All appears to be in service of DeSantis' soon-to-launch bid for President, but he has only sunk in polls behind Donald Trump.
"The people do not support his extremist agenda, including the abortion ban, book ban, permitless carry, heavy-handed attacks on LGBTQ Floridians, and a big fight with Disney who is now suing him for 'government retaliation,'" said Driskell, a Tampa Democrat. "None of his divisive culture war fights have helped him win more GOP primary voters, as his polling numbers are worse now than when Session started."
Democrats panned a list of bills impacting LGBT Floridians, including a prohibition on gender-affirming care for minors, extension of a parental rights bill blocking instruction on sexual orientation and gender identity through now 8th grade, punishment for businesses that let minors to drag shows and segregation of restrooms based on gender assigned at birth.
"This has been the Session of protests. Over the past few months, the people of Florida have traveled to Tallahassee and raised their voices in opposition to the extreme Republican agenda and in support of Democratic proposals," said Rep. Kelly Skidmore, House Democratic Policy Chair.
"From abortion bans to bathroom monitors to criminalizing freedom of expression to denying health care to attacking Dreamers to undermining teachers and hurting public schools, Floridians showed up in force to reject the culture war distractions and demand legitimate public policy solutions to the challenges truly plaguing Florida's families. With that extraordinary level of engagement, we can expect these harmful laws to impact the next election cycle."
The Session was also one of missed opportunities, according to House Democrats. The Legislature could have focused on reducing homeowner insurance rates, expanding Medicaid or clamping down on background checks for gun purchases.
Instead, Republican majorities put restrictions on college diversity outreach and instruction, outlawed abortions six weeks into pregnancy and eliminated the requirement for concealed carry permits.
"Instead of spending $12 million to hunt down or profile immigrants legally admitted by federal immigration officials and fly them on a private jet to Martha's Vineyard, we could expand Medicaid, which unlocks billions in federal dollars to help U.S. citizens in Florida," said Democratic Leader Pro Tem Rep. Dotie Joseph. "We could also use those millions to help Floridians with skyrocketing property insurance, rather than more billion-dollar bailouts to insurance companies – instead many Floridians will be kicked off their property insurance."
Rep. Christine Hunschofsky, Democratic Whip, said there was far more appetite for Democratic policies in the public than those passed by the Legislature.
"One of the most disappointing parts of this session was that while we were voting on issues that no one asked for, bills that were filed to address the concerns all our constituents face such as rising property insurance costs and rising auto insurance costs were never heard in committee," she said.
Rep. Mike Gottlieb, floor leader for the Democratic Caucus, said the Legislature also gave lawmakers less than they could to brag about at home.
"While this session has seen many highs and lows, what strikes me the most is that we truly did not focus on the issues that my constituents seem to always ask about," he said.
"We did not use our precious time to try to fix our property insurance epidemic nor solve our affordable housing crisis. Instead, we all too often engaged in policies that are aimed at disenfranchising specific groups of individuals or were designed to further political goals. I am hopeful that in the next session we can concentrate our energy towards goals that keep us healthy, prosperous and safe, and those include our housing priorities, rebuilding our workforce, establishing education goals that help our children succeed not disregard history and stop fighting social wars with our economic drivers."