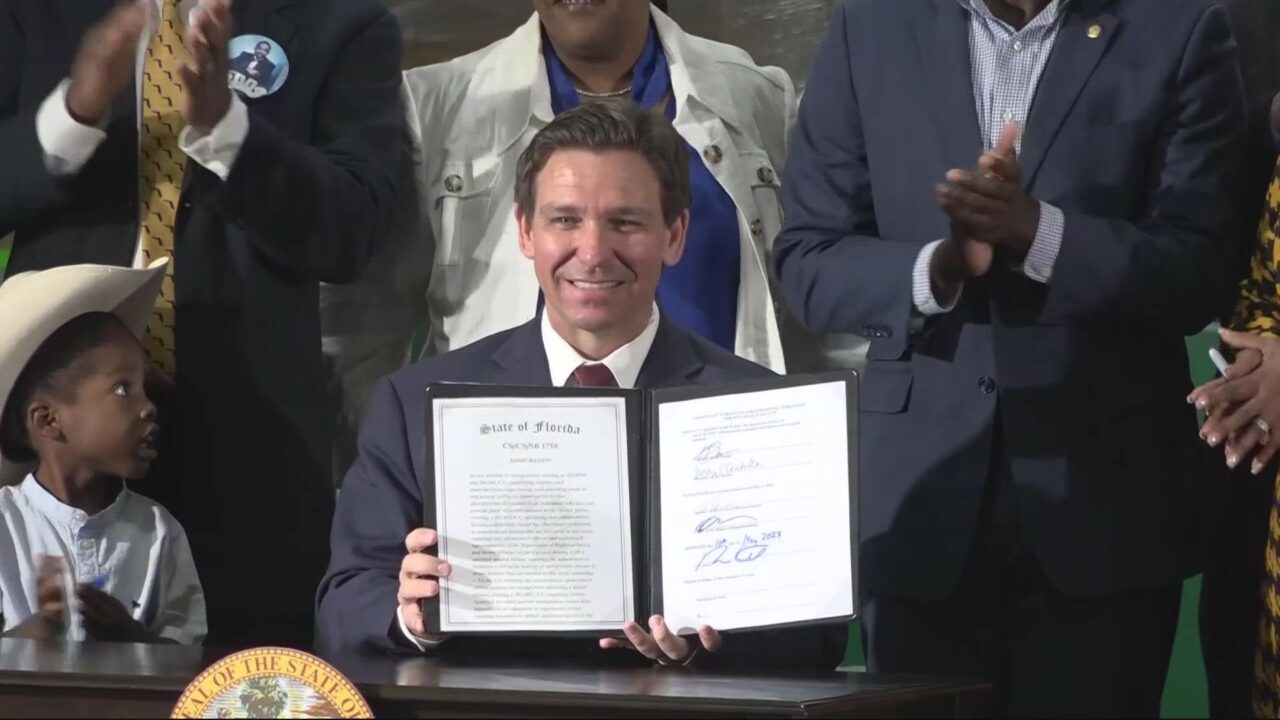 The Washington-based Hispanic Leadership Fund agrees with the Governor on a number of issues.
The Governor's Latino support pushed Miami-Dade County into the red column for the first time in 20 years, but one national Hispanic advocacy group warns Florida's newly minted immigration law is no way to keep winning.
The Hispanic Leadership Fund champions free-market economic policies — agreeing with Gov. Ron DeSantis on school choice, the need for fossil fuel production and business freedoms — but the Washington-based 501(c)(4)'s President and CEO, felt compelled to speak out when the Governor signed the immigration bill (SB 1718) into law Wednesday.
The law, Mario H. Lopez said, "has a very serious potential to promote racial profiling and infringe on the rights of not just immigrants, but American citizens and their families."
The 43-page bill will go into effect July 1 and touches on numerous aspects of daily life, complicating matters like driving a car, employing people and going to the hospital.
During its committee hearings, the legislation was highlighted as a response to the crisis at the nation's porous southern border that the national government has failed to control. It's said to be the strictest state-level rules ever imposed on immigrants.
Republicans say the law disincentivizes undocumented workers from coming to Florida without complying with laws that protect the status quo. But Lopez said the status quo is going to be hit with unintended consequences from the new law.
"Trying to use this as a showpiece, you know, for how much he (DeSantis) dislikes immigrants, I don't think is a political winner in the long run," Lopez said.
Still, in 2022, Hispanic voters supported DeSantis by 15 points over his Democratic rival Charlie Crist, 57-42%, according to ABC News. That compares with Hispanics favoring Democrat Andrew Gillum by 10 percentage points in 2018, the TV network reported.
The employment aspect of the new law — requiring employers of 25 people or more to use a federal system to ascertain employees' legal immigration status — has been tried before and had disastrous consequences, Lopez argues.
"Georgia tried to crack down on immigrants working in agriculture," Lopez said. "They had hundreds of millions of dollars worth of crops rotting in the fields … No amount of wages would entice Georgians to work in agriculture. They had to backtrack real fast."
The law's requirement that employers use error-ridden E-Verify, the federal web-based system, to ascertain that workers are legal, is bound to disqualify legal workers, Lopez said.
"You're talking about every week, every month, you know, thousands of Floridians, American citizens, who are going to be falsely flagged as being illegal aliens are going to be prevented from providing for their families," Lopez said.
The law's provision that makes bringing an undocumented immigrant into Florida a felony punishable by up to five years in prison and a $5,000 fine, is also problematic, Lopez said. How could police determine the driver "knows or reasonably should know" his or her passenger has entered the country in violation of the law?
Finally, Lopez blasted the $12 million the bill gives DeSantis for moving undocumented migrants as he did last September from San Antonio, Texas to Martha's Vineyard in Massachusetts.
"It's just basically restrictionist, immigrant-bashing political theater," he said, noting that it's legal to come to this country and ask for asylum.