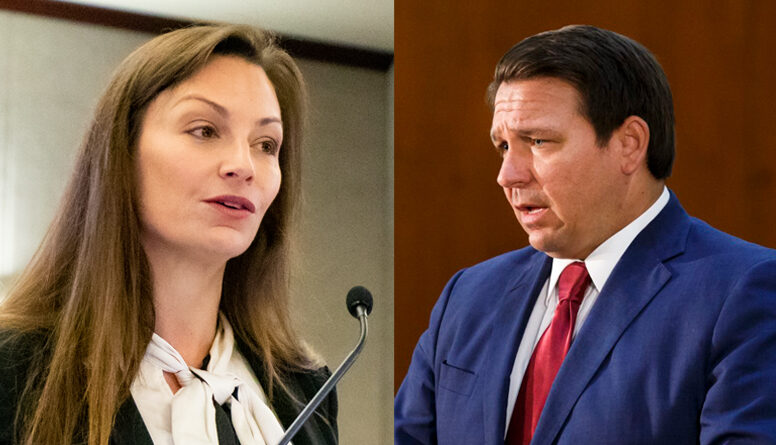 'People are starting to reject the radicalization of the Republican Party.'
Florida Democratic Party Chair Nikki Fried says one reason Democrats had a good night in Jacksonville Tuesday was because of Ron DeSantis.
Specifically, Fried said, because voters in the Jacksonville mayoral race, the race for Duval County Property Appraiser, and City Council were consciously rejecting the "radicalization" DeSantis has brought to the Republican Party.
"It's happening here in Florida that people are starting to reject the radicalization of the Republican Party. And certainly the Republican Party under Ron DeSantis who has taken our state in such a dangerous direction," Fried said on MSNBC's "The Reid Out" Wednesday.
"You saw even in the results last night that the Republicans did outpace us when it comes to the actual voters, but you saw almost 13,000 crossovers between NPA's and Republicans," Fried said.
Fried noted that the Republican in the race for Mayor, Jacksonville Chamber of Commerce CEO Daniel Davis "went even further right" in his unsuccessful campaign against Democrat Donna Deegan, a former newscaster who will be the city's first female Mayor.
Indeed, Davis held events down the stretch with a January 6 protester hosting, as well as with right-of-center members of the Duval County School Board and the state Board of Education.
Fried noted that Jacksonville's rejection of DeSantis had downballot effects, including the election of Joyce Morgan, a City Council member who will be Duval County's first Black and female Property Appraiser, and wins in City Council races, too.
DeSantis endorsed Davis and the Republican candidate for Property Appraiser, Jason Fischer, but ultimately offered little support beyond posing for pictures and offering quotes for the candidates. His tepid endorsements have received criticism from the right also, notably from DeSantis' chief political rival, former President Donald Trump.
"In a big upset, the DeSanctimonious backed Republican candidate for Mayor of Jacksonville, Florida, LOST. This is a shocker. If they would have asked me to Endorse, he would have won, easily. Too proud to do so," Trump said.
"Fools! This is a BIG LOSS for the Republican Party," Trump added. "Remember, 'Rob' only won because of me!!!"