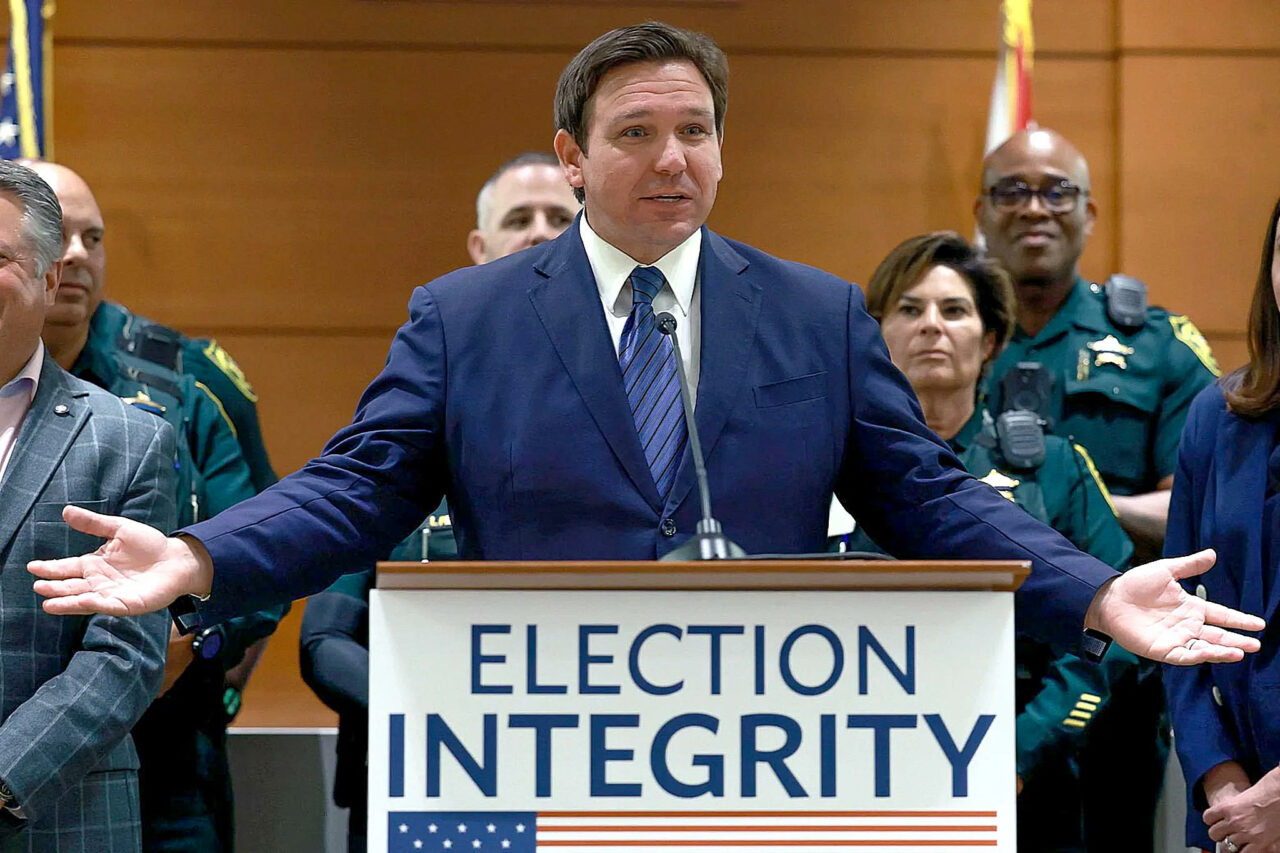 A Maryland Congressman says the Florida Governor used law enforcement to advance his presidential ambitions.
Democrats on the House Judiciary Committee want Congress to investigate Gov. Ron DeSantis, alleging he's used law enforcement to advance his political prospects.
U.S. Rep. Glenn Ivey, a Maryland Democrat, led a letter to Judiciary Committee Chair Jim Jordan, an Ohio Republican, demanding an inquiry. U.S. Reps. Sheila Jackson Lee, a Texas Democrat, and Steve Cohen, a Tennessee Democrat, both co-signed the letter. All serve on the Judiciary Committee.
Ivey said Congress needs more information on a statewide elections police force, which utilizes federal funding. He also wants information on whether DeSantis will use federal funds to send Florida police to the Mexican border.
"Governor DeSantis has reportedly directed the police agency to act in furtherance of his political agenda," Ivey wrote. "In 2022, the Governor launched a voting fraud unit that enlisted the help of FDLE (the Florida Department of Law Enforcement), despite pushback from the agency that there was insufficient fraud to justify enlisting full-time agents in the effort."
But DeSantis' team said the Governor is doing his job employing resources for the benefit of Florida.
"It appears that the Congressman (Ivey) is more concerned with Governor DeSantis doing his job — protecting Floridians, upholding the law, ensuring Florida's elections are safe and fair, securing our Southern Border from drug cartels that have brought enough fentanyl into America to kill nearly 70% of our nation's population — than he is about doing his job in D.C.," said Jeremy Redfern, DeSantis' Press Secretary.
"I would respectfully suggest that he focus on his job by cleaning up the federal government's targeting of soccer moms at School Board meetings and censoring views they disagree with on social media."
Ivey took the time to note a relatively small caseload from that work. He pointed to arrests announced by DeSantis in August before the Midterm Elections.
"In a statewide election of over 10 million voters, a so-called sweep resulted in the arrest of only 20 Floridians who unknowingly voted while ineligible, in part because election officials had approved their applications and mailed them registration cards," Ivey wrote. "Six of the cases have been dismissed so far, and none of the twenty led to any jail time."
Of note, the election police force has continued to arrest individuals, and the Legislature recently passed a new law allowing a statewide prosecutor to handle cases.
Ivey suggested the individuals arrested before the election were targeted. Many were Black and were arrested in Democratic counties.
He also argued the arrests were aimed chiefly to "placate former President (Donald) Trump and his false claims that widespread voter fraud led to his defeat in 2020."
DeSantis is expected to announce next week he will run against Trump and others for the Republican nomination for President in 2024.
Ivey also noted DeSantis' recent announcement he will send law enforcement to Texas to help patrol the border. He suggested that as DeSantis prepares a run for President, the Florida Republican is exploiting migrants. That has included directing officers to pull over vehicles suspected of carrying migrants and stalking and photographing buses filled with migrant workers in Jacksonville.
"Members within FDLE raised concerns that complying with these orders may violate the civil liberties of migrants, particularly as none were suspected of committing crimes outside of their legal status," Ivey's letter states.
He also said FDLE agents played a role flying migrants from Texas to Martha's Vineyard last year, and has used the state police for controversial investigations, such as one leading to suspending Democratic State Attorney Andrew Warren.
Ivey noted the Governor's proposed budget grows the Florida State Guard to a $100 million budget.
But all the agencies involved, Ivey noted, rely at least in part on federal funding.
"We cannot be good stewards of taxpayers dollars by funding a law enforcement art that is being weaponized for a single Governor's personal political purposes," he wrote.