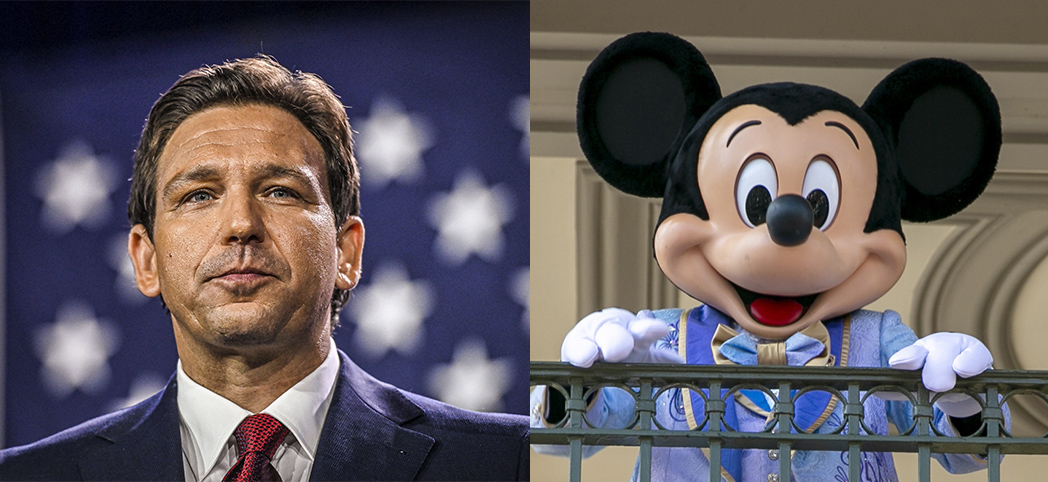 Disney parks leader says 'new leadership and changing business conditions' are why the company isn't relocating 2,000 employees to Florida anymore.
"Does the state want us to invest more, employ more people and pay more taxes or not?" Disney CEO Bob Iger asked during an earnings call last week as he addressed his company's ongoing feud with Gov. Ron DeSantis.
Days later, The Walt Disney Co. followed through with that veiled threat and canceled a plan to relocate a California division of more than 2,000 Disney employees to Orlando.
Walt Disney Imagineering had been set to move to Lake Nona, a growing area of Orlando located about 20 miles from Disney World and is already home to the University of Central Florida's medical school. The $1 billion Disney campus was set to open in 2026.
"Given the considerable changes that have occurred since the announcement of this project, including new leadership and changing business conditions, we have decided not to move forward with construction of the campus," Josh D'Amaro, Chair of Disney's parks, experiences and products division, wrote in a memo Thursday to employees.
"This was not an easy decision to make, but I believe it is the right one. As a result, we will no longer be asking our employees to relocate. For those who have already moved, we will talk to you individually about your situation, including the possibility of moving you back."
When reached for comment, Jeremy Redfern, a spokesperson for DeSantis' Office, said: "Disney announced the possibility of a Lake Nona campus nearly two years ago. Nothing ever came of the project, and the state was unsure whether it would come to fruition. Given the company's financial straits, falling market cap, and declining stock price, it is unsurprising that they would restructure their business operations and cancel unsuccessful ventures."
Disney nixing the Florida expansion comes as the company has been embroiled in a bitter fight with DeSantis, who has targeted the company after Disney spoke out against last year's Parental Rights in Education law, known by critics as "Don't Say Gay."
DeSantis pushed laws that gave him the power to take over Disney World's governing board and appoint new members, allowing the state to inspect the monorail and nullify Disney's development agreements with its old board before it took over.
That's led to Disney, DeSantis and the Governor-appointed tourism board in charge of Disney World's special taxing district being caught up in litigation. Disney has accused DeSantis and Republicans of retaliation for exercising its right to free speech.
Lake Nona's developers are in talks with other groups to find a replacement so "we're going to keep running," said Rasesh Thakker, a Senior Managing Director of Tavistock Group, which developed Lake Nona, as he gave the keynote speech Thursday afternoon at Florida TaxWatch.
But Thakker also acknowledged that having Disney relocate the Imagineers to Orlando would "have have been great for the entire region. A rising tide lifts all boats, you know, but it's something that we don't control."
The Walt Disney Co. is looking to expand its theme parks and build new rides in future years.
D'Amaro said he remains "optimistic about the direction of our Walt Disney World business. We have plans to invest $17 billion and create 13,000 jobs over the next 10 years. I hope we're able to do so."
Florida Politics reached out to DeSantis' Office Thursday and did not immediately receive a response.
Several political leaders on the state and national scale jumped in to weigh in as the news broke Thursday.
Sen. Joe Gruters, a Republican from Sarasota who broke ranks to vote against the laws targeting Disney, called Thursday's news a "huge loss for Florida."
"Our state is still the best place to live, work and raise a family. I hope we can put an end to this ongoing conflict and get back to having a solid working relationship with one of our best business and tourism partners," Gruters said.
California Gov. Gavin Newsom quickly jumped in on Twitter.
"Turns out, bigoted policies have consequences," he wrote. "That's 2,000+ jobs that will be welcomed back with open arms to the Golden State. Thank you for doing the right thing."
Former President Donald Trump, who has been vocal in his attacks against DeSantis amid talk of the Governor's ambitions to run for president, sent out an email Thursday with the subject line "President Trump is Always Right" alongside a screenshot of his April social media post taunting DeSantis and warning Disney will stop investing in Florida.
A pair of Central Florida Democrats also issued statements.
Rep. Anna Eskamani took aim at the Governor as a "job-killing moron who cares more about his own political ambitions and culture wars than Florida and our future."
Sen. Linda Stewart called the news disappointing but said in a statement, "All industries continuously evaluate environments and economic factors when undertaking such large relocations, and today's announcement is understandable given the business climate we are in as a state."