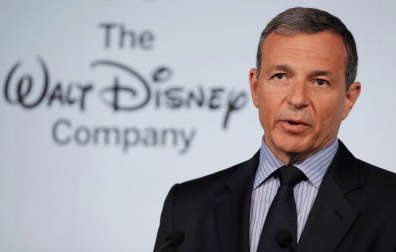 Disney CEO Bob Iger addressed the company's ongoing fight with Florida during the company's earnings call Wednesday.
Walt Disney Co. CEO Bob Iger fired back at Republicans' claims they are leveling the playing field by imposing new oversight against the Mouse.
"This is about one thing and one thing only, and that's retaliating against us for taking a position about pending legislation," Iger said when asked about the fight against Florida lawmakers during the company's earnings call. "This is not about special privileges or a level playing field or Disney in any way using its leverage around the state of Florida."
This year, the Republican-majority Legislature passed bills that removed Disney World's governing board members and replaced them with Gov. Ron DeSantis appointees, allow state inspectors to check the monorail and try to nullify Disney's agreements with its old governing board.
A rallying cry among Republicans has been Disney shouldn't have its own government, a perk Disney's competitors in the theme park industry don't have.
Eventually, Disney sued DeSantis and the state-appointed Central Florida Tourism Oversight board last month in federal court. The Central Florida board has countersued Disney in Orange Circuit Court.
"We never wanted, and we certainly never expected, to be in a position of having to defend our business interests in federal court, particularly having such a terrific relationship with the state as we've had for more than 50 years," Iger said Wednesday.
But Disney's feud with DeSantis doesn't appear to have hurt Disney theme parks' popularity, which are bright spots for the company's finances. The second-quarter operating income increased 23% to $2.2 billion in the company's parks, products and experiences division compared to last year.
Iger argued the state targeted the Reedy Creek Improvement District and ignored the other 2,000 special districts, like The Villages and the Daytona Speedway, that are set up around the state after Disney spoke out last year against the Parental Rights in Education law, known by critics as the "Don't Say Gay" law.
"We all know there was no concerted effort to do anything to dismantle what was once called Reedy Creek special district until we spoke out on the legislation. So this is plainly a matter of retaliation, while the rest of the Florida special districts continue operating basically as they were," Iger said, adding Disney's special district once made it easier to do business in Florida.
Today, Walt Disney World Resort employs more than 75,000 people, is one of the biggest tourist attractions in the world and paid more than $1.1 billion in state and local taxes last year. Disney is planning to invest $17 billion in Florida over the next decade, Iger said, which led him to ask one question: "Does the state want us to invest more, employ more people and pay more taxes or not?"