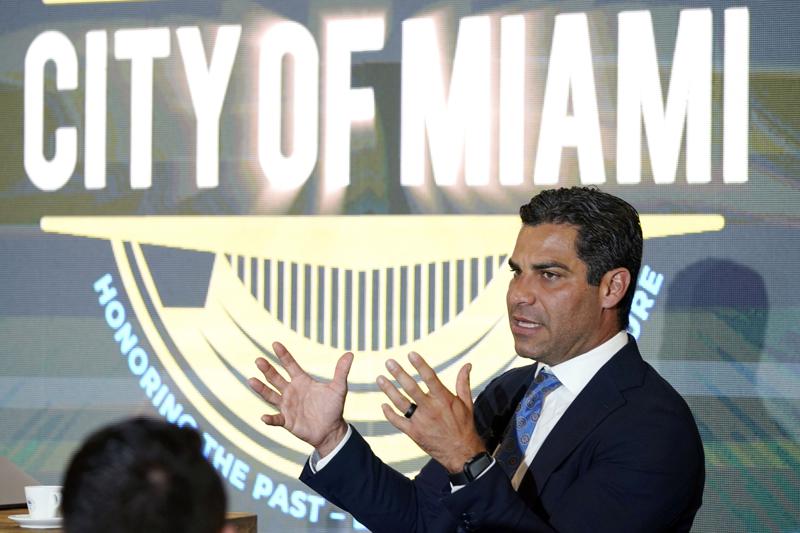 He said some of the Governor's actions on the issue are more 'headline-grabbers' than fixes.
Miami is experiencing a "migrant crisis" that is weighing down public schools and drawing police attention from crime-fighting, according to Mayor Francis Suarez, who says continued debate over the issue highlights the need for a country-wide fix.
Speaking with Face the Nation's Margaret Brennan, Suarez said the local school district has received no federal funding to deal with the issue despite "14,000 new children" who fled other countries and enrolled last year in Miami-Dade Public Schools.
"That's the equivalent of five new 2,000-student schools, and that's a tremendous burden on our system," he said. "I'm actually quite proud of Mayor (Eric) Adams from New York for standing up and talking about how this is impacting (his city). He has to focus on crime reduction, and instead you see images of police officers helping people into the classic Roosevelt Hotel find housing.
"These officers should be, and you'd want them to be, focused on reducing crime, and instead (they) have to deal with this migrant crisis, which … should be a federal issue."
Asked for his thoughts on a law Ron DeSantis signed this month to clamp down on illegal immigration, Suarez — whose potential run for President would pit him against Florida's Governor and former President Donald Trump — said Miami police, like their county counterparts, plan to leave much of the enforcement to the federal government and Florida Highway Patrol.
"We pull over people for traffic infractions and things of that nature. We don't usually get involved in the federal immigration enforcement system. We never have as a city, and I don't believe that we plan to in the future," he said before turning to a provision in the new law requiring employers with more than 25 workers to use the federal E-Verify system to check the immigration status of potential hires.
"First of all, I think it is already illegal to hire an undocumented worker in the United States of America, so I'm not sure if that changes much (about) the current law or the current state of the law in terms of how it impacts the city of Miami," he said.
"(But) you know, this entire debate and discussion screams for a national solution, and I think that's what we should be focused on as a country, solving this problem in a way that … right-sizes legal immigration so that we can have Americans that want to work and that are working legally."
To that end, he said, some of the actions DeSantis and the Florida Legislature have taken, such as the Governor's migrant flight program, are "headline-grabbers without a doubt."
"Some of them are substantive," he added. "For example, he's sending 1,000 law enforcement officers to the border at the request of the Governor of Texas, (which is) something that could have a positive impact in interdicting and helping with people who are on the terrorist watch list and catch, you know, people who are smugglers and coyotes."
"You have to be careful with that as well," he said. "We are on the eve of hurricane season, so you have to make sure that the resources that are being used are resources, you know, that we can deploy here in the state of Florida if we need them."