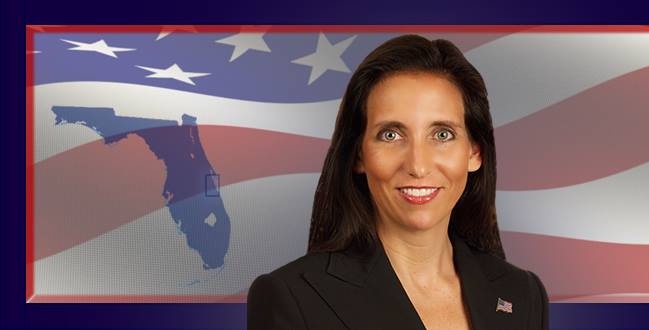 The Palm Bay Republican calls herself an acolyte of Gov. Ron DeSantis.
A Moms For Liberty leader is hoping to succeed Rep. Randy Fine. Palm Bay Republican Monique Miller has announced her campaign in House District 33.
"It's no secret that I'm a conservative and my passion for conservative policies has led me into this race," Miller said.
"Republicans deserve someone who has a proven track record of fighting to keep Florida free. My career has taken me all over the globe. I've lived and worked in socialist countries, and that experience has made me appreciate even more what we have in America. We need strong, committed leaders to protect and restore the principles that make America unique in the world."
Miller pulled a $100,000 loan to launch her bid. Her campaign in a press release described her as an "acolyte" of Gov. Ron DeSantis who will advance similar policies.
"Gov. DeSantis has made Florida a beacon of freedom to the entire country. It is a recipe for success that is driving Florida's unprecedented growth," she said. "This is no time to take our foot off the gas. I am ready to get to work to further advance the ideals that are fueling Florida's success."
Miller has run for the House before. She lost to Thad Altman in House District 52 in a Republican Primary in 2016, before the most recent redistricting.
Fine is serving out his last term in the House. He has filed as a candidate in Senate District 19. He's also a potential contender for university President at Florida Atlantic University.
Miller was a founding advisory board member for Moms For Liberty. She has two children and three grandchildren, and was involved in supporting the "Parental Rights in Education" legislation derided by critics as the "Don't Say Gay" law.
She has also worked 25 years in computer and cybersecurity, working for companies including Hewlett Packard and with federal and state governments to defend against digital attacks. Miller holds a master's degree from Emory University and studied as an undergraduate at Loyola University.