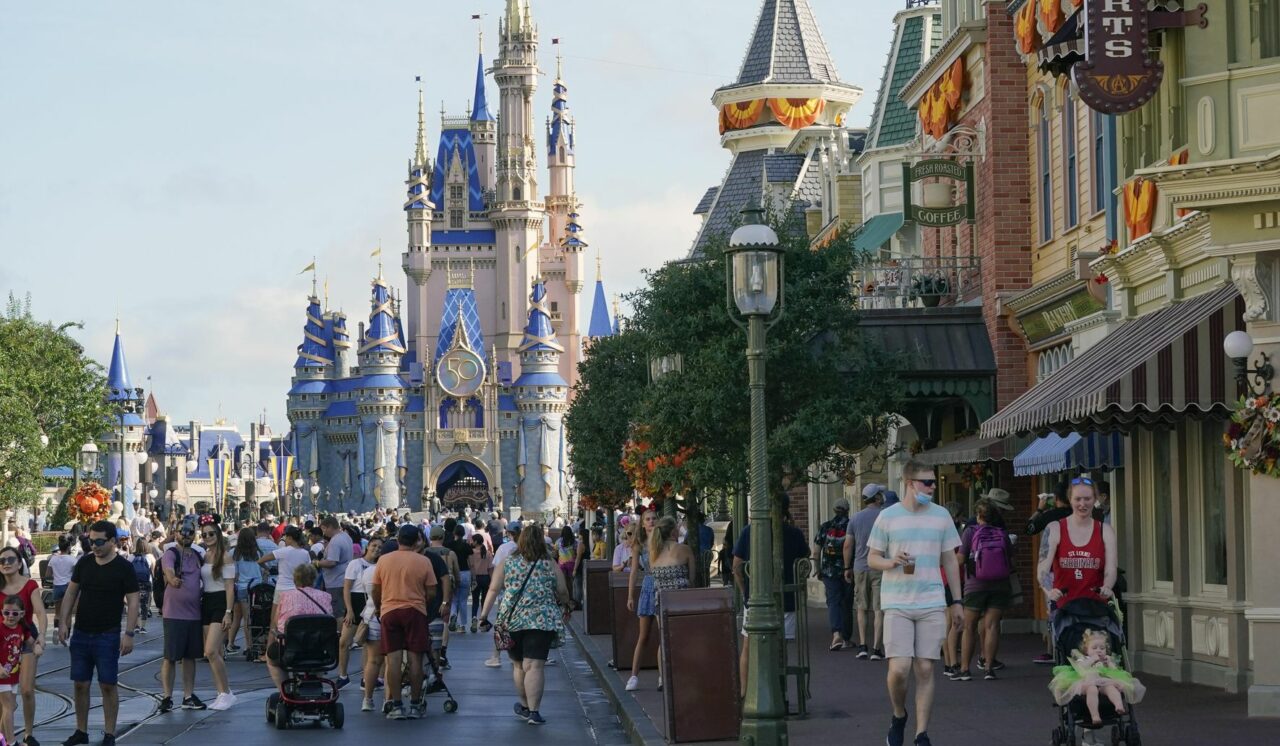 Disney's parks leader talked about the Star Wars hotel, the Lake Nona cancellation and more during Monday's investor conference.
The ongoing political fight with Gov. Ron DeSantis and the Legislature hasn't hurt Disney World's business operations, the company's top parks executive said.
Josh D'Amaro, Chairman of Disney Parks, Experiences and Products, blamed the recent slower demand at Disney World on the parks' 50th anniversary ending.
D'Amaro participated in a 35-minute question-and-answer session during the J.P. Morgan Global Technology, Media & Communications Conference. He addressed a series of breaking news events in Florida, such as the company canceling the $1 billion Lake Nona expansion and closing the Star Wars hotel for an up to $300 million tax write-off, as well as the challenges of planning a Disney World vacation.
D'Amaro said the company decided to ax the Imagineers' move from California to Florida, reiterating what he told employees in a memo last week. The decision was made because of "new leadership in place," D'Amaro said, a nod to Disney CEO Bob Iger's return to Disney.
"The business conditions have changed pretty significantly," D'Amaro said without mentioning DeSantis by name or bringing up the legal fight between Disney, the Governor and the state-appointed Disney World governing board.
"So taking that all into account, we said we think at this point in time, we're going to reverse that decision. We're not going to have the campus in Florida, and we'll keep things as they are right now."
Even without the Lake Nona expansion — which would have brought 2,000 high-paying jobs to Orlando's growing Lake Nona neighborhood — Disney plans to invest $17 billion in Florida over the next decade. That figure includes "the transformation of Epcot," a Star Tours ride update and the redesign of Splash Mountain at the Magic Kingdom, D'Amaro said.
"We're thinking pretty aggressively about where we can take things in Florida," D'Amaro said, bringing up a speech he made during last year's D23 Fan Expo when he teased the possibilities of adding more IP to Animal Kingdom and building a new land behind Big Thunder Mountain. At the time, D'Amaro hadn't firmly committed to the vision or given timelines when fans could expect to see the new attractions or projects.
J.P. Morgan analyst Philip Cusick brought up the gripe from fans about how difficult it is to plan their Disney vacations — which can require making theme park reservations, dining reservations and snagging Genie+ spots if they want to pay to get through the lines faster.
"Going into the park is more work than they thought it was going to be when they signed up. Not more money, but more work. How do you think about making it easier for this crowd?" Cusick asked.
D'Amaro called it a "fair question" but defended the parks' systems in place, arguing Disney World is bigger than Manhattan with lots to do for a visitor's trip.
"We've invested a fair amount in technology to try to help our guests navigate these big spaces, and that's been working well for us," D'Amaro said. "I still think we have more to do."
Last week, Disney announced it is shutting down Star Wars: Galactic Starcruiser, the 100-room hotel at Disney World with a price tag topping nearly $5,000 for two people. The hotel, built for die-hard Star Wars fans, opened in March 2022.
D'Amaro called it a "pretty stunning asset."
"Our Imagineers did an incredible job pulling this asset together, and our guests gave it very high ratings," D'Amaro said. "It didn't perform exactly like we wanted it to perform, so we decided that we're going to sunset this in September."
For both upcoming two financial quarters, The Walt Disney Co. plans to add $100 million to $150 million of accelerated depreciation for the hotel, D'Amaro said.