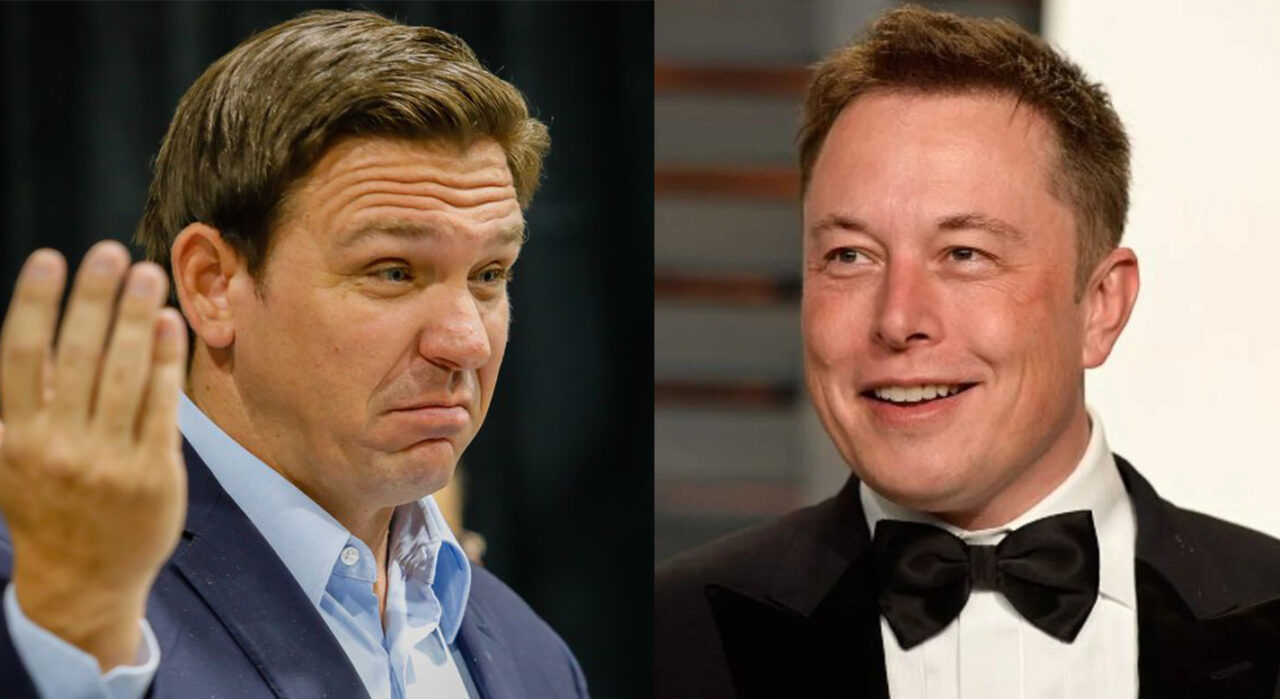 DeSantis will kick off his campaign on a Twitter Space. The lovefest has been months in the making.
Gov. Ron DeSantis reportedly will officially kick off his presidential campaign Wednesday evening on Twitter Spaces with CEO Elon Musk. For the Florida Governor and the South African billionaire, the symposium will offer more evidence of the mutual admiration society between the two.
In June 2022, Musk suggested DeSantis might be his man in 2024.
Asked who he was leaning toward on Twitter, he said "DeSantis." He then said part of the argument was viability, pointing out that he "supported (Andrew) Yang last time, but DeSantis has a better chance of winning."
For his part, DeSantis offered a quip: "With Elon Musk, I would say: I welcome support from African Americans."
Prior to that, in May, DeSantis alluded to Musk's comments about President Joe Biden relying on a teleprompter. DeSantis referenced "what Elon Musk said the other day" before quipping, "Whoever puts that stuff into the teleprompter is kind of who the President is."
Musk musing on Biden had been widely reported on the Right.
"The real President is whoever controls the teleprompter. The path to power is the path to the teleprompter," Musk said. "I do feel like if somebody were to accidentally lean on the teleprompter, it's going to be like Anchorman."
DeSantis also backed Musk in a dispute with Ukraine over Starlink satellites.
"When Russia invaded Ukraine, Elon Musk positioned his satellites over Ukraine and gave them these things. So they've actually been using his devices to be able to defend their country, and I guess some of the people in the government were attacking Musk," DeSantis said.
"And I'm just thinking to myself, 'He's doing this for free,'" DeSantis added. "Don't bite the hand that feeds you. Good Lord!"
DeSantis' defense of Musk came after questions at a post-Hurricane Ian press conference in North Port, where a local Comcast customer asked about poor internet reception in his area. DeSantis suggested that "Elon Musk devices" and "Musk stuff" at public areas in each county may help in the short term, referring to the units Musk offered for free in Ian's wake.
DeSantis also was an early backer of Musk's effort to acquire Twitter, suggesting Musk could "liberate" Twitter from being the government's "agent of censorship."
"I'm very supportive of what Elon Musk is doing," DeSantis said, "because I think that platform has been used really as a tool to enforce narratives and to stifle dissent when it was born to be an open platform."
"It's not like he's a super-conservative, but he understands the woke elites in this country are trying to shove an agenda down everybody's throats," DeSantis contended in October, after the purchase was final.
While DeSantis backs Musk owning Twitter, however, he was less enthusiastic when asked recently if he wanted Twitter employees to have a home base in Florida.
"You know, I know Elon Musk, and what I would tell him is like, 'Ok, if you're going to move Twitter to Florida, are you bringing woke employees to Florida or are you bringing just your people?' If it's just his people then it may be good," DeSantis told The Benny Show.
DeSantis added that "Twitter and other types of Silicon Valley companies … live in this intellectual cocoon where woke ideology infuses everything."
"Over the last many years, they've been exporting that ideology via these social platforms all the way around the world" DeSantis continued. "And it's really, I think, infected politics and culture in a very negative way. So I really applaud him for taking on Twitter, trying to moor it back towards facts and truth and stop (parroting) the ideology and trying to censor beliefs that conflict with it."