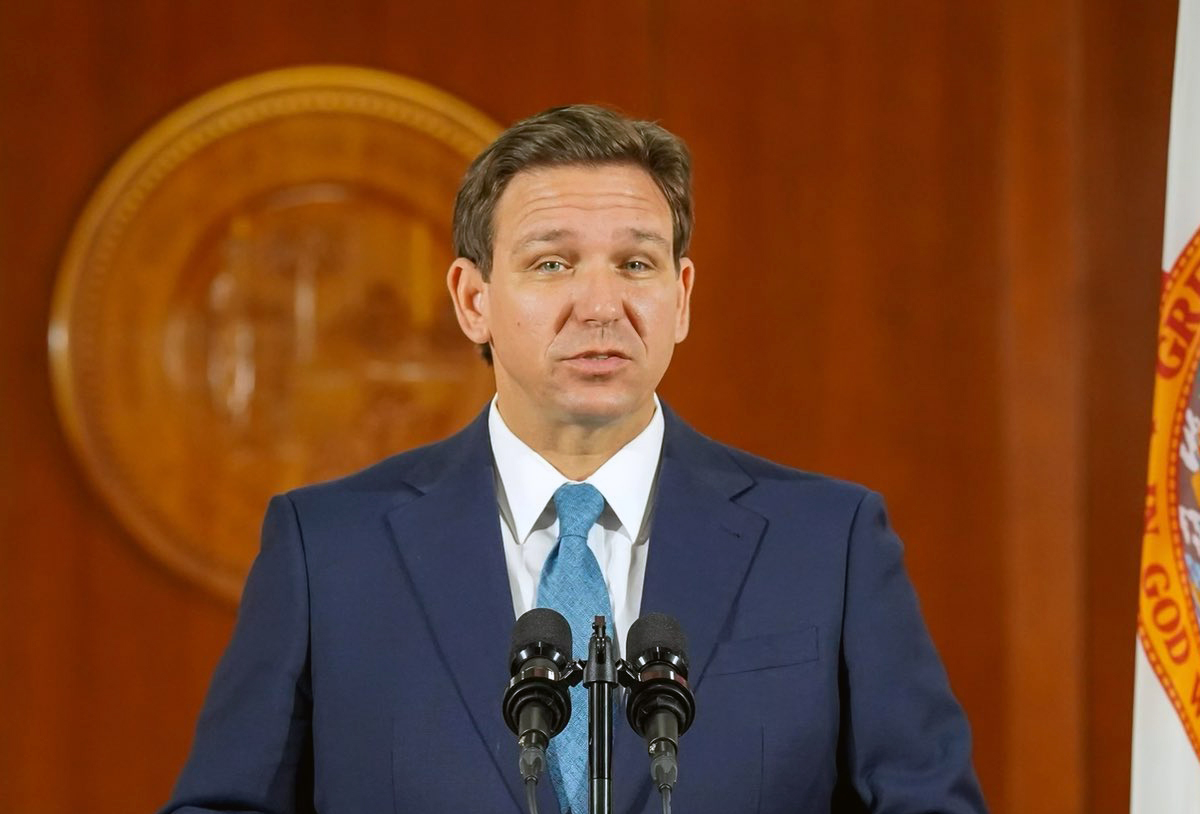 'We will use the pardon power and I will do that at the front end.'
Ron DeSantis may be running against Donald Trump for President, but he says he would look at immediately pardoning the former President and the Jan. 6 rioters Trump encouraged if he wins the White House.
Responding to an interview question on "Clay and Buck," the Florida Governor opened the door to clemency actions on "Day One" surrounding the attempt to halt the certification of the 2020 Presidential Election.
"The Department of Justice and Federal Bureau of Investigation have been weaponized. We see that in a variety of contexts," DeSantis argued.
"And so what I'm going to do is on Day One, I will have folks that will get together and look at all these cases (where) people are victims of weaponization or political targeting and we will be aggressive at issuing pardons."
He argued that prosecutors have not been pursuing justice equally.
"Some of these cases, some people may have a technical violation of the law. But if there are three other people who did the same thing, but just in a context like Black Lives Matter, and they don't get prosecuted at all, that is uneven application of justice," DeSantis added.
"And so we're going to find ways where that did not happen and then we will use the pardon power and I will do that at the front end."
The Florida Governor said he would consider these pardons sooner rather than later, should he win the White House.
"A lot of people wait until the end of the administration to issue pardons. We're going to find examples where government has been weaponized against disfavored groups and we will apply relief as appropriate, but it will be done on a case-by-case basis because I think you've got to make sure that there's a whole bunch of cases that don't necessarily get headlines," DeSantis said.
When asked again about Trump specifically, DeSantis said, "Any example of disfavored treatment based on politics or weaponization would be included in that review no matter how small or how big."
DeSantis has downplayed the importance of the Jan. 6 insurrection since it happened.
"Why are they constantly beating this dead horse?" DeSantis rhetorically asked in June 2022 when asked about congressional investigations, dismissing the events as being "a year and a half ago."
"This is their Christmas," he said of the media and Democrats at a January 2022 press conference in West Palm Beach, when asked about the anniversary of the riot.
"It's not something that I've been concerned about in my job, because quite frankly it's not something that most Floridians are concerned about," he told reporters.
Describing a "nauseating display of political hypocrisy and grandstanding from Democrats in Congress and in the corporate media," DeSantis decreed in a subsequent fundraising email that "Jan. 6th is like Christmas for the out-of-touch D.C., New York political and media class."
While DeSantis won't describe the Capitol riot as an insurrection, he used the word in a contemporaneous diss of protesters at the Supreme Court.
Florida tops all states in arrests for participation in the Capitol riot, a dubious distinction.