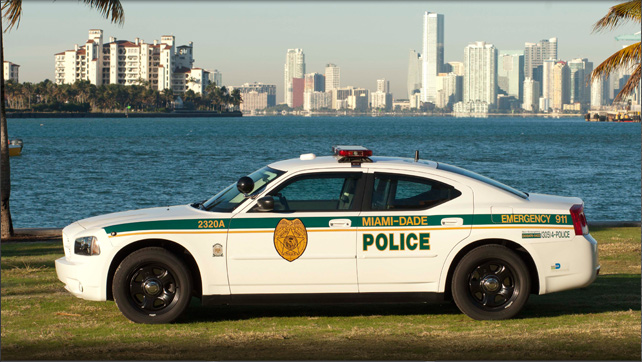 It's one of two measures the Legislature passed this year designed to end debate over Sheriff powers.
When Miami-Dade voters elect their first Sheriff in decades next year, the top cop won't have shared authority with the county's currently appointed police director — who's now running for the Sheriff position anyway.
That's thanks to legislation (HB 1595) Gov. Ron DeSantis signed, effectively ending a yearslong debate over the powers of a Sheriff in Miami-Dade, which eliminated the post in the 1960s amid findings of rampant corruption.
The measure grants Sheriffs in Florida exclusive policing jurisdiction over a county's unincorporated area and concurrent authority in cities and special districts. It also outlines the process for the transfer of power from one elected Sheriff to another and authorizes State Attorneys to challenge reductions in annual city policy funding of more than 5%.
Those provisions technically apply to all 67 counties in the state. But it's only in Miami-Dade, which is unique in having a police director who operates at the behest of the Mayor rather than a Sheriff, that the change will have any immediate impact.
Florida voters — including 58% of Miami-Dade voters — approved a constitutional amendment in 2018 requiring every county in the state to elect a handful of "constitutional officers." For Miami-Dade, that also means the Tax Collector and Supervisor of Elections will also be elected positions, beginning in late 2024.
There's been less consternation about those two jobs being elected posts than the Sheriff, which a 1966 grand jury report revealed was then operating more like a crime syndicate than a law enforcement operation.
The Dade County Sheriff's Office at the time was shielding gambling operations, accepting bribes from brothels and extorting illicit abortion providers. So voters there eliminated it, establishing the Mayor, now Daniella Levine Cava, as the de facto Sheriff overseeing a current police force of some 4,700 employees, an annual budget of $815 million and a police director the Mayor appoints and commands.
Miami-Dade's current police director, Alfredo "Freddy" Ramirez, filed May 1 to run for Sheriff. Two others, Rickey Mitchell and Ruamen de la Rua, are also vying for the job.
But it's a job many officials and residents in the county don't want back. In June, the Miami-Dade Commission passed a resolution Levine Cava supported to grant her continued control over the police department in unincorporated areas outside city limits — an arrangement that would have given the county two law enforcement agencies in addition to municipal police forces.
The move drew a since-dismissed lawsuit from the Florida Sheriffs Association and a pair of bills — HB 1595 and HB 1373, which would prohibit counties from duplicating constitutional officers' powers — from Miami-Dade Republican Rep. Juan Fernandez-Barquin. He said the county's efforts to withhold Sheriff powers would cause "confusion of jurisdictional powers."
"Florida has always stood on the side of transparency, accountability and our law enforcement," he told Florida Politics after the bill was signed Thursday. "The signing of HB 1595 into law reiterates Gov. DeSantis' commitment to law and order."
HB 1595 and HB 1373 — which Republican Sens. Danny Burgess of Zephyrhills and Ileana Garcia of Miami supported by way of companion bills — passed unanimously in the Senate and with some opposition in the House, mostly from Miami-Dade Democrats.
Levine Cava said she still supports the policy the County Commission passed last year, crediting the Miami-Dade Police Department (MDPD) for maintaining "one of the lower crime rates in the nation."
She said she's "committed to ensuring the continuity of the work our Police Department does every day to keep our community safe, and creating as seamless transition as possible for the dedicated men and women of MDPD."
She added, "I look forward to working with the newly elected Sheriff after next year's election to ensure a smooth transition that doesn't disrupt any vital safety services for our residents or visitors."
Miami-Dade Commissioner Raquel Regalado, who co-sponsored the county measure last year to keep the Miami-Dade Police Department intact upon the Sheriff's return, is also more open to the change.
"Given that public funds are a limited resource, it certainly makes sense that we shouldn't make taxpayers pay twice for the same service," she said. "I'm not sure we needed to be told that. But now it's crystal clear."