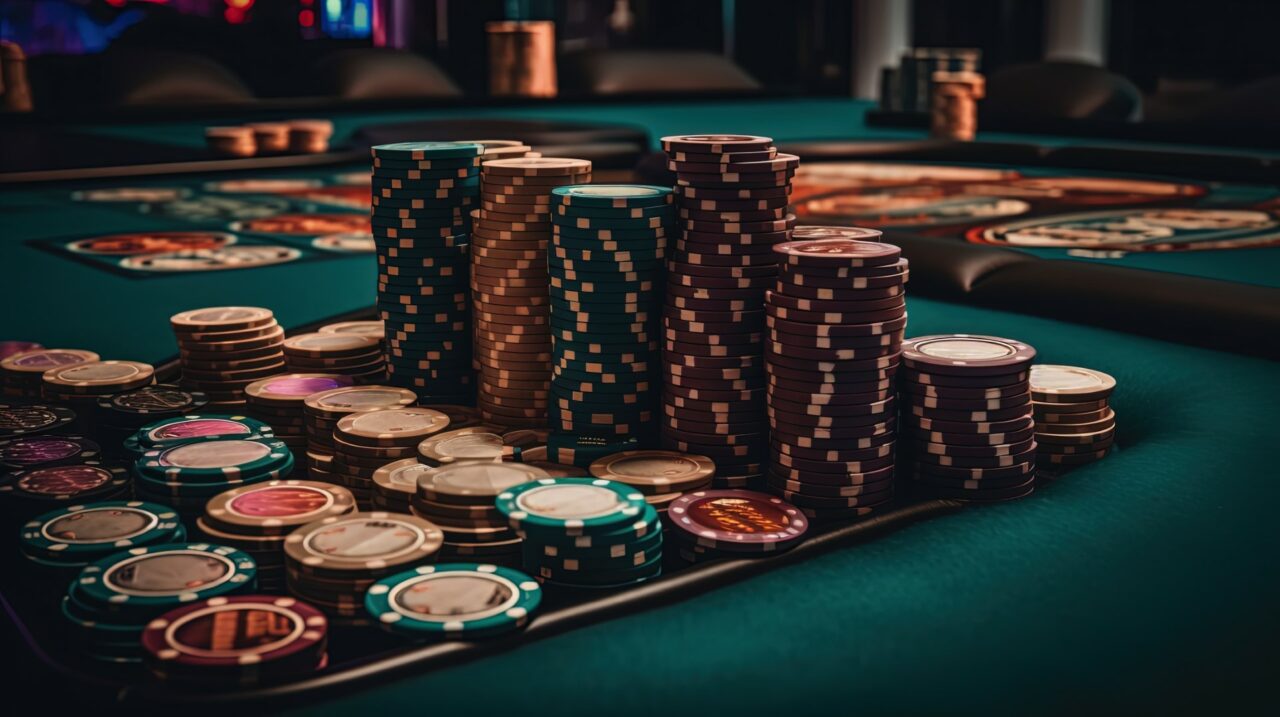 Jaguars unveil a billion-dollar stadium plan. Is it a good bet for Jacksonville taxpayers?
Fans of Trevor Lawrence (and the new-look Jacksonville Jaguars) are now realizing the big price tag may not be an inevitable second contract for the franchise QB.
While building a playoff team will cost Shahid Khan (whose net worth is $11.4 billion) hundreds of millions of dollars, it also comes at a local cost.
As Florida Politics reported Tuesday, potentially more than a billion dollars could be for what the team is calling a "re-imagination of the entire stadium and adjacent property."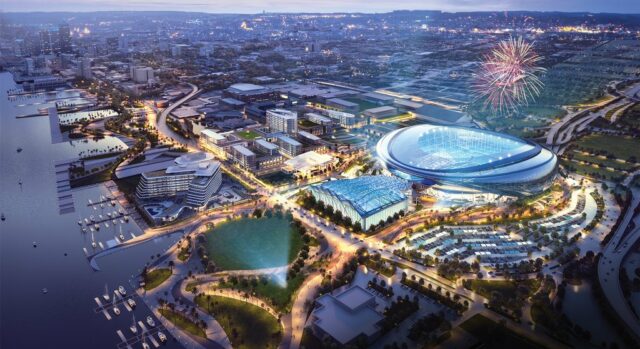 Unless you've been under a rock (and with housing costs what they are, who could blame you), you know the Jags' lease with Jacksonville is elapsing at the end of the decade. The price of another commitment of 25 or 30 years is "a long-term resolution to the current stadium situation and the surrounding property."
The overall deal is a 50/50 split, but the devil is in the details … and those details aren't necessarily the razzle-dazzle renderings presented Wednesday of a "stadium of the future," and a "shining beacon on the water" in the hype video.
To watch the video, please click on the image below:
As for the stadium, the city would be on the hook for anywhere between $800 and $934 million — two-thirds of the overall price tag. This cost share is smoothed out with a "sports district" development (that no one really asked for); with the Jags willing to shoulder 86%.
Jacksonville may only be spending $100 million or less on that sports complex.
The goal is to begin sports complex development by January 2025, and to that end, the team needs a deal struck by March 2024. Stadium renovations would begin by January 2026 and could result in the team playing elsewhere for two years (Daytona? Orlando? Gainesville? London?).
All this hinges on whether Mayor-elect Donna Deegan chooses a stop-and-start approach; allowing the team to stay in town for four years of sporadic renovation that will make for a suboptimal fan experience.
A Faustian bargain to be sure, and the first major question for the Deegan administration.
At her first news conference, she didn't want to talk about the stadium, obliquely hinting at "new information." She didn't want to talk before this story ran either, so we don't know where the incoming administration actually is on this issue. But regardless, stadium renovations will be a subplot of the 2027 campaign.
Expect creative financing solutions to abound, including putting the new University of Florida graduate campus at the sports complex (as mentioned in documents and the hype video), but with a caveat.
This is a high-interest rate environment now, and borrowing money for a project like this will be more expensive than it might have been five years ago.
Jacksonville explored JEA privatization then, and one scenario last decade forecast $6 billion in profit for the city. There is no appetite for anything like that in the Deegan era, but there wasn't sufficient liquidity for this deal not to be on the installment plan.
There will be ample boosters for this stadium deal, asking: "Do you want to be an NFL city or not?"
In the end, that's the question, only answerable with appropriations.
Conference call
One sign of major thematic change in the Deegan era: the city is back in the U.S. Conference of Mayors.
The Mayor-elect tweeted over the weekend about how she was "grateful to be with this incredible group of Mayors from around the U.S. Looking forward to the friendships and the collaboration with these thoughtful leaders."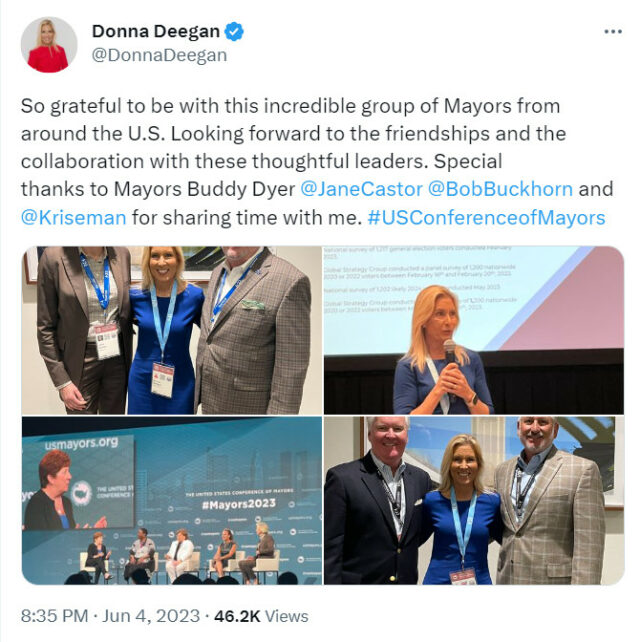 Though not formally in office for weeks, the Democrat attended the Conference conclave in Columbus, Ohio; a radical shift from predecessor Lenny Curry, who removed the city from the left-of-center group in 2017, sometime before the group had passed resolutions opposing policies of former President Donald Trump.
Membership costs money: in 2016, yearly fees were around $26,000, and they're still at the same amount. But Curry's predecessor got his money's worth; former Mayor Alvin Brown attended 15 such meetings, including one after he lost his re-election bid. Brown's former administration credited membership with positive policy outcomes for the port and other initiatives.
Deegan will be an active member of the conference as well.
"The spirit of collaboration in this bipartisan organization is the culture we want to foster in Jacksonville. I was inspired by the level of experience, competence, and comity between mayors from across the political spectrum. As we build best practices, I'm looking forward to being an active participant," she told Jacksonville Bold in a statement this week.
Deegan paid for the trip via her Donna for Duval political committee.
Falling down
Rep. Kat Cammack is less than confident in the fitness of the commander in chief.
During a Monday appearance on the Fox News Channel's "Faulkner Focus," the North Florida Republican agreed with presidential candidate Nikki Haley that Joe Biden's trip and fall during a graduation ceremony at the Air Force Academy showed weakness to Beijing.
"Well, again, I agree with what Ambassador Haley said, you know, she said that this type of behavior, this weakness, it invites aggression and she's right. You know, no one should be cheering when they see the President stumbling onstage. No one should," Cammack said.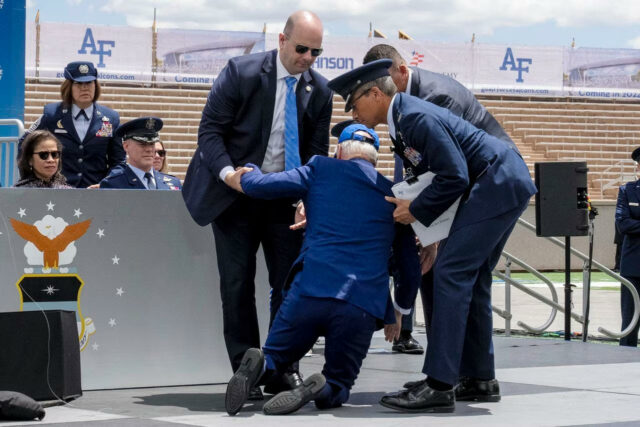 "But the fact remains that he has been shaking hands with invisible people. He has been taking cues from the Easter Bunny," she added. "That type of weakness invites aggression from adversaries."
"Russia and China are watching this extraordinarily closely," Cammack continued. "When you look abroad at the propaganda machines, they're in full effect, talking about how America is in decline. That invites opportunities for them to take action economically and militarily against the United States."
GOP gerrymander
Analyst Matthew Isbell looks at the Duval County House maps that went into effect in the 2022 cycle; unsurprisingly; the Democratic partisan sees a deliberate attempt to fix an increasingly purple county for Republicans.
"Jacksonville deserves better," Isbell wrote this week, noting that the election of Deegan for Mayor on a House map with a 4/2 Republican/Democrat split "confirmed a gerrymander in the region."
Isbell's main grievance is the elimination of the old HD 15, a swing district on the Westside that was trending more Democratic in registration but was nonetheless represented by Rep. Wyman Duggan … albeit with Democratic competition.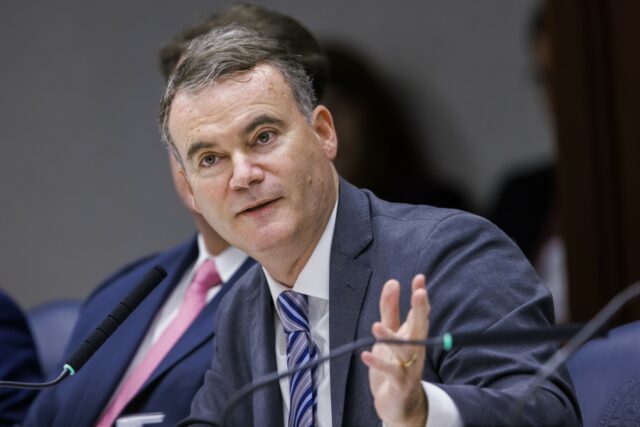 The new HD 12, he notes, gives Duggan a safer space — and to do so, it crosses the St. Johns River, violating the legislative best practice of not crossing major boundaries where it can be avoided to create a friendly and Republican-performing district.
"The 2023 Mayoral race confirms the effectiveness of the gerrymander. In Deegan's 4% countywide win, she still lost HD 12 by 7%," Isbell writes. "You may ask, how would the old 15th have voted? Well precinct splits are aggressive here, but my estimation is a 50.2% Deegan, 49.8% Davis district."
Duggan faced no opposition in 2022, and Republicans benefited statewide from this creative cartography, with supermajorities in the House and Senate allowing Gov. Ron DeSantis to get a laundry list of GOP Primary-friendly priorities through in 2023.
Turkey Time
Florida TaxWatch is back with its latest flock of legislative "turkeys," which are a sprinkle list of projects that circumvent larger public needs and scrutiny in the process.
Some of these gobblers are in Northeast Florida, including a priority project in Duval.
The biggest ask on the theoretical chopping block: $75 million for the University of Florida Graduate School in Jacksonville.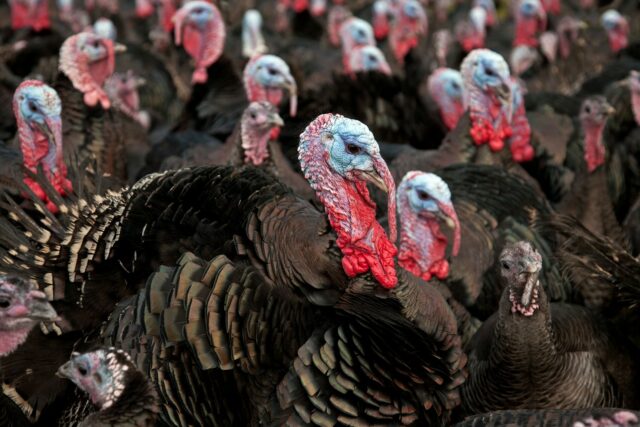 Among them is $500,000 for the renovation of Jacksonville's historic casket factory, to be turned into a museum of local music history, along with $500,000 for the Atlantic Beach Aquatic Gardens/Hopkins Creek Flood Mitigation Phase 4, a project designed to protect "workforce housing" in the Aquatic Gardens community. $250,000 for Jacksonville Beach WTPs and Pollution Control Plant Chlorine Conversions, which would replace chlorine with liquid sodium hypochlorite disinfection systems, is also under scrutiny.
Many of the biggest projects are just to the south of Jacksonville, in St. Johns County.
These projects include a $10 million state spend for "St. Augustine Resiliency Initiative — Lake Maria Sanchez," which matches more than $20 million in federal American Rescue Plan Act (ARPA) funding and less than $3 million from the city itself.
Additionally, $20 million for the University of Florida's Whitney Laboratory for Marine Bioscience and $25 million for Ponte Vedra beach and dune restoration are seen as unwise state investments, along with $35 million for Hotel Ponce de Leon renovations and $3.62 million for historic building renovation in St. Augustine.
Clay County is also on the list; specifically, $1 million slotted for its regional sports complex.
Flagler Beach's $4.5 million pier removal likewise is a bad bet according to TaxWatch.
Beach Byrd
A former state legislator and current Secretary of State is back on the beaches this week.
Cord Byrd is a featured guest at the Jax Chamber Beaches luncheon Thursday.
The event will be held at Casa Marina in Jacksonville Beach. The show kicks off at noon and runs for 90 minutes.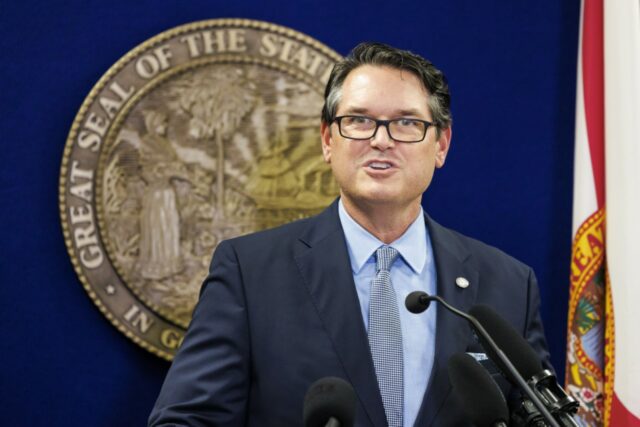 Advance registration is closed, but tickets at the door are $30, contingent on available seating.
Byrd represented the Beaches and Nassau County in the Florida House from 2017 until 2022 when he took over for Rep. Laurel Lee in the appointed position.
Jail probe
The state's Department of Management Services is investigating a health vendor contracted by the Duval County Jail, reports WUSF and the Tributary.
Armor Correctional Services was judged to be responsible for the death of a Wisconsin inmate, and the Tributary inquired why the company wasn't on the "convicted vendor list."
The scrutiny comes as an inmate was deprived of his heart medicine in Jacksonville and died three days after he was released from jail.
Flux in the sheriff's office could explain why this vendor is still on the job.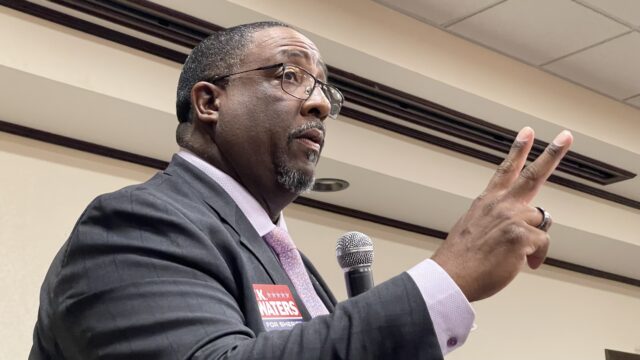 At least that's a spokesperson's claim.
"The contract between the Jacksonville Sheriff's Office and Armor Health, a third-party medical care provider vendor, was entered into under a previous administration," Sheriff's Office representative Officer Christian Hancock said in an email to The Tributary.
"After Sheriff (T.K.) Waters took office on Nov. 20, 2022, he became fully involved in every aspect of the agency, including the day-to-day operations involving Armor and its medical care of inmates. As a result, Sheriff Waters and the members of his staff responsible for the safety and welfare of the inmate population began working with Armor personnel to improve processes and resolve challenges that were brought to their attention."
Rotterdam Man
JAXPORT is flexing its global muscles this week, with one of its leaders in the Netherlands through Thursday.
Director of Breakbulk, Project, and Specialty Cargo Rick Schiappacasse is at the Breakbulk Conference this week.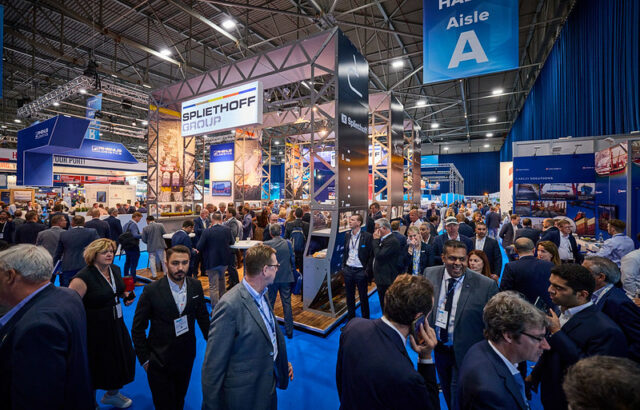 Per JAXPORT: "Rick works with importers, exporters, shippers, and manufacturers to grow cargo volumes through JAXPORT, one of the leading breakbulk ports on the U.S. East Coast. The conference provides a networking environment among 9,600 visitors and over 4,000 companies throughout the supply chain to connect on global projects."
Indeed, as you read this, symposiums involving people from around the world are happening in what the company calls an "ultimate networking platform."
In the zone
Florida-based spirits importer, warehouser and transporter Convoy Beverage Alliance has joined Northeast Florida's Foreign Trade Zone, making it eligible for a tranche of federal benefits that will save it money on import duties.
JAXPORT announced the company's addition in a news release touting the potential for an economic boost within FTZ No. 64, which covers eastern Alachua, Baker, Bradford, Clay, Columbia, Duval, Flagler, Nassau, Putnam and St. Johns counties.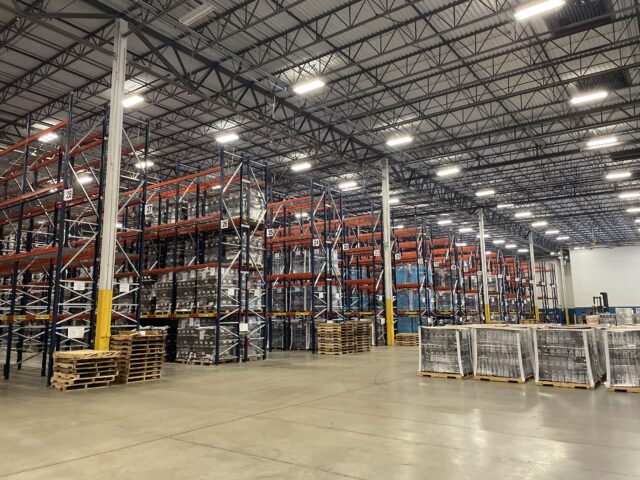 "We are excited to grow this new partnership between JAXPORT and CBA that will attract more business to Northeast Florida," said JAXPORT FTZ Manager Justin Ryan. "Joining the FTZ enables CBA to expand in the Jacksonville market and efficiently serve their customers all over the U.S."
FTZs are federally designated areas within the U.S. that are legally considered outside of the U.S. for commerce purposes. By joining the FTZ, CBA can defer U.S. Customs' duties until the imported products clear the zone. Their customers include wineries, alcohol importers, wholesalers, producers, and private collectors who import from all over the world. CBA helps facilitate the beverages' final delivery to their destination from the warehouse.
"We strategically chose Jacksonville to grow our alcoholic beverage 3PL warehousing business because we're close to port terminals and there is fast access to national and regional distribution routes from Jacksonville," said Joseph Ortega, the senior manager of brand development at CBA.
"We want to provide something unique, solely dedicated to alcoholic brands, and joining JAXPORT's FTZ allows us to strengthen partnerships with existing and emerging brands, as well as other FTZs to expand and provide more efficiencies to the businesses we serve."
Number zero
Wide receiver Calvin Ridley hasn't played a full season in the NFL in more than two years. He will be relied on to help the Jaguars' passing game take the next step.
Ridley was suspended by the league for gambling when the Jaguars traded for him.
After the league reinstated him, Ridley has been turning heads at the Jaguars' offseason practices.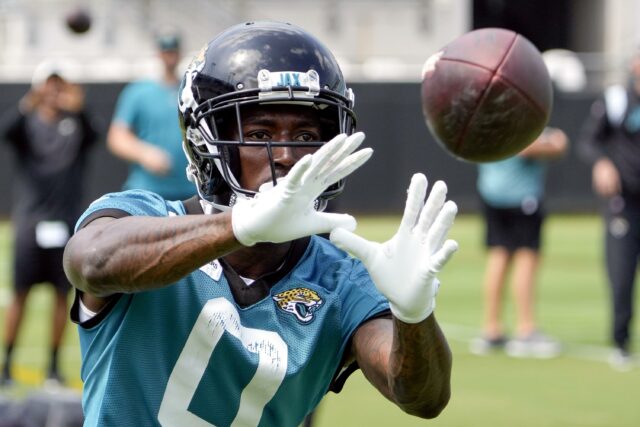 "I didn't know much about him personally. Obviously, I know the kind of player he is," said Jaguars' quarterback Lawrence. "I've watched in the last few years and was super excited about that aspect of him joining our team but just to get to know him as a person and just to see his work ethic and, and how hungry he is to get back into play and how happy he is to be a part of our team. I think that's been the coolest part of having him here."
When Ridley's been healthy, he has been a major threat. After being selected in the first round in the 2018 draft by the Atlanta Falcons, Ridley turned in back-to-back seasons of over 800 yards and a total of 17 touchdowns. Then, in 2020, his breakout season included 90 catches for 1,374 yards, both career highs. He also scored nine touchdowns. Then a foot injury ended his 2021 season. In 2022, he sat out under suspension.
That year was tough on Ridley, as he has written about. It also gave him a new perspective on what it means to be working in a team environment with the support staff keeping him on track for the season.
"I was at home for a year juiced up and I want to be out there (on the field)," Ridley said. "Thank God I'm around a good bunch of good people, a good program, and they know how to do this. Because if you let me do it myself, I'll tire myself out by the time the season is here. I'm excited about where I'm at right now."
Both Ridley and Christian Kirk have said they don't care who is considered the No. 1 receiver, just that the team wins. That being said. Ridley has been the #1 most of his life. Kirk spent much of his pro career as a complimentary receiver before coming to Jacksonville.
Ultimately, the biggest question for Ridley, Kirk, Zay Jones and tight end Evan Engram may be whether there are enough balls to go around this season.