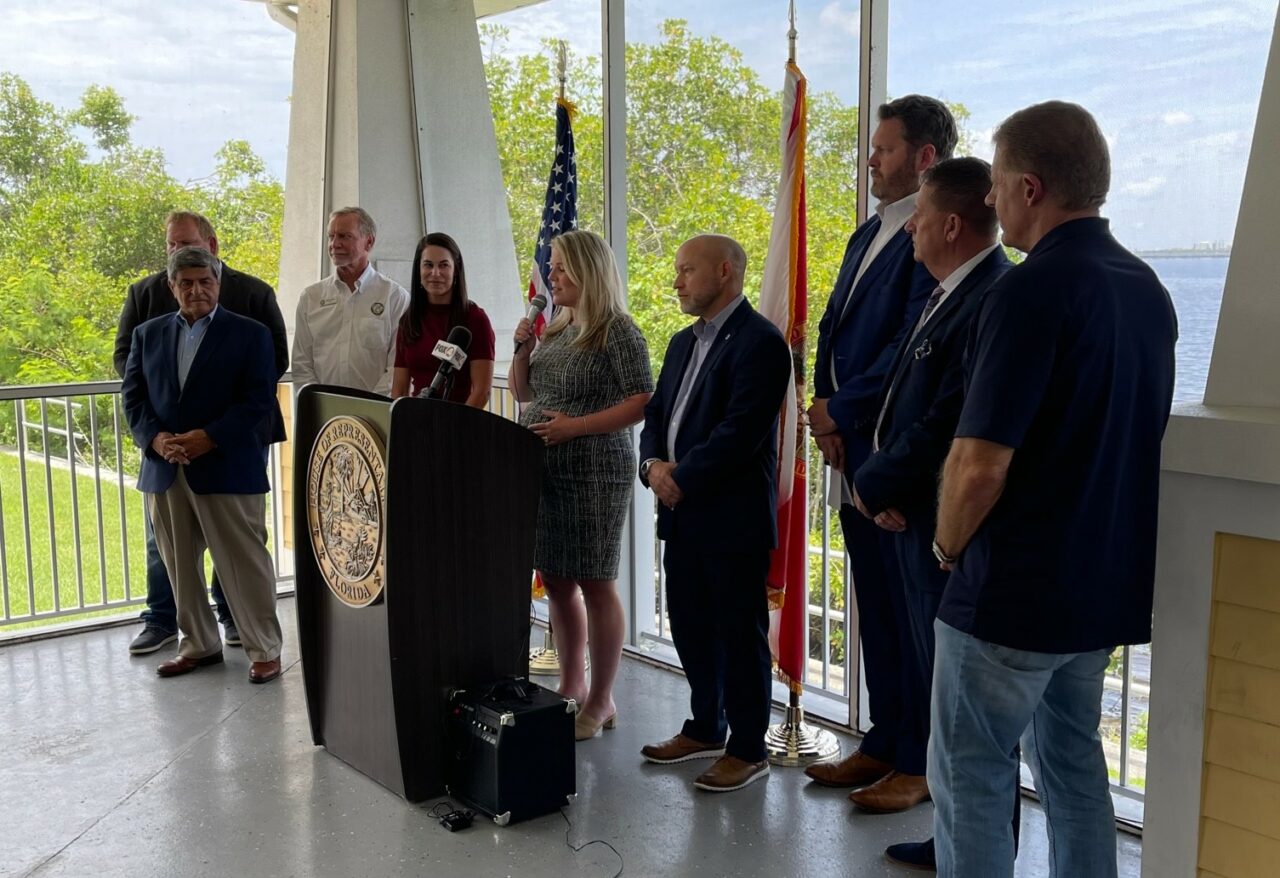 'The red tide and blue-green algae fed by sewage is taking a toll on all of us.'
Several members of the Lee County legislative delegation met to celebrate funding for water quality improvements stemming from this year's Legislative Session.
During a news conference in Fort Myers, Rep. Jenna Persons-Mulicka spoke about the importance of that funding for the state's environmental health.
"The quality of our water resources contributes to our quality of life in so many ways. It nourishes our bodies, grows our plants and animals, adds to the beauty of our landscape, and supports the entire ecosystem. But aging infrastructure has allowed waste to reach our lakes, rivers, streams and oceans," Persons-Mulicka said.
"This Legislative Session, I was proud to work with my colleagues to secure $125 million to strengthen water infrastructure in the Caloosahatchee and Indian River Lagoon Basins, which will have a meaningful impact on protecting our water resources in the future."
That number comes from $100 million in funding to protect the Indian River Lagoon, as well as another $25 million to upgrade infrastructure in the Caloosahatchee River Basin.
Joining Persons-Mulicka at Friday's news conference were Sen. Jonathan Martin, Reps. Tiffany Esposito and Spencer Roach, and several other stakeholders in the area.
"The business leaders, scientists, engineers and outdoor enthusiasts who make up the American Water Security Project are thrilled to see such historic investments in protecting southwest Florida's water resources," said Dr. Brandon Shuler, executive director for the American Water Security Project.
"Forensic research shows that septic tanks are contributing significantly to the challenges that plague our waterways, and the policies advanced this Session and investments made in septic-to-sewer conversions will help guard against water quality challenges like red tide and harmful algae blooms."
Legislation from Persons-Mulicka (HB 1379), which the Governor signed at the end of May, provided $125 million in funding. It also pushed for more reliance on sewer systems as opposed to septic systems for waste.
Research has shown septic tanks can house nutrients that can trigger algal blooms in Florida's waterways.
"I personally consider this the most important and urgent issue facing our state," said Brian Lapointe, a research professor at Florida Atlantic University and expert on water quality, in comments to the Senate in 2019.
"While phosphorus was the main nutrient controlling algae blooms in freshwaters, it's nitrogen that controls these blooms in the marine environment. And actually, we now know that even nitrogen in freshwaters controls these blooms we're seeing with the blue-green algae in Lake Okeechobee. It's not just phosphorus."
The push for more sewer systems has been a focus for cutting down on toxic blue-green algae in Florida's ecosystem. Those systems can better treat water, ensuring wastewater contains fewer nutrients by the time it reaches natural systems.
"Water quality is crucial to Southwest Florida ecosystems. It's not just the fish and wildlife and surrounding environment, but it's also the communities that make a living through fishing, outdoor recreation and tourism," Shuler added.
"The red tide and blue-green algae fed by sewage is taking a toll on all of us. We're grateful to the Florida Legislature for making water quality in Southwest Florida a priority and investing in the infrastructure needed to protect our waterways."