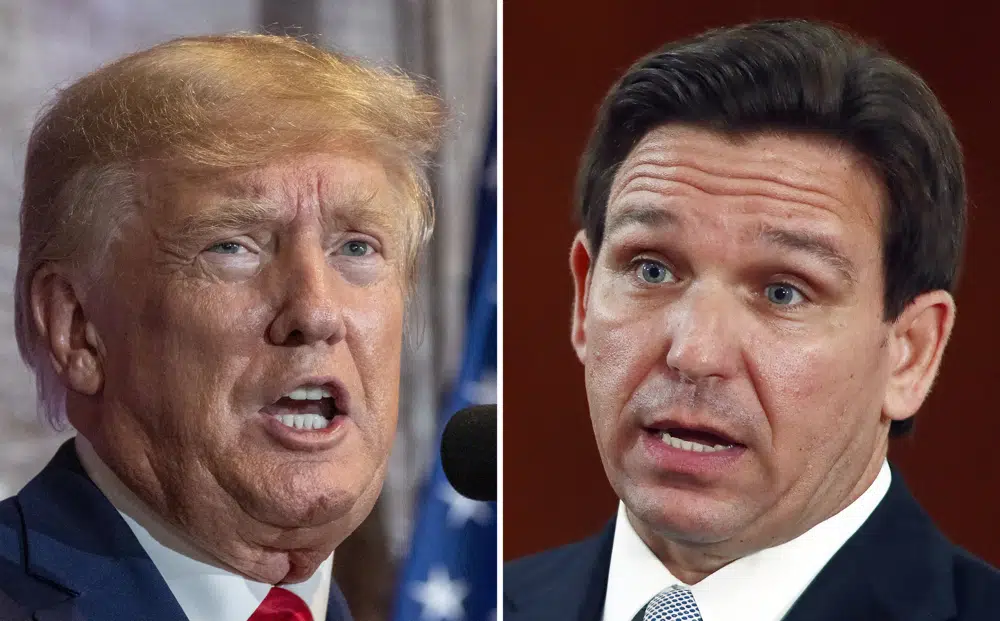 Trump is way ahead in polls, but both will get prime speaking slots.
The two leading candidates in the Republican race for President will offer keynote speeches to California Republicans this fall.
Both Donald Trump and Ron DeSantis are slated to address the state's GOP convention in Anaheim, an event that extends from Sept. 29 to October 1, reports KCRA.
"As Californians struggle under the weight of Democrats' failed one-party rule, Gov. DeSantis has shown how a state can thrive under responsible, commonsense, conservative leadership," said Chairwoman Jessica Millan Patterson in a press release.
"We look forward to welcoming him to the Golden State to speak with our convention attendees about his plans to take his Florida success all the way to the White House."
Patterson offered similarly laudatory words when announcing Trump speaking the day before.
"We are thrilled to welcome President Trump back to the CAGOP convention stage for the first time since our 2016 convention," Patterson said.
"As California Republicans prepare to play a major role in deciding who our Party's 2024 presidential nominee will be, I look forward to President Trump speaking with our delegates about his plans to move our country forward. We look forward to a great event and lunch keynote address from President Trump."
With 169 delegates at stake in the state, the Golden State's delegate cache would be a good get. If a candidate gets majority support, the winner takes all delegates. If no candidate gets a majority, the delegates are apportioned proportionately.
KCRA notes that Never Back Down founder Ken Cuccinelli believes that's an "asinine Primary rule change" reflecting "games afoot" to benefit Trump. And polls suggest that unless things change between now and the Primary, Trump could sweep the state.
In a survey of Republican Primary voters released in July by the Public Policy Institute of California, the former President has 50% support, with the Florida Governor far behind at just 23%.

If there is any consolation for DeSantis, the rest of the field is doing even worse.
Former Vice President Mike Pence has 6% support and U.S. Sen. Tim Scott of South Carolina is at 5%. Former U.S. Rep. Liz Cheney, former New Jersey Gov. Chris Christie and former South Carolina Gov. Nikki Haley all have 3% backing.
South Dakota Gov. Kristi Noem is not a candidate, but she has 2% support. Author Vivek Ramaswamy has performed well in some national polls, but in California he has just 1%.
This survey tracks with other polls showing Trump well ahead.
In a recent Emerson College Poll of California Republicans, DeSantis trails Trump in the 2024 Presidential Primary race, 53% to 19%, with Pence at 10%.
A previous Public Policy Institute of California survey, conducted May 17-24, shows the former President with 50% support, way ahead of DeSantis at 21%.
DeSantis has made California complaints central to his campaign pitch, repeatedly offering cautionary tales about San Francisco.
"Don't tell me it doesn't affect people's lives. I was just in San Francisco. I saw — in 20 minutes on the ground — people defecating on the sidewalk. I saw people using fentanyl. I saw people smoking crack right there in the open, right there on the street. It was a civilization in decay," the Governor said at a Faith & Freedom Coalition event in June.
DeSantis continued the poop and drugs theme in a campaign ad adding, "The city is not vibrant anymore. It's really collapsed because of leftist policies, and these policies have caused people to flee this area. They don't prosecute criminals like they do in most parts of the country, and the wreckage is really sad to see."
Earlier this year, DeSantis offered a provocation to the state when he sent a flight full of undocumented immigrants from Texas to California, which he bragged about during an event in neighboring Arizona.
"These sanctuary jurisdictions are part of the reason we have this problem because they have endorsed and agitated for these types of open border policies," DeSantis said in June.
"They attack the previous administration's efforts to try to have border security. And so that's the policies they've taken out and then when they have to deal with the fruits of that, they all of a sudden become very, very upset about that."
DeSantis blames California and other sanctuary jurisdictions for offering sweet deals to undocumented immigrants.
"A place like California, they give benefits, they give unemployment checks, they do all that. And so you can see why some of those folks were interested in going that direction in Florida," DeSantis said. "We've gone the opposite way.
"You know, we say we have a legal workforce, we're not going to have benefits, we're not going to do that and basically trying to disincentivize it," he continued. "Other states have tried to incentivize it. And so I think they should be the ones to pay to do it."
For his part, Gov. Gavin Newsom believes there are grounds for legal action, calling DeSantis a "small, pathetic man."
"This isn't Martha's Vineyard," the California Governor tweeted, referring to a previous migrant flight paid for by Florida taxpayers. "Kidnapping charges?"
DeSantis' PAC had previously urged Trump to move to California, telling the former President to "take his (George) Soros-fueled, dumpster fire of a campaign to San Francisco, where it will fit right in."