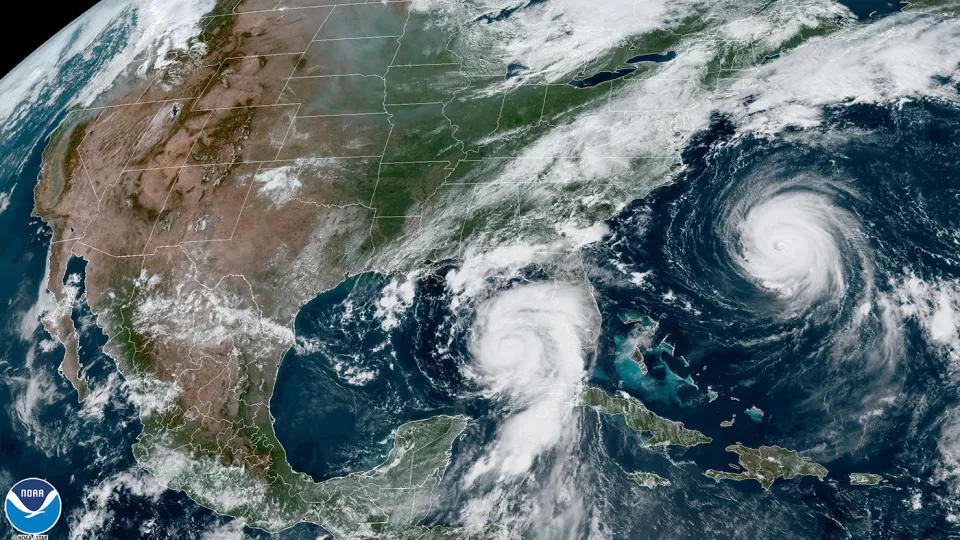 More than 568,500 power reconnections occurred since the storm first hit the state's Gulf Coast last Wednesday
Nine days after Hurricane Idalia slammed into Florida, every existing electricity account across the state is back online.
Between noon and 3 p.m. Friday, utility workers reconnected the last 498 properties still without power to bring the number down to zero, data from the Public Service Commission shows.
All were Taylor County, one of several hard-hit counties in the Big Bend region where the Panhandle curves into the Florida peninsula.
Overnight and through Friday morning line workers restored electricity for 965 accounts in Suwannee County, 313 accounts in Lafayette County and 130 accounts in Taylor.
The number of reported outages at one time peaked at 288,000 at 3 p.m. Aug. 30.

Altogether, more than 568,000 power reconnections occurred since the storm first hit the state's Gulf Coast last Wednesday, according to a figure Gov. Ron DeSantis provided Monday.
Before the storm hit, Florida had close to 30,000 line workers, tree trimmers and tradespeople staged and ready to respond to the damage. The Governor called it "an incredible amount of manpower."
"This has probably been the fastest restoration, even faster than we did during Hurricane Ian," he said. "The co-ops here locally are working with Duke (Energy), the municipals, Florida Power & Light, (Tampa Electric) and every utility provider in the state, pretty much, to get those homes up and running as soon as possible."
Idalia made landfall in Florida's Big Bend near Keaton Beach minutes before 8 a.m. Aug. 30 at Category 3 strength, bringing maximum sustained winds of 125 mph and up to 9-foot storm surges in some areas.
Early reports said at least two people died — a 59-year-old from Gainesville and a 40-year-old from Spring Hill — in separate car crashes where rain was a major factor, attributing the information to Florida Highway Patrol Sgt. Steve Gaskin.
However, the Governor said Thursday afternoon that just the Gainesville death was attributable to the storm.
"Fortunately, we have not had the same type of loss of life that we've had with something like a Hurricane Ian," he said, referring to the catastrophic category 5 storm that slammed the state in September, killing 149 people. "So far, there's been one confirmed fatality and that was a traffic fatality in Alachua County."
Florida Power & Light, which boasts more than 5.8 million customers statewide, fully reconnected all of their customers by Sept. 1.
Municipal providers did so to within the same timeframe for their affected customers.
Duke Energy, the state's second-largest power utility by customers, reported all of its 1.96 million customers had electricity by 9 a.m. Monday.
Tampa Electric, which has 832,182 customers, restored power to all of its affected accounts by 9 a.m. Thursday. Ahead of the storm, the company secured about 3,000 workers from other utilities, including line crews, tree trimmers and damage assessors. Last night, those workers were in the field repairing company lines and those of other utilities in hard-hit areas, a company press note said.
"The weather impact was not as severe as anticipated (in our service areas), and our crews were able to work through the night to restore customers during the storm," Tampa Electric President and CEO Archie Collins said. "We are thankful the storm had only minimal impact on our customers."
Florida Public Utilities reported that all its 29,240 accounts were back online by Wednesday night.
The most outages — and most persistent outages — were in areas serviced by community owned and operated cooperatives, including the Central Florida Electric Cooperative, Clay Electric Cooperative and Suwannee Valley Electric Cooperative.
By Friday morning the Tri-County Electric Cooperative (TCEC) was the last such operation working to restore power in and around Woods Creek, Keaton Beach, Ma Dixon, San Pedro and U.S. 19.
"For those who can safely receive electricity to their meter, the estimated restoration time is Friday evening," TCEC personnel wrote online. "We have 1,600 personnel actively working across our system, crews are hard at work and will not be released until power is restored to all of our members."