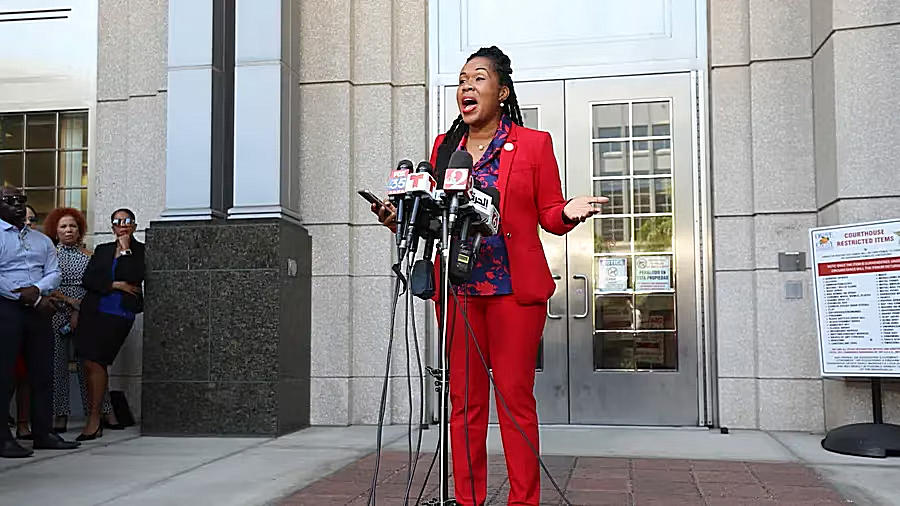 'Ms. Worrell was elected to serve as State Attorney, not the Governor.'
Suspended State Attorney Monique Worrell is suing Gov. Ron DeSantis in the state's highest court over her removal from office.
In a lawsuit filed with the Florida Supreme Court, the Democrat suggests the Governor hunted for months for a reason to suspend her, and came up with only a list of reasons unrelated to her ability to perform her duties. That makes DeSantis' actions against her different than any legitimate suspension of a public official.
"The Executive Order purports to remove Ms. Worrell for 'neglect of duty' and 'incompetence' but fails to allege facts that, even if true, would relate to any neglect of duty or incompetence," Worrell's lawsuit reads. "This Court should, therefore, declare the Order invalid."
DeSantis suspended Worrell in August, alleging the elected prosecutor abused prosecutorial discretion and diversion programs and allowed violent criminals to remain on the street.
Speculation the Governor would suspend the Orange-Osceola State Attorney spiked after a triple homicide in February, and the order came down shortly after the shooting of two Orlando police officers. In both incidents, the alleged shooters had been arrested on previous charges, but one never faced prosecution and another was out after Worrell's Office declined to seek a pre-trial hearing.
But Worrell said DeSantis failed to show any pattern or practices that showed an unwillingness to enforce the law. That differs from past high-profile suspensions of State Attorneys, including DeSantis' decision last year to suspend Hillsborough State Attorney Andrew Warren for a pledge not to enforce a state ban on most abortions.
It also differs from former Gov. Rick Scott removing Orange-Osceola State Attorney Aramis Ayala, Worrell's predecessor, from first-degree murder cases over her refusal to seek the death penalty.
"Unlike the executive orders at issue in Warren and Ayala, the Governor has not alleged any practice or policy that could constitute a refusal to exercise prosecutorial discretion," Worrell's lawsuit reads.
"Unable even to identify any 'practices or policies' of Ms. Worrell, the Executive Order instead attempts to infer that she has adopted practices or policies that result in reduced incarceration rates by comparing incarceration rate data from the Ninth Judicial Circuit to that of other Florida judicial circuits," the lawsuit continues. "Such data, even if accurate, reflects a host of factors unrelated to the practices or policies of the state attorney and thus cannot be relied on to demonstrate that Ms. Worrell has practices or policies that result in lower incarceration rates."
Ultimately, Worrell suggests it's the Governor who overstepped his authority to decide how the State Attorney's office in the judicial circuit is run.
"To the extent the Governor disagrees with how Ms. Worrell is lawfully exercising her prosecutorial discretion, such a disagreement does not constitute a basis for suspension from elected office. Ms. Worrell was elected to serve as State Attorney, not the Governor," the lawsuit reads.