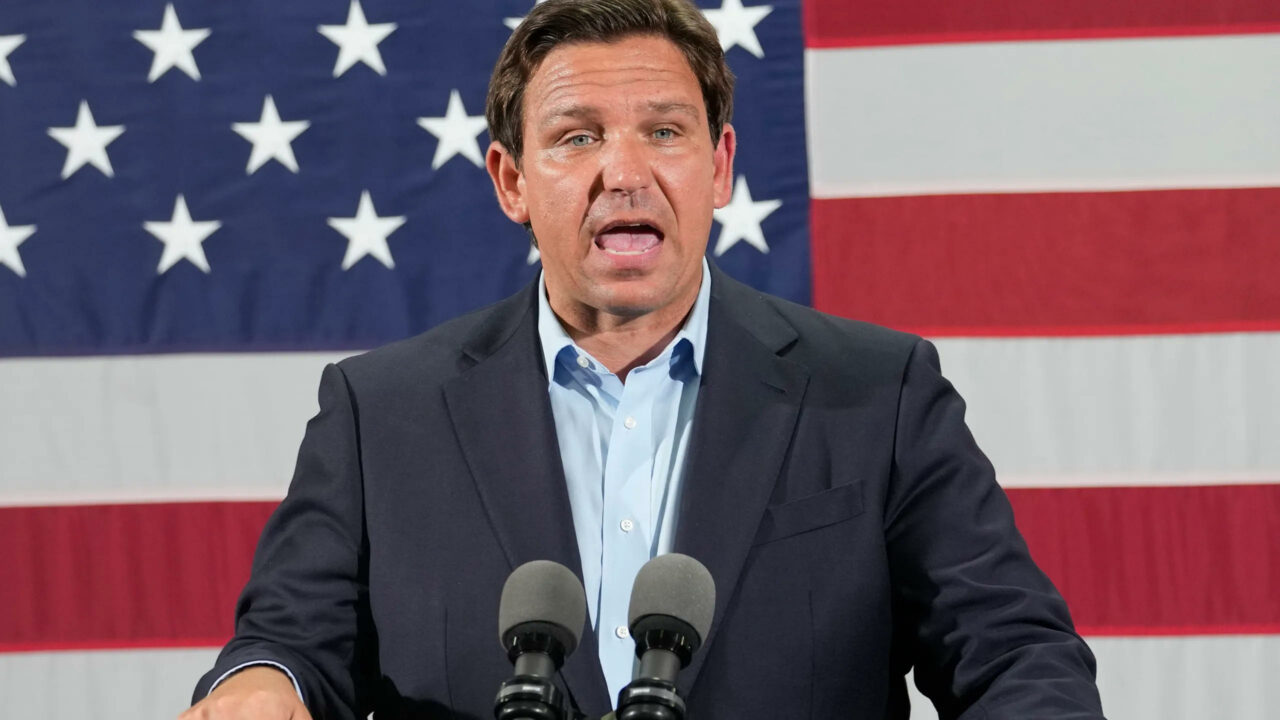 'We will not allow the dystopian visions of paranoid hypochondriacs control our health policies, let alone our state.'
Gov. Ron DeSantis is returning to familiar territory, speaking out sharply against COVID-19 mandates and vaccines as some institutions return to mandates amid a late-summer surge in COVID-19 cases.
The DeSantis administration organized a news conference in Jacksonville that featured an array of critics of COVID-19 mandates. That included Surgeon General Joseph Ladapo, as well as a Jacksonville mom who opposed local mask mandates and a Volusia County woman who said she has had serious health issues since taking a COVID-19 shot.
The news conference did break down at the end of the event when DeSantis argued with an audience member over the recent racially motivated shooting at a Jacksonville store where a White man killed three Black people. That prompted Ladapo to step in at the very end and call the shooter, who killed himself, "insane."
But the bulk of the event allowed DeSantis to rail against COVID-19 restrictions, including ones that, he said, were promoted and pushed by members of former President Donald Trump's administration.
DeSantis is challenging Trump for the Republican nomination for President.
"We see all this stuff. And we see that they are not following the science," DeSantis said. "They are trying to follow a narrative. They are trying to follow an agenda. I can tell you here in Florida, we did not, and we will not allow the dystopian visions of paranoid hypochondriacs to control our health policies, let alone our state."
COVID-19 in Florida has led to more than 90,000 deaths statewide since the pandemic began in early 2020. According to the latest Department of Health report published on Sept. 1, there has been a recent uptick in the number of cases.
Florida had nearly 24,000 reported cases the week that ended on Aug. 31. That's up from the 7,320 cases reported in late June.
DeSantis's resistance to lockdowns and mandates during the COVID-19 pandemic helped him become a national star among conservatives. In reaction to the pandemic, Florida passed a series of laws prohibiting mandates imposed by governments and private businesses.
Ahead of the news conference by the DeSantis administration, the Governor's presidential campaign highlighted DeSantis' resistance to the "Left's new COVID mandate push." During his campaign stops, DeSantis frequently railed against former White House medical adviser Anthony Fauci and complained that Trump should have fired Fauci.
Several schools nationwide have recently reintroduced mask mandates and the Centers for Disease Control and Prevention recommends mask-wearing when hospitalization rates are high. An Atlanta private college also recently imposed e a mask mandate.
DeSantis has previously predicted mandates would return if there were a surge in cases again. On Thursday, he said he needed to speak out because he is "seeing how people are inching toward this insanity again."
DeSantis' news conference came hours before the Agency for Health Care Administration was slated to discuss proposed new rules regarding mandatory masking in health care settings. The new rules will replace emergency ones already in effect.