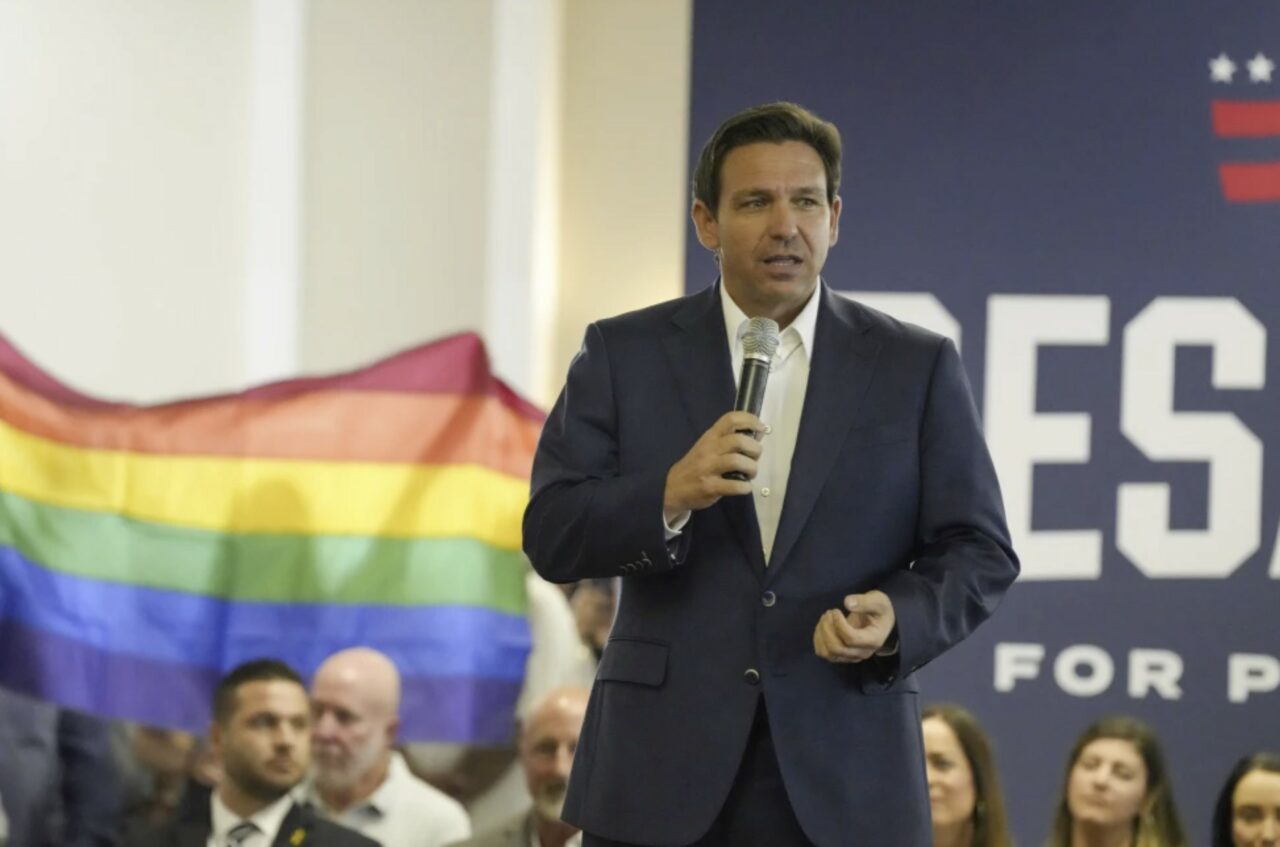 'Reliance interest' would guide the high court.
During an interview Wednesday on the CBS Evening News, Gov. Ron DeSantis offered assurances that the Supreme Court wouldn't do what they did to abortion law and scuttle current protections if he were President, based on his expectations of "reliance interest."
"In terms of the justices I would appoint, you know, they will interpret the text, history and structure of the constitution and they will do that faithfully," DeSantis told host Norah O'Donnell.
"You know, I've already said in terms of Obergefell, that what the court pointed out, and the other justices, was reliance interest is important with respect to precedent," DeSantis added. "And I think all those other eight justices have signaled that, because there's a significant reliance interest, that they would not view that the same as they did with Dobbs. And I think that's likely to be, to be the case going forward. I don't think you're gonna see them reevaluate that."
The Governor's suggestion that even a more conservative court wouldn't overturn the 2016 ruling that made same-sex marriage the law of the land might offer reassurances to those who heard his more critical comments after President Joe Biden signed the Respect for Marriage Act into law last year.
At the time, DeSantis told Fox News viewers there was "no need" for the legislation, which protected both same-sex and interracial unions.
"I think they're raising valid concerns," DeSantis said of critics of the legislation. "Was interracial marriage even being debated in this country? Nobody's talking about that."
Concerns mounted after Justice Clarence Thomas suggested revisiting other decisions, including the legalization of gay marriage, in comments made in the Dobbs decision that overturned Roe v. Wade. Thomas, involved in an interracial marriage himself, did not include interracial marriage with other cases he recommended the court reconsider, though that case was at least partially decided on different grounds than the gay marriage decision and other cases name-checked by Thomas.
DeSantis pivoted quickly from interracial marriages to religious freedom, seemingly alluding to same-sex unions.
"They're using the power, I think, of the federal government in ways that absolutely will put religious institutions in difficult spots if you have people who are so inclined to be very aggressive against that," DeSantis said, not offering specifics.
"I don't think — there certainly was no need to do this. I do think those concerns are valid," he added.
Religious institutions do have some protections in the law, as they can refuse to perform gay marriages. States, meanwhile, are not compelled to issue same-sex marriage licenses, but must recognize other states' licensure.
The Governor's position on this issue and others likely to be the province of the high court is of particular interest, given DeSantis has said he expects the next President to be positioned for multiple SCOTUS selections.
DeSantis, addressing the National Religious Broadcasters Convention in May, outlined his belief that many jurists may have to be replaced, outlining an opportunity for a potential "7-2" conservative court that could leave a legacy until the middle of the century.
"You know, the U.S. Supreme Court with some of the recent appointments is in a much better spot than it's been in a long time. But I think if you look over, you know, the next two presidential terms, there is a good chance that you could be called upon to seek replacements for Justice Clarence Thomas and Justice Samuel Alito," DeSantis said, referring to two conservative standard bearers.
"I also think if you, if you look over those eight years, you very well could be called upon to replace Chief Justice John Roberts and perhaps even someone like Justice Sonia Sotomayor. So it is possible that in those eight years, we'd have the opportunity to fortify justices, Alito and Thomas as well as actually make improvements with those others. And if you were able to do that, you would have a 7 to 2 conservative majority on the Supreme Court that would last a quarter century," the Governor noted.