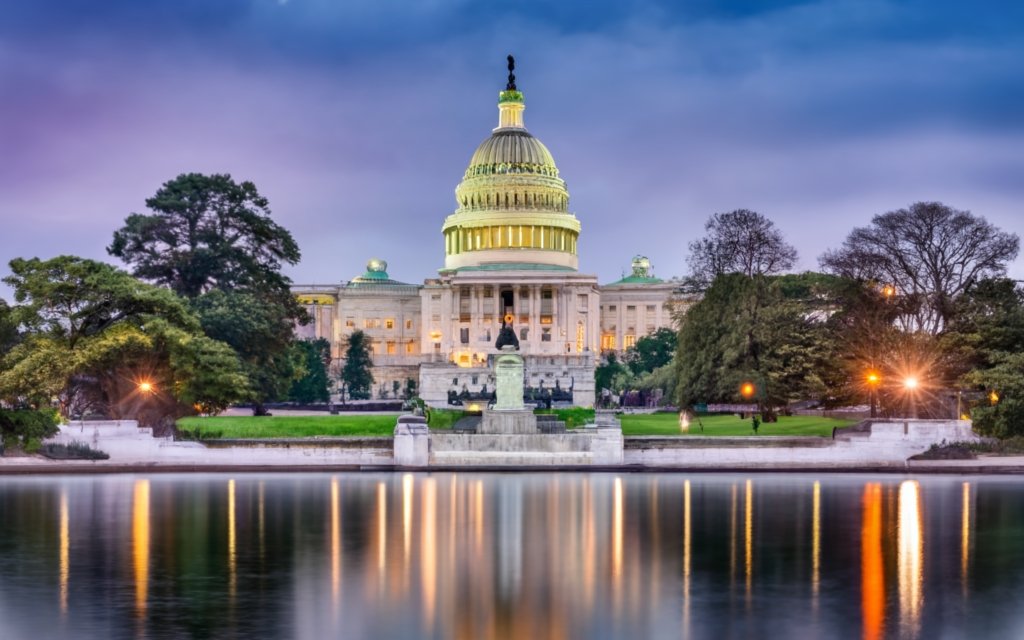 A court ruling on Cuban refugees rankles South Florida lawmakers.
Cuban crisis?
A court ruling could cost many Cubans in the U.S. their green cards, which has South Florida lawmakers alarmed. The Board of Immigration Appeals this week ruled that thousands of Cuban migrants who came to the U.S. last year may not apply for permanent residency.
Hundreds of thousands of Cubans migrated either through the southern border or by boat to South Florida last year as part of a significant exodus from the communist nation. But as many as 200,000 were given I-220 immigration status or Order of Release on Recognizance. The court decision means those individuals cannot seek green cards to stay legally for an extended period.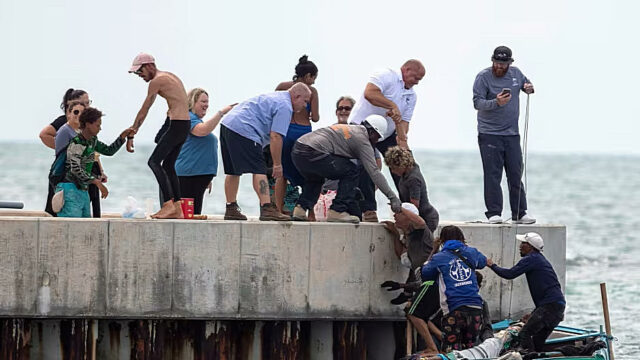 Rep. Mario Díaz-Balart, a Hialeah Republican and Cuban American, said he's furious at the decision — and at President Joe Biden's administration for ignoring concerns he raised months ago.
"I am deeply outraged by the Biden Administration's grotesque and irresponsible immigration decisions, which are causing confusion, chaos and injustice," Díaz-Balart said. "I raised these concerns last year, soon after Cuban nationals escaping totalitarianism started to receive the I-220A form from the Department of Homeland Security."
Last October, Díaz-Balart sent a letter, along with Miami-Dade Reps. Carlos Giménez and Maria Elvira Salazar, to Homeland Security Secretary Alejandro Mayorkas slamming the agency for threatening last year's surge of Cuban refugees with deportation.
"My colleagues and I warned that the Biden Administration's 'policy' targeting Cubans would leave them in immigration limbo and sadly, those concerns have proven true," Díaz-Balart wrote.
"I have yet to receive a substantive response from the agency. Today's chaos is the predictable and tragic result of the Biden Administration's failure to secure the border, respect current immigration laws such as the Cuban Adjustment Act and support those escaping tyranny. I will continue to fight for those affected by the Biden Administration's current chaos, but this purposeful and reckless 'policy' has created profound yet avoidable problems. The Biden Administration must take responsibility for the problems it has created and restore order, uphold the rule of law, and ensure fairness to our immigration system."
Salazar, though, has responded to the recent court ruling with more optimism.
"I know there is a lot of concern about the decision regarding I-220A and the Cubans," she posted on X in Spanish. "I will insist again with Secretary Mayorkas. Don't lose hope!"
She later told POLITICO her conversations with Mayorkas have been productive and that the Secretary appears "very cooperative."
Like an eagle
A different sort of holiday prompted a special message from Sen. Rick Scott. The Naples Republican made note of Bald is Beautiful Day, a 50-year-old validation of the uncoiffed.
The Senator took the occasion to razz a colleague.
"There's not a lot of days we get to induct a new member, especially in the Senate. But today's a day we get to induct a new member," Scott said. "We get to induct Sen. Mike Lee into this esteemed group."
Lee, a Utah Republican, recently threw in the towel and shaved his long-receding hairline. "Mike finally made it," Scott said. "It was a hard journey for Mike. It took him a long time. He sacrificed a lot when he got the haircut."
Lee later posted his video response.
"Rick, thanks so much for the invitation, for the nomination to join — that club," Lee said. "I accept your nomination, and I very much look forward to a life of being much more aerodynamic."
There's no comment yet from other depilated delegation members such as Reps. Bill Posey.
To watch the video, please click on the image below: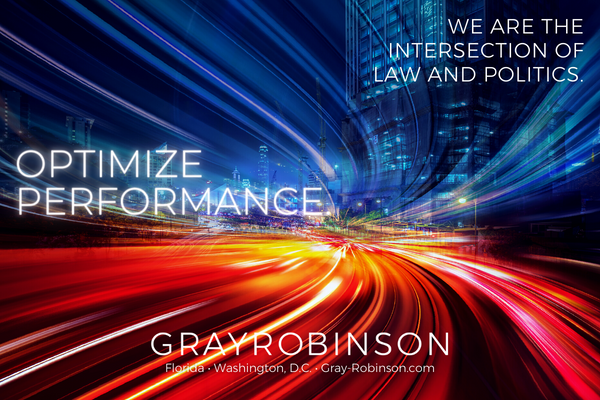 That's the ticket
Sen. Marco Rubio knows what he wants to play on movie night at SOUTHCOM.
The Miami Republican said it was a mistake for U.S. Southern Command Gen. Laura Richardson to cancel a planned "Sound of Freedom" screening at its Doral headquarters.
Many conservatives have celebrated the sex trafficking drama, Rubio included, for highlighting child exploitation in Latin America. But the movie's producer, Passion of the Christ star Jim Caviezel, has made headlines for spreading QAnon theories while promoting the film.
That's no reason to cancel showings at SOUTHCOM, Rubio said.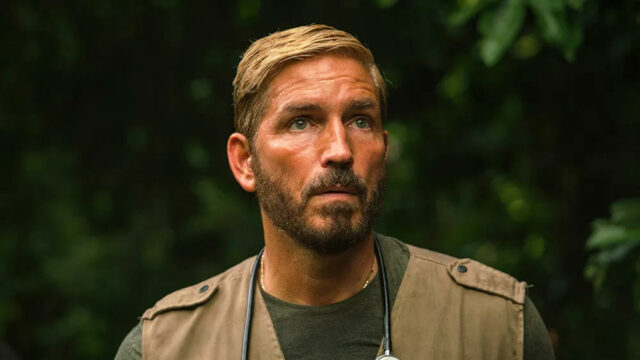 "Given SOUTHCOM's robust leadership on combating trafficking in persons, and the relevance of the 'Sound of Freedom' movie to SOUTHCOM's mission, I was alarmed to learn of the decision to cancel the film's screenings at SOUTHCOM," he wrote.
"Especially given the fact that the U.S. Department of Defense (DoD) regularly works with movie studios to host viewings of films on U.S. military installations for service members and their families. As an example, the Army and Air Force Exchange Service offered advanced screenings of 'Elvis' at more than 20 U.S. Air Force and Army bases last year. This is not a novel concept — and one in which DoD has a long history of supporting such events for service members and their families."
He dismissed reported copyright concerns, saying producers had communicated directly they had no problem with the screening.
"As such, I request immediate confirmation that 'Sound of Freedom' will be shown at SOUTHCOM as originally planned," Rubio wrote.
Familiar feud
A decision by House Speaker Kevin McCarthy to launch an impeachment inquiry on President Biden immediately sparked criticism. Many accused the California Republican of pursuing the route to appease hard-liners within his caucus.
But less than an hour after McCarthy announced the inquiry, Rep. Matt Gaetz took to the floor to say the Speaker hadn't gone far enough. The Fort Walton Beach Republican threatened to make a motion to vacate the Speaker chair, essentially forcing a vote of confidence on McCarthy's leadership.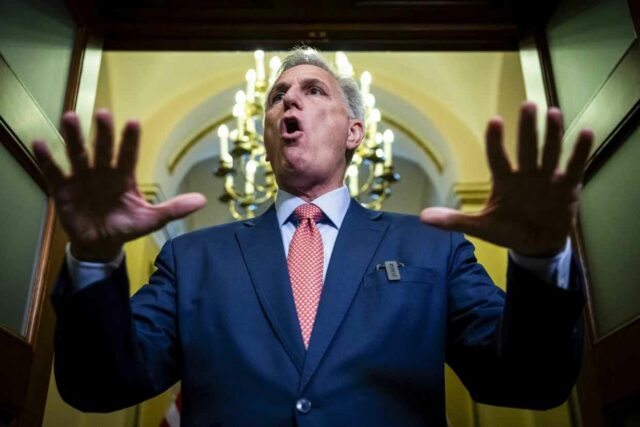 This has only created the perceived conflict between Florida's most headline-making Congressman and Congress' most powerful Republican member. The New York Times penned an op-ed asserting Gaetz had McCarthy "running scared."
Meanwhile, CNN reported that McCarthy followed up on Gaetz's speech during an address to the GOP conference. "Move the fucking motion," McCarthy reportedly said in the closed-door meeting. "Move the fucking spending bill," Gaetz replied.
None of this bodes especially well for Gaetz obtaining affection from McCarthy's leadership team, but he increasingly cements his status as the Speaker's most outspoken intra-caucus antagonist.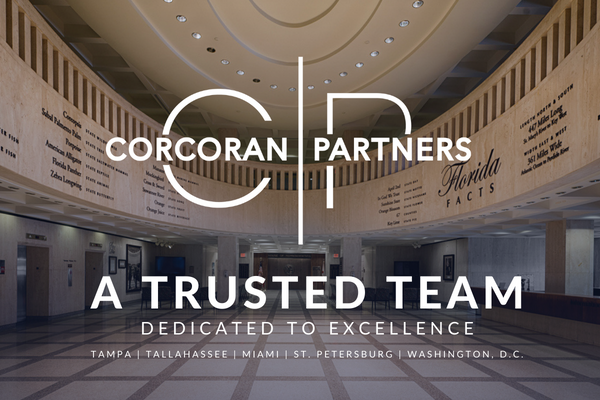 Matter of time
Medicare options change with frequency. Rep. Neal Dunn, a medical doctor by trade, said that reality too often leaves seniors with important decisions to make about health coverage at the last minute. The Panama City Republican just filed a bill with Rep. Claudia Tenney, a New York Republican, that would at least let people know about coverage shifts in a timely fashion.
"There are many uncertainties in life, but no American should be uncertain about their access to care," Dunn said. "My bill seeks to streamline local coverage determinations so seniors in my district and nationwide can receive quality care without delay."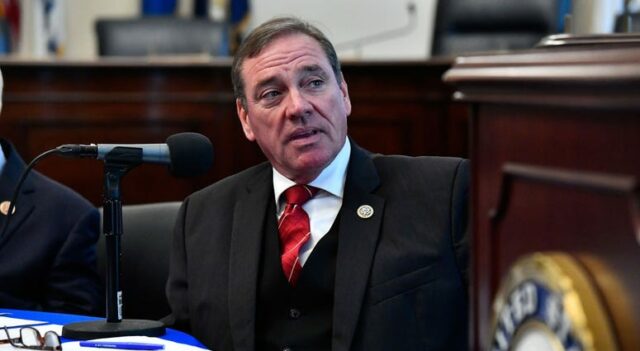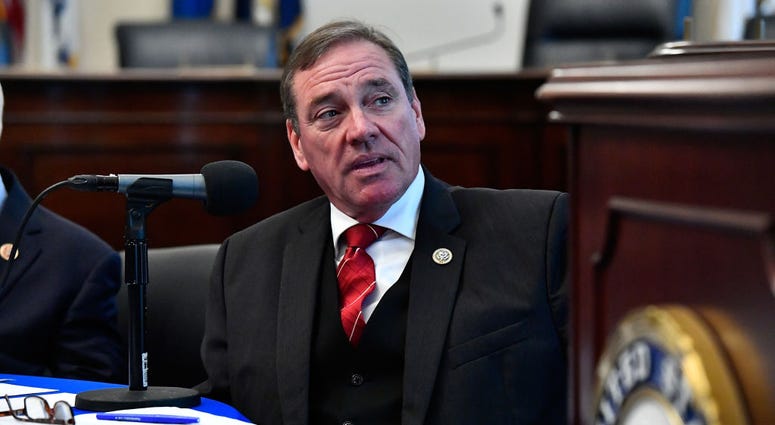 The Timely Access to Coverage Decisions Act would require Medicare Administrative Contractors to respond to local coverage determination requests within 30 days. If an individual submits an incomplete request, the contractors must get the information needed to complete the application within 60 days. Once a request is complete, coverage determinations need to be settled within nine months.
"By streamlining local coverage determinations, this legislation ensures that seniors across the nation," Tenney said.
Mourning for Jacksonville
A hate crime that left three dead in Jacksonville earned the attention of the entire House immediately after members returned from August recess. Rep. Aaron Bean, a Fernandina Beach Republican, led a moment of silence for those killed at a Jacksonville Dollar store last month.
"My home state of Florida is still reeling from shock, horror and sorrow. Two weeks ago, on a seemingly peaceful Saturday afternoon, my community endured an evil attack," Bean said. "On Aug. 26, in Jacksonville, Florida, three innocent people lost their lives to an act of hatred at a Dollar General store. Angela Michelle Carr, 52 years old. Jerrald De'Shaun Gallion, 29 years old. Anolt Joseph "A.J." Laguerre Jr., 19 years old."
Bean gave short biographies of the victims and spoke on behalf of the entire delegation about the tragedy. As he spoke, 10 other Florida Representatives from both sides of the aisle stood around him.
"There are no words, Mr. Speaker, to describe our heartbreak, but also the anger we feel over this racially motivated act of evil. Hate has no place, not does it belong, in America," Bean said. "Today, my Florida colleagues and I stand in solidarity with the Jacksonville community. May their memories be a blessing. May God bless their families."
To watch the video, please click on the image below:
Hate pipeline
Another member cited the shooting and aims to honor the victims with action. Rep. Maxwell Frost said that Florida too often suffered the consequence of hate turning to rage. Now, he wants federal law to cut off that path.
The Orlando Democrat co-introduced the Disarm Hate Act, which would restrict individuals convicted of felony or misdemeanor hate crimes from purchasing or possessing firearms. He referenced violent acts in Florida in recent years.
"Seven years after the tragedy at Pulse Nightclub in Orlando and only weeks after the deadly shooting in Jacksonville that left three Black Floridians dead — my home state of Florida has seen and lived through some of the darkest instances of gun-enabled hate at the cost of innocent lives," Frost said.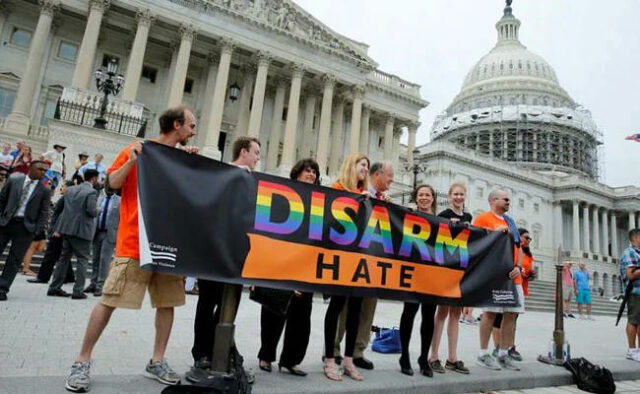 "People with a criminal history of hate and violence in their hearts should not be able to access a gun to commit the next mass shooting. The Disarm Hate Act is a critical step we must take to end gun violence in Florida and across our country and spark change from tragedy."
Rep. Veronica Escobar, a Texas Democrat, serves as the bill's prime sponsor, while Sen. Bob Casey, a Pennsylvania Democrat, will run the Senate companion. Every introducing co-sponsor on the legislation, including nine House members, represented a district where a high-profile hate crime occurred.
Several gun safety advocacy groups immediately endorsed the bill, including the National Violence Domestic Hotline, Amnesty International USA, Everytown, Brady, The United Methodist Church, The Violence Policy Center, March for Our Lives, WOLA, ADL, AFT, Giffords, Human Rights Campaign and Sandy Hook Promise.
"Violent extremists and hate-motivated offenders pose serious threats to the safety of historically marginalized communities and easy access to firearms makes it more likely that a hate crime will have a fatal outcome. Hate-motivated offenders have committed some of the deadliest mass shootings in U.S. history and even when they do not fire guns, they consistently use them to threaten, intimidate, and humiliate their victims. We applaud Sen. Casey, Rep. Escobar, and Rep. Frost for introducing the Disarm Hate Act to respond to the growing tide of violent hate crimes and to help prevent these tragedies before they happen," said Nick Wilson, Senior Director of Gun Violence Prevention, Center for American Progress.
Bad labels
The COVID-19 pandemic resulted in numerous regulations being suspended at the state and federal levels. But Rep. Anna Paulina Luna said guidance easing food label requirements should have been sunset long ago.
The St. Petersburg Republican sent a letter to Food and Drug Administration (FDA) Director Donald Prater, slamming the fact any "temporary" rules remain in place.
"The pandemic has long been over, and the FDA needs to stop using it as an excuse to hide what's in our food," Luna said. "The FDA has a very clear responsibility to inform Americans about the safety of our food, and this neglectful inaction puts many families at risk. I am especially concerned about the mislabeling of products containing toxic food dyes and additives linked to health problems."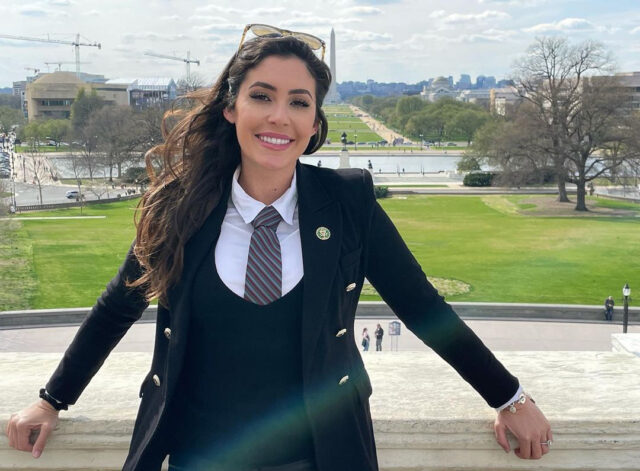 A new mother, Luna said parents need to know all ingredients in food, but the FDA has allowed some ingredients to have substitute ingredients differing from labels, notably including Red 40 additives and high-fructose corn syrup.
"American families should know if these harmful ingredients are in their groceries," Luna said. "It's high time the FDA stops misleading the public with ancient COVID rules and do its job."
Tampa canopy
A new grant could make sure Tampa has it made in the shade. Rep. Kathy Castor announced a $1 million grant to Tampa from the Department of Agriculture's Urban and Community Forestry initiative. The city will use the money to plant and nurture trees to provide better coverage and ease heat.
"Tampa Bay residents are living through the hottest year on record. We need more trees and shade to protect us from extreme heat," Castor said. "This investment in our neighborhoods is made possible by the Inflation Reduction Act and will help the City of Tampa plant trees, improve air quality, help keep our streets cooler and make our communities healthier."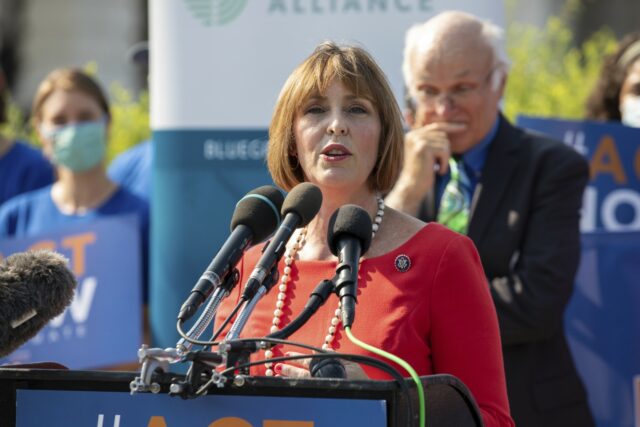 The funding comes from the Forest Service's $1 billion grant fund.
The Congresswoman also swiped at Gov. Ron DeSantis for signing a law limiting local powers to limit tree removals.
Tampa Mayor Jane Castor thanked Congress and the Biden administration for the funding.
"This is a huge win for Tampa residents and our cherished tree canopy," he said. "We worked hard for this grant and are enormously grateful to the Biden-(Kamala) Harris administration because it will go a long way to help us meet our goal of adding 30,000 trees to Tampa by 2030. Great cities have great tree canopies."
Still waiting
Two of Southwest Florida's Representatives say failures by the Federal Emergency Management Agency (FEMA) to pay out past disaster relief will hurt communities now dealing with Hurricane Idalia's aftermath.
Reps. Greg Steube, a Sarasota Republican, and Scott Franklin, a Lakeland Republican, sent a letter to FEMA Administrator DeAnne Criswell demanding reimbursements to the Charlotte and DeSoto County school districts to cover damage from Hurricane Ian in 2022.
"These school districts have been waiting seven months to have these funds obligated. FEMA and its Consolidated Resource Center have had the documentation in their offices since February 2023," the letter reads.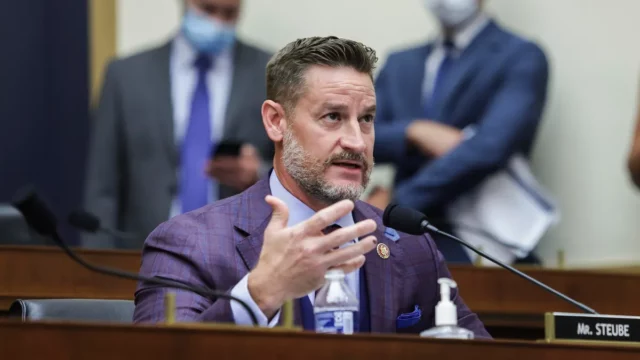 "FEMA has continually asked for further information that the school districts have promptly supplied, and as of July 2023, they have not communicated any further needed documentation. As the school districts describe, 'it's like crickets.'"
The Congressmen estimate FEMA has only paid $9.9 million to Charlotte County schools out of $19.2 million owed. DeSoto schools haven't received a dollar of $2.2 million in expected support. In fiscally constrained counties, the lack of funding has hurt the schools.
"We need your urgent leadership and approval of these Charlotte and DeSoto County School projects prior to the one-year anniversary of Hurricane Ian," the letter reads. "Please respond immediately and let us know when these funds will be released."
Local officials welcomed the intervention.
"We truly appreciate Congressman Steube and Congressman Franklin for continuing to invest their efforts in our recovery after Hurricane Ian," said Charlotte Superintendent of Schools Mark Vianello. "Making sure our schools remain safe and welcoming spaces for student learning and success is our No. 1 priority. Securing the requested essential funding is imperative to this mission."
Safer swimming
Drowning remains the leading cause of death in Florida for children ages 1 to 4, according to the Centers for Disease Control. A round of grants will float funding to the state to combat the problem.
Rep. Debbie Wasserman Schultz, a Weston Democrat, joined the U.S. Consumer Product Safety Commission and announced several grants for pool safety and anti-drowning programs. Those included $400,000 for the Florida Department of Health for statewide programming and $194,535 for Seminole County, which will use the money for safety instruction at local pools. The funding was authorized through the Virginia Graeme Baker Pool and Spa Safety Act, legislation authored by Wasserman Schultz and passed in 2007. The legislation was reauthorized last year.
"We must do more to prevent drownings, the leading killer of America's youngest children," Wasserman Schultz said. "We can avoid these devastating tragedies by teaching children to swim, ensuring pools have the right safety equipment, and educating parents on the vital importance of supervising children in and near the water — and these grants are critical tools to help us do that."
History makeover
In a not-so-subtle jab to DeSantis' administration, Rep. Frederica Wilson is hosting a panel on African American history later in the month entitled "Stay Woke Africans in America: Preserve our History."
The Sept. 22 panel in Washington is a part of the Congressional Black Caucus Annual Legislative Conference. TV journalist Don Lemon will moderate it, with panelists including Congressman Jim Clyburn, CNN commentator Van Jones and Secretary of the Smithsonian Institution Lonnie Bunch.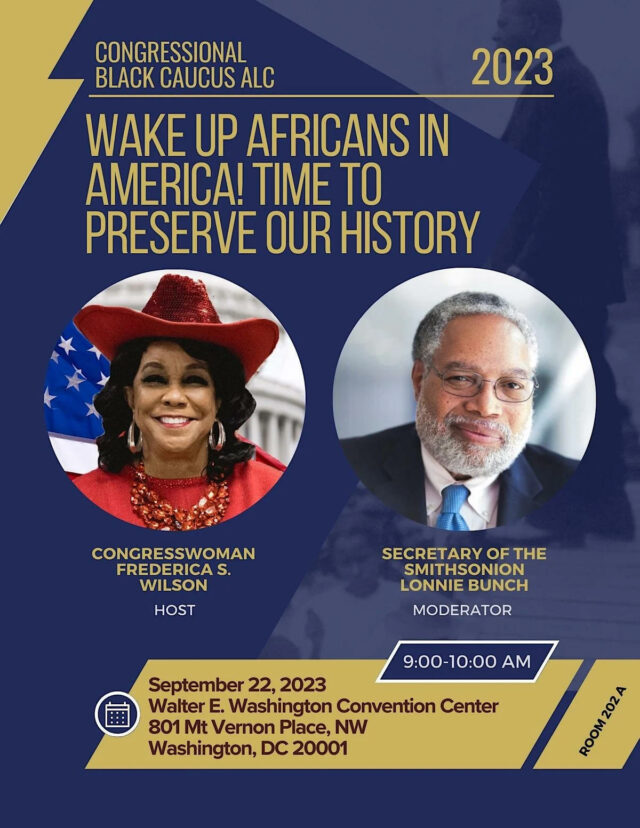 "The discussion comes in light of recent attacks on African American history in Florida and across the nation, reigniting an awareness within the Black community about the glaring gaps in teaching African American history in public schools," the news release from the Miami Gardens Democrat's Office says.
It's an apparent reference to recently adopted standards for teaching Black history in Florida's schools that also included the line that students should learn that, in some cases, the enslaved could put skills they learned to use for their benefit.
What state Education Commissioner Manny Diaz Jr. calls a groundbreaking approach to teaching history will only be a source of dispute here.
Among the event highlights, the panel is slated to discuss: "Recent Attacks on Our History: Discuss and reflect on recent attempts to erase or distort African American history and how these challenges have galvanized our community."
Guyana connection
As Chair of the House Western Hemisphere Subcommittee, Salazar met with Guyana President Irfaan Ali and hoped to forge relationships with the Caribbean leader to benefit South Florida.
"As the Representative for the city of Miami, the Gateway to the Americas, I am proud to welcome President Ali to the Capital of the United States," Salazar said. "Guyana is experiencing explosive economic growth with its embrace of free markets; my hope is that the whole Caribbean will be able to follow their example."

The International Monetary Fund says Guyana's GDP grew more than 62% in 2022, and economists expect it to grow more this year. It also serves as the headquarters of the Caribbean Community, a government organization representing 15 regional nations.
Salazar discussed legislation, such as the Caribbean Basin Security Initiative Authorization Act and U.S.-Caribbean Strategic Engagement Act, that she has introduced to strengthen ties between island nations and America.
Native land
Will the boundaries of the Miccosukee Reserved Area soon expand?
Sens. Rubio and Scott filed federal legislation incorporating the Osceola Camp into the American Indian reservation. Reps. Díaz-Balart and Giménez introduced House legislation to do the same.
Leaders of the Miccosukee Tribe welcomed the proposal.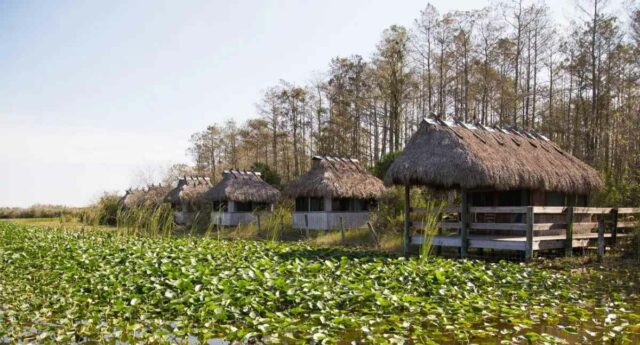 "The Osceola Camp is my father's home, my aunt's home, my family's home, and has been central to Miccosukee cultural and seasonal gatherings," said Tribe Chair Talbert Cypress.
"We will be able to host Miccosukee tribal members for many years to come with this Amendment and ensure a permanent home for our traditional way of life. Everglades restoration is reaching its zenith, and this Act allows us to raise the camp above expected water levels and prevent flooding of traditional Chickee sites. The Tribe's efforts will be bolstered by our partnership with Everglades National Park and its current Superintendent, Pedro Ramos. This Amendment is emblematic of how partnerships can evolve for the better and demonstrates the leadership of our Florida Members on behalf of the Tribe to help preserve our culture and traditions."
Lawmakers made the case for moving the lines for the reservation.
"The Everglades is a national treasure, and we must do everything we can to restore it. Recognizing the Osceola Camp would be a critical step forward in the restoration process and would make a meaningful difference to the Miccosukee Tribe of Indians of Florida," Rubio said. "I urge my colleagues to join me in supporting this important legislation."
Giménez said such a move would give the Miccosukee Tribe greater ability to raise the camp and optimize water flows in Everglades National Park.
"As the U.S. Representative for the Miccosukee Tribe of Indians, I have witnessed the Tribe's commitment to being an exceptional steward of the Everglades while also being a dynamic community partner creating jobs and opportunities for the people of South Florida," the Miami-Dade Republican said. "I look forward to continuing working together with Sen. Marco Rubio and the Tribe to preserve our beautiful River of Grass and incorporate the Osceola Camp into the Miccosukee Reserved Area."
Scott said the move recognizes the cultural significance of the camp to the Tribe as well.
Díaz-Balart said the change would benefit the environment and recognize the Tribe's authority over its land.
"This bill supports the long-standing residence of Miccosukee tribe members and enhances their self-governance within the community while optimizing water flows to the Everglades National Park. I look forward to working together with my colleagues to continue the preservation of this unique ecosystem and sacred land."
On this day
Sept. 15, 1945 — "Hurricane hits South Florida" via NOAA — The hurricane initially formed over the deep tropical Atlantic. However, the general idea of where it became a tropical cyclone is not recorded because of a lack of Atlantic shipping in the early postwar period. It was first detected some 250 miles from the Leeward Islands, and a Hurricane Hunter plane was dispatched. The crew found a fully formed hurricane. It struck Key Largo by 3:30 p.m., then an hour later made its way over Homestead Army Air Base and Richmond Naval Air Station, the base for a fleet of submarine-hunting blimps that patrolled the sea lanes of the Gulf Stream to the east during the war.
Sept. 15, 1967 — "Lyndon Johnson lobbies Congress for gun control" via TIME — President Johnson released a letter to Congress urging both houses to take quick action on gun control. Charles Whitman had brought several guns with him to the observation deck of a 307-foot tower at the University of Texas, where he killed 13 people. The Whitman shooting was the context for Johnson's urgency when writing to Congress, and that's the information with which he began his letter. Then Johnson, like President Barack Obama would decades later, clarified that the people the bill in question would affect are people whom nobody wants armed. "There is no excuse," Johnson wrote, for selling guns to "hardened criminals" and "mental defectives."
___
Delegation is published by Peter Schorsch, compiled by Jacob Ogles, edited and assembled by Phil Ammann and Ryan Nicol, with contributions by Anne Geggis.