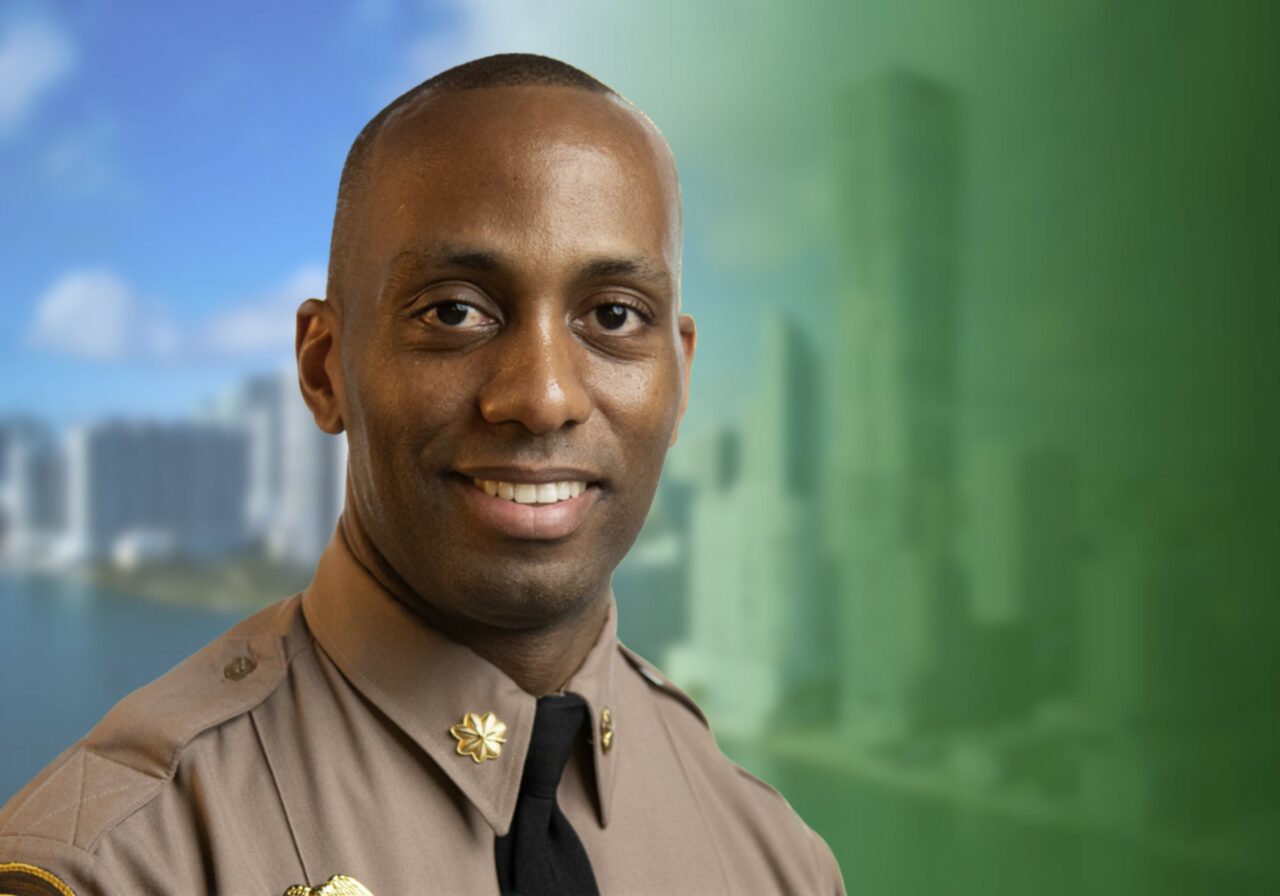 'Everything I've done — including my administrative background — is what a Sheriff will need.'
Major John Barrow, a 17-year veteran of the Miami-Dade Police Department (MDPD), is now running to be the county's first elected Sheriff in more than half a century.
He aims to run a "strong, professional and well-funded campaign" dependent largely on grassroots support.
"Sheriff is not a job for a politician. It's a job of professionalism and leadership," he said in a statement Monday shortly after filing for the race. "I will make Miami-Dade stronger and safer by inspiring our rank-and-file and creating a clear mission framed by strengthening the connection between the police and public."
If elected, he promises to grow the police force, remove illegal guns from the street, realign Miami-Dade's law enforcement budget with modern priorities and "strategically fight gangs and violence."
The 39-year-old Barrow, who is now the 10th candidate for Sheriff, was a teacher with Miami-Dade Public Schools for a year and a half before joining the county police force. He'd previously attended the Citizens Police Academy fresh out of college and became a volunteer. In January 2007, he decided to make a career change.
"I only applied to one agency," he said during an internal profile in June 2021. "I never applied to any other department, because if it wasn't here, I was not going to be a police officer."
Barrow grew up in Carol City, a neighborhood in Miami Gardens rife with some of the highest crime rates in the county. His parents had their cars stolen. Neighbors had multiple break-ins. Renters used a nearby house as a drug den. Just before Christmas one year, his mother and two of his three sisters were robbed in front of their home at gunpoint.
"The neighbors, we didn't want that there," he told Florida Politics. "It gave me perspective, living in a community that wants help and a better quality of life."
He began at the Hammocks District Police Station, the most populous district of any within MDPD jurisdiction, and rose steadily through the ranks while stationed all over the county.
Barrow worked for two and a half years as a neighborhood resource officer at the South District and then as a Sergeant at the Northside District. From there, he moved on to serve as a Sergeant in administration and media relations at the Public Information and Education Bureau.
In November 2016, he was promoted to Administrative Lieutenant while at the Intracoastal District, where he'd come on six months earlier as a field training coordinator.
He became a General Investigations Unit Commander at the Northwest District in January 2018 and was subsequently promoted to the rank of Captain and then acting Major over the span of just 13 months.
He achieved the official rank of Major in March 2020 upon returning to the Hammocks District, where he worked for nearly two years before working a one-year stint at the Northside District and a moving to the Personnel Management Bureau, where he works today.
When off duty, he indulges in a lifelong passion for music, a subject in which he received a bachelor's degree from Oberlin College and a master's degree from Florida International University in 2021, according to his LinkedIn page.
He also holds a master's degree in public administration, which he put to use in several posts, including community affairs and media relations.
"Everything I've done — including my administrative background — is what a Sheriff will need," he said. "It's not just policing. It's budgeting, administration and getting out there in front of the community, speaking to varied and various actors in Miami-Dade, across the state and farther than that, and my experience allows me to do those things."
Barrow is set to face three others in a Democratic Primary: former federal agent Susan Khoury, former Miami-Dade officer Rickey Mitchell and Freddy Ramirez, the county's appointed Police Director who returned home last week after suffering a self-inflicted gunshot wound to the head during an attempted suicide in July.
Six Republicans are also competing for the job: Miami Police officer Ruamen de la Rua, retired Miami-Dade Police officers Mario Knapp and Ernie Rodriguez, credit consultant and retired Miami-Dade Police reserve officer Alex Fornet, and Homestead residents Jaspen Bishop and Orlando Lopez.
The 2024 Primary Election is Aug. 20, followed by the General Election on Nov. 5.