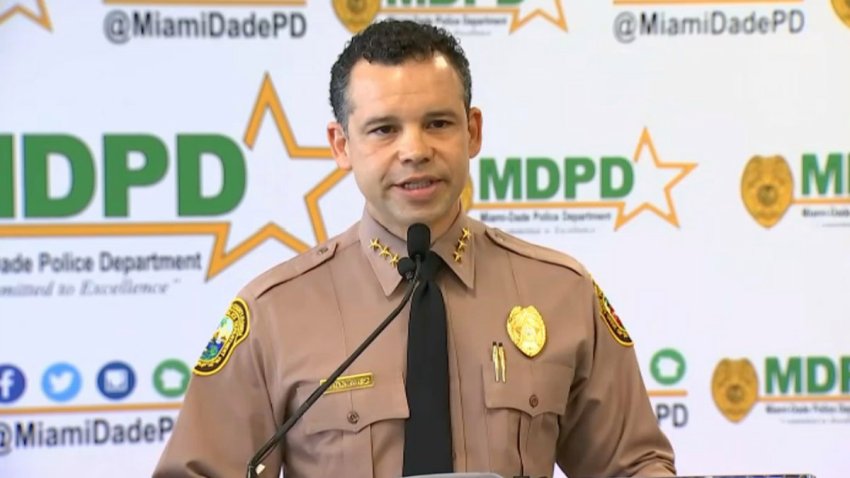 'While I will not be a candidate for Sheriff in 2024, I look forward to working with the Mayor and stakeholders on a successful and smooth transition.'
Miami-Dade Police Director Freddy Ramirez has ended his campaign for county Sheriff less than two months after shooting himself in the head in front of his wife outside Tampa.
The career law enforcement officer, widely considered the front-runner for the returning Sheriff post until his attempted suicide, confirmed he is out of the race three days after returning home from the hospital.
"Earlier this year, I filed to run for Sheriff to support and guide a successful transition to a Sheriff's Office and ensure the mission and work ethic of the Department was unchanged. That commitment and mission is stronger than ever — and while I will not be a candidate for Sheriff in 2024, I look forward to working with the Mayor and stakeholders on a successful and smooth transition that puts public safety at the forefront of every decision," he said in a statement.
"I appreciate the community's well wishes and support over the past few months and will remain focused over the coming weeks on my continued recovery."
Ramirez, 52, was attending a Florida Sheriffs Association Summer conference at the JW Marriott Tampa on July 23 when police responded to a witness complaint that he had brandished and pointing a gun at his head while arguing with his wife, Jody Ramirez.
Tampa police found a holstered pistol inside the couple's hotel room, from which one officer said "a verbal argument could be heard from the hallway," and briefly detained them, placing Freddy Ramirez in handcuffs.
Police then reviewed the hotel's surveillance videos, found no evidence to support the witness' claim and released the couple, who left the premises.
At about 8:30 p.m., Ramirez called Miami-Dade Mayor Daniella Levine Cava. He told her about the domestic dispute and police involvement before offering his resignation. She later told reporters she told Ramirez to "just get home safely; we'll talk later."
Shortly thereafter, he pulled off to the side of Interstate 75 and tried to kill himself. Jody Ramirez "was able to grab her husband's arm so that the resulting injury was serious but not fatal," the couple said in a statement two weeks later.
He was rushed to the hospital and underwent multiple surgeries. South Florida Police Benevolent Association President Steadman Stahl told NBC 6 Ramirez was able to speak not long after the shooting and that there wasn't any suspected brain damage.
Ramirez's departure from the race opens wide what many before the shooting considered his contest to lose. The Republican-turned-Democrat is well-regarded among police and residents on both sides of the political aisle, and the Miami-Dade GOP continued to be hesitant to officially back any candidate against him well after the incident.
"Freddy is an incredible leader who loves our community and equally loves his lifelong work in the Miami-Dade Police Department," said Christian Ulvert, a senior campaign adviser to both Ramirez and Levine Cava, among others. "Having the opportunity to advise and guide Freddy's campaign was humbling as I saw firsthand a leader who our community trusts and believes in."
Nine candidates remain in the race. Three are fellow Democrats: Miami-Dade Police Major John Barrow, former federal agent Susan Khoury and former Miami-Dade officer Rickey Mitchell.
Six Republicans are running as well, including Miami-Dade Police Sergeant Orlando Lopez, Miami Police officer Ruamen de la Rua, retired Miami-Dade Police officers Mario Knapp and Ernie Rodriguez, retired Miami-Dade Police reserve officer Alex Fornet, and security specialist Jaspen Bishop.
Miami-Dade hasn't had an elected Sheriff since 1966, when voters there eliminated the position after a grand jury report revealed rampant corruption within the department. Instead, the county has a police director, who is appointed by and reports to the Mayor.
In 2018, however, 58% of Miami-Dade voters joined a statewide supermajority in approving a constitutional amendment requiring all 67 counties in Florida to have an elected Sheriff, Tax Collector, Property Appraiser and Clerk of Courts by early 2025.
The 2024 Primary Election is Aug. 20, followed by the General Election on Nov. 5.